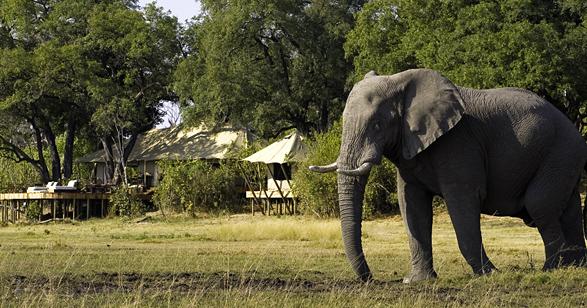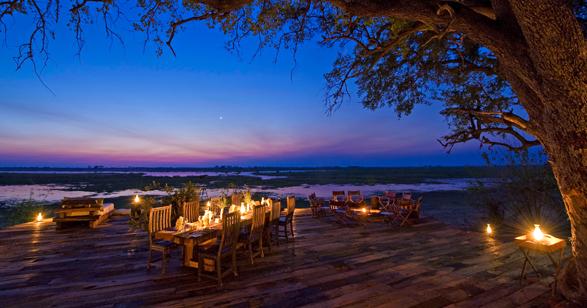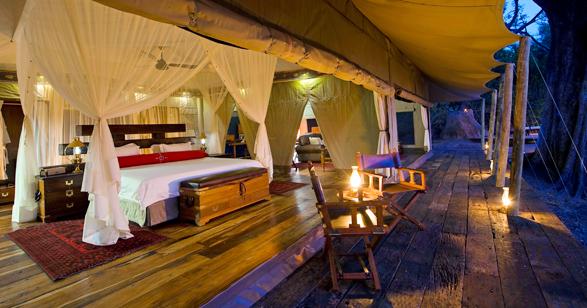 Set on a 320,000-acre private concession in Botswana's Selinda Reserve, Zarafa Camp overlooks a two-mile-long lagoon teeming with crocodiles and hippos and home to impressive herds of elephant. The camp opened in 2008 and is the brainchild of celebrated filmmakers Dereck and Beverly Joubert. Drawing on decades of experience, they decided to create the perfect safari camp in an ideal location.
The guest lodgings comprise just four magnificent 1,000-square-foot tented suites, each with a private plunge pool. The interiors are divided into three "rooms." Large living areas come with leather sofas and armchairs, polished wooden floors, Oriental carpets, antique chests and old-fashioned writing desks. Beyond a canvas screen, equally expansive bedrooms feature king-size beds draped with mosquito netting, and gas fireplaces with burnished copper chimneys. Beyond that, baths provide copper-clad tubs and effective indoor showers. The suites have electric lighting, but are not air-conditioned. Overall, they offer exceptional levels of privacy, comfort and style.
The camp's spacious and atmospheric living and dining areas are housed beneath a steep, coffee-colored canvas roof and are decorated in a French neocolonial style with dark woods, polished leather, framed maps and shelves of hardback books on African history and wildlife. One entire side of the structure opens onto a huge deck that commands a spellbinding view of the lagoon. Meals are mostly taken outside and the standard of the cooking is, in the circumstances, extraordinary. Selinda offers exceptional year-round game-viewing. The local pride numbers 15 lion, but it has a large territory, and a sighting is not guaranteed. A pack of rare wild dog can frequently be tracked down, however, and leopard sightings are relatively common.
Zarafa is an idyllic camp, with delicious food and superior service. And with a maximum of eight guests, it provides a unique and semi-private safari experience.
Tented Suite, from $2,298 for two (all meals, house beverages, scheduled activities and park fees included). Tel. (27) 11-807-1800.