At the time of writing, the exchange rate between the dollar and the yen is extremely favorable, making 2016 an ideal year to discover the country for the first time. It has become progressively easier to travel in Japan. As the country readies itself for the 2020 Tokyo Olympics, new English-language signage has appeared in airports and train stations. More Japanese than ever speak English. Excellent new hotels have opened recently in Tokyo and Kyoto. The country's big cities not only offer exquisite Japanese cooking in all of its myriad varieties, but French restaurants to rival those in Paris and Lyon. And as I was repeatedly reminded, the Japanese just might produce the world's best beef.
Andaz Tokyo Toranomon Hills
Even after visiting Tokyo many times, the immensity of the city always comes as a shock, which is why I especially appreciated the quiet beauty and thoughtful service at the 164-room Andaz Tokyo Toranomon Hills. The property occupies the top six floors of the 52-story Toranomon Hills skyscraper, situated in a stylish neighborhood between the Imperial Palace and the Tokyo Tower. The reception is softly lit, and check-in takes place on tablet computers at walnut tables, instead of at the usual counter. The relaxed elegance of the décor, created by the New York-based designer Tony Chi and Tokyo interior architect Shinichiro Ogata, harmoniously mixes Western and traditional Japanese styles.
Our Tower View King Room came with shoji (rice paper) panels, plus a walnut desk and a long love seat that ran the length of the picture window. Washi paper lamps created atmosphere, but there were also spotlights on dimmers for more illumination. A wood-paneled bath with quarry-tile floors came with both a soaking tub and a shower, along with locally made toiletries. (Their perfume changes with the season; for example, cherry blossom for spring).
The Andaz has an eight-seat sushi bar on the 52nd floor, and an excellent casual comfort-food restaurant, the Andaz Tavern, with a talented young Austrian chef, on the 51st. On the evening of our arrival, we enjoyed a delicious early dinner of duck consommé with foie gras-stuffed ravioli; an artichoke, avocado, arugula and burrata salad; and chicken roasted in an earthenware casserole with sherry and root vegetables.
The hotel's AO Spa & Club is located on the 37th floor, and comes with a panoramic 65-foot indoor pool with a jet bath, plus five treatment rooms and a well-equipped workout room.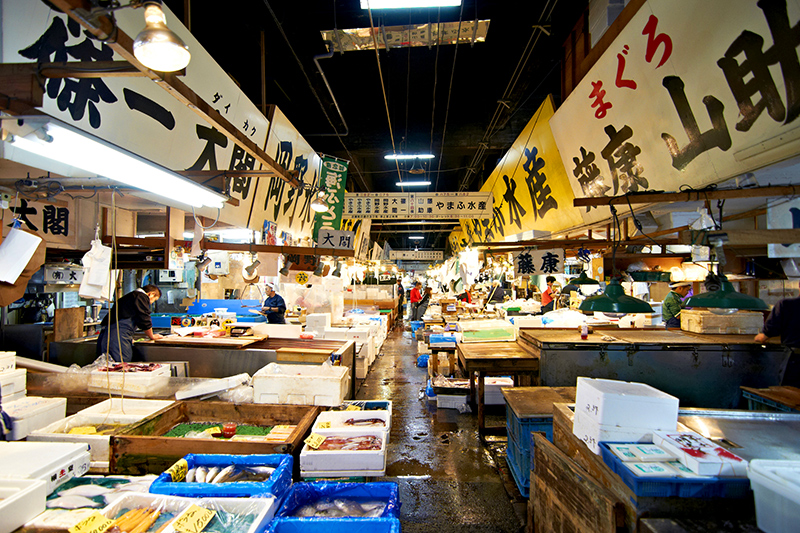 The following day we rose early for a visit to Tokyo's famous Tsukiji fish market. The market will be moving to a new location in early November, so it was our last chance to enjoy the atmosphere and animation of a place that's been in business on the same site for centuries. Having visited on my own in the past, I decided to take a tour this time and booked online with Tokyo FooDrink Tour. We met our charming guide, Yumi, who spoke good English after several years of living in New York, and spent three-and-a-half hours in the company of a pleasant couple from London. The tour included tastings of various Japanese delicacies, as well as oysters and sake. We also visited the fruit and vegetable side of the market and attended an auction of musk melons — a luxury in Japan — where the highest-quality fruits were selling for over $150 each. An intriguing morning concluded with lunch in a stand-up sushi bar that we would never have found on our own and wouldn't have been able to patronize anyway, since neither of us speaks a word of Japanese beyond "Arigato."
- Hotel at a Glance -
Andaz Tokyo Toranomon Hills 94
Like
Spectacular views over Tokyo, stylish rooms and excellent food at the Andaz Tavern.
Dislike
Nearest subway station is a 10-minute walk from the hotel.
Good to Know
Reserve spa treatments well in advance, since they are frequently booked up. The light menu in the bar is a much better alternative to room service, since the Western and Japanese comfort-food menu is fairly priced and well-cooked.

Rates: Andaz Tower View King, $780; Andaz Suite, $1,800.
Address: 1-23-4 Toranomon, Minato-ku, Tokyo.
Telephone: (81) 3-6830-12343.

View The Andaz Tokyo Hotel Listing

Imperial Hotel Tokyo
In 1853, the American naval commodore Matthew C. Perry famously sailed into Tokyo Bay and demanded that Japan open itself to foreign trade. As soon as Japan engaged with the world, the country began to have a major impact on Western art and design. Following a trip to Japan in 1905, American architect Frank Lloyd Wright fell under the spell of Japanese aesthetics. The love affair was mutual, since he was commissioned to design a new building for Tokyo's prestigious Imperial Hotel, which was originally created by the Japanese royal family in 1890 as a state guesthouse.
Though now housed in two modern towers — alas, Wright's building was torn down in 1968 — the current 931-room Imperial Hotel retains the aura of its royal pedigree and also preserves several important elements of Wright's original structure, including its superb cocktail bar and a Frank Lloyd Wright suite appointed with original furnishings. Not having stayed at the Imperial for many years, we checked in for two nights and found ourselves delighted by some of the best service I've ever experienced. The staff display an instinctive graciousness, which gives the property an inimitably Japanese sensibility that helps to set it apart from foreign-owned chain hotels in the city.
Our traditionally decorated Junior Suite came with striped oyster-colored fabric on the walls, a padded white-leather headboard, good reading lamps, a lounger and ottoman, and a small mahogany coffee table. The bath provided a separate tub and shower, and was stocked with Japanese AYURA toiletries.
In many ways, the Imperial reminded me of a vast liner like the Queen Mary 2, since it comes with 13 different restaurants, including the Michelin-starred Les Saisons. There we were delighted to rediscover the cooking of chef Thierry Voisin, whom we knew from his time at Les Crayères in Reims. The highlights of our superb meal were sole in ginger butter, cheeses from Bernard Antony (France's best cheese monger) and a feather-light dessert of fromage blanc, raspberries and yuzu sorbet.
- Hotel at a Glance -
Imperial Hotel Tokyo 93
Like
Superb service, excellent location, very comfortable rooms and fine restaurants.
Dislike
Smoking is still allowed in the Frank Lloyd Wright-designed Old Imperial Bar.
Good to Know
In the Baby Room, a team of certified staff members provides assiduous child care.

Rates: Imperial Floor Superior Room, $520.
Address: 1-1-1 Uchisaiwai-cho, Chiyoda-ku, Tokyo.
Telephone: (81) 3-3504-1111.