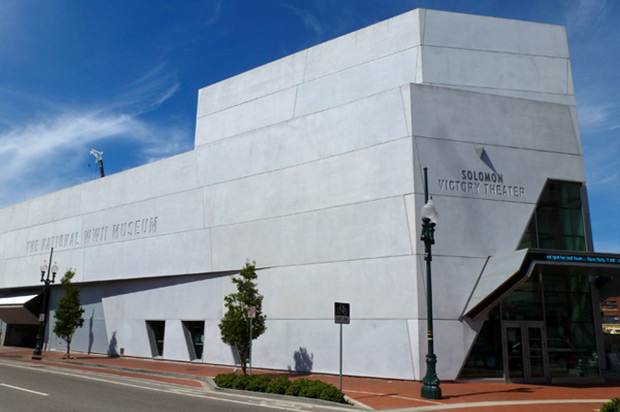 One of New Orleans' most fascinating attractions, aside from the city itself, is the ever-expanding National WWII Museum.
Indeed, some visitors travel to New Orleans with the sole purpose of visiting the well-organized galleries of this museum in the rapidly gentrifying Warehouse District. Displays proceed chronologically, starting with a vivid illustration of the relative military strengths of Germany, Japan and the United States just before the onset of war.
The American military was shockingly small, just behind Romania's. From there, the story of the war in Europe unfolds, followed by multimedia exhibits about the Pacific theater. We spent more time than we planned absorbing the maps, photos, archival newspaper stories and propaganda posters, as well as artifacts such as uniforms, munitions and a reproduction Higgins boat, an amphibious landing craft manufactured in New Orleans.
Across the street from the galleries, a movie theater periodically shows a film detailing the history of the war, complete with surprisingly effective tactile special effects such as seat-shaking and imitation snow. But most moving of all were the audio and video recordings of veterans and civilians who lived through the war. Listening to their incredible stories sent chills up my spine.
After your visit of the museum, be sure to leave time for lunch in the adjacent American Sector restaurant, a fine addition to John Besh's New Orleans culinary empire. This '40s-themed restaurant seems an unlikely place to encounter fine dining, but Besh rarely disappoints. An appetizer of savory rabbit pâté served in a rations tin raised a smile, and the blue crab and sausage stew was sumptuous.  At the very least, indulge in a cocktail such as the Jezebel. Perfect for New Orleans' humid weather, this creation of gin, cucumber, mint and ginger beer was very cool, very sharp and very strong, with a pleasant ginger-spice aftertaste. –A. H.