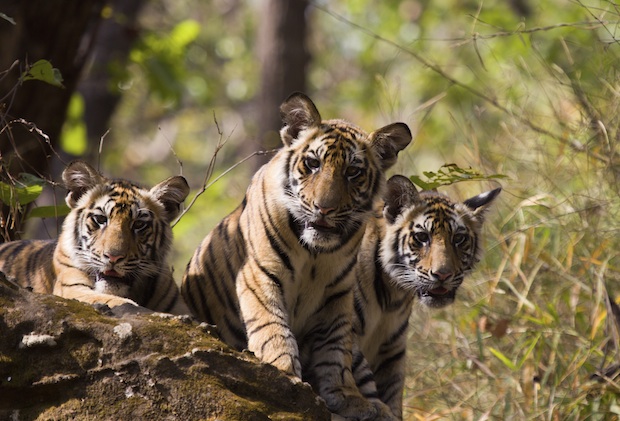 Go to see a wild tiger while it is still possible. This may sound a little melodramatic, but the survival of the planet's top predator is in serious doubt. There are probably around 1,500 wild tigers in India today, and perhaps as many as 100 are being killed annually by poachers. (One of the more unfortunate consequences of the economic rise of China has been the rapid increase in the demand for tiger body parts used in traditional Chinese medicine.)
If the tiger is to be saved from extinction in the wild, then upscale tourism is likely to be part of the answer. Virtually everywhere in the world the same pattern is emerging: Wildlife survives if it is worth more alive than dead. Affluent Western visitors bring much-needed dollars to India's national parks and, even more important, provide revenue and employment to the communities that surround them. And precisely because foreign visitors are so keen to spot a tiger but in general are prepared to devote no more than three days to the pursuit, the more expensive lodges follow the movements of tigers in their areas so that they can easily be found. This constant monitoring is a considerable deterrent to poachers.
There are 42 tiger reserves in India, but only in a handful is it reliably possible to see tigers in daylight. An even smaller subset provides lodgings likely to meet the needs of American visitors. Kanha and Bandhavgarh national parks, both in the central state of Madhya Pradesh, offer the best tiger-viewing. In addition, they are both places of stirring natural beauty. At Bandhavgarh, I recommend Mahua Kothi. However, if forced to choose my favorite park and favorite camp, I would opt for Banjaar Tola in Kanha National Park.
Kanha was declared a park in 1955, having been the inspiration for Rudyard Kipling's The Jungle Book. Here, 116 years after Mowgli's debut, the real-life Shere Khan continues to stalk his prey along the reedy margins of the lagoons. In fact, Kanha today holds about 130 tigers, as well as around 80 leopard and more than 100 sloth bear. Visitors to Banjaar Tola can expect to see a tiger if they stay for two or three nights. And as well as enjoying an unforgettable wildlife experience, they may also help to save one of the world's most magnificent species. -A.H.