The Breakers, a 540-room oceanfront resort amid 140 acres seven miles from the Palm Beach airport, has debuted a dramatically renovated bar and dining room just steps from the main lobby in the historic Florentine Room.
Renowned hospitality designer Adam Tihany was enlisted to re-imagine the space as a contemporary Palm Beach cocktail soirée that incorporates historic elements. Tihany designed many notable restaurant venues around the globe, including Per Se, Restaurant Daniel and Le Cirque 2000, among others. He said he wanted the venue (renamed HMF for The Breakers' founder Henry Morrison Flagler) to be "an open, interactive arena of decadent delights."
Custom furnishings in tones of cognac and cypress green are balanced by preserved historic elements, such as the original handpainted, high-beamed ceiling and wrought-iron chandeliers. Two backlit bars, one for cocktails and the other for sushi, feature ribbon mahogany with bronze accents. Jewel-tone carpets echo the colors in the Florentine ceiling.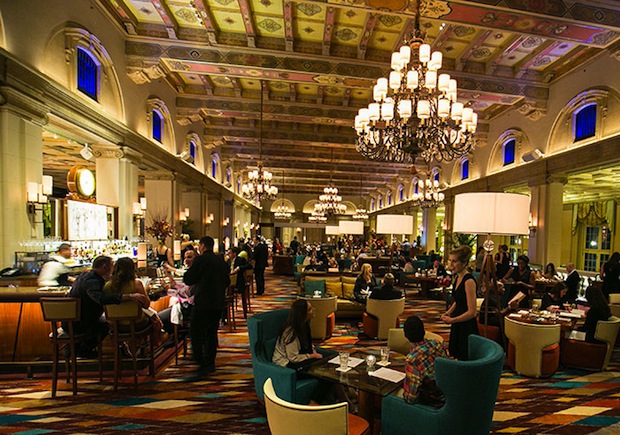 HMF offers handcrafted signature cocktails that range from the vintage to the experimental, plus a 40-plus-page wine list created by sommeliers Virginia Philip and Juan Gomez, and a 3,000-bottle stainless-steel-and-glass wine wall.
The theater-style kitchen, overseen by chef Joey Tuazon (formerly of Acqua at the Four Seasons Miami) specializes in sharing plates, inspired by the gourmet food-truck movement, with inventive takes on fresh seasonal ingredients.
All images ©The Breakers