The Best Dalmatian Wine Bars
.article-cta-top
Croatians are justifiably proud of their wines, many of which are made from indigenous grapes and are full of character. In addition to visiting wineries, where there's a good chance that the winemaker will show you around, I highly recommend trying some of the country's many inviting wine bars. I found five along the Dalmatian Coast that I enjoyed immensely, as well as one that is best avoided.
D'vino Wine Bar Dubrovnik
Cozy and friendly D'vino Wine Bar Dubrovnik - Photo by Hideaway Report editor
Located just out of the fray to the north of the Stradun, D'vino is cozy and friendly rather than fancy and stylish. The cheerful bartender, Tony, made me feel right at home, and the English menus with well-chosen wine flights make this bar an ideal place to introduce yourself to Croatian wine. The flight of whites included examples from three contrasting regions: a focused and minerally Malvazija from Istria; a juicy and ethereal Pošip from Korčula farther south; and a spicy but polished Graševina from Slavonia, a cooler region south of Hungary. I also tried the red flight, comprising one powerful Plavac Mali each from the Pelješac Peninsula, the more highly regarded Postup region and the most coveted vineyards of Dingač. Both flights proved delicious and illuminating.
D'vino Wine Bar Dubrovnik
Palmotićeva 4A, Dubrovnik. Tel. (385) 20-321-130
Skaramuča Wine Bar
A glass of Dingač Reserva on the patio of Skaramuča Wine Bar - Photo by Hideaway Report editor
I stumbled across this little wine bar while walking along Dubrovnik's Stradun and stopped because of its outdoor tables with wine barrel chairs. In addition to a handful of cocktails, the menu offers the current releases from the Skaramuča winery on the nearby Pelješac Peninsula. With time for only one glass, I opted for the 2012 Dingač Reserva, the top red on the list. It tasted both powerful and graceful (grace is a rare trait in Plavac), with richly ripe fruit, refined acids and well-integrated carob-tinged tannins. I fell into conversation with the bartender, Mario, who happened to also be an oenologist for a local wine consulting company. I also loved the grapefruity and minerally Skaramuča Pošip, which I had at Victoria Restaurant & Lounge Bar in the Villa Orsula hotel.
Skaramuča Wine Bar
Dropčeva 2, Dubrovnik. Tel. (385) 20-488-575
Wine Bar Razonoda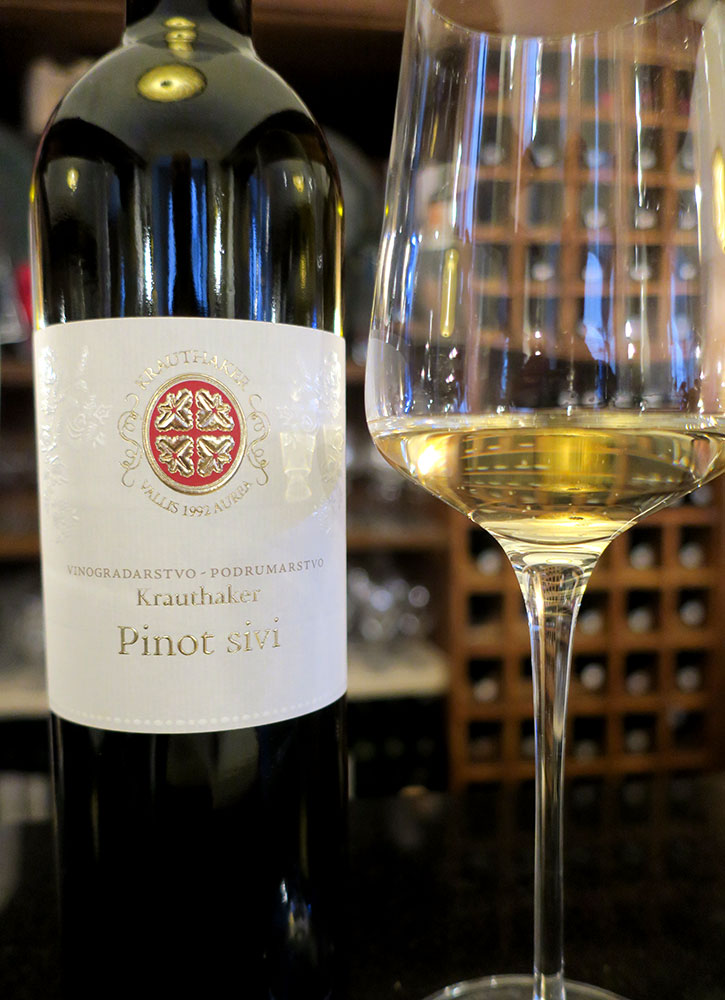 "What kind of wine do you like?" the bartender asked. He did not look old enough to legally drink, let alone recommend wine. "Well, in whites, I love a buttered-popcorn note," I ventured. He shook his head. "No, this you will not find in Croatia." He was full of such misinformation, incorrectly identifying the main home of the Maraština grape and giving me the wrong vintages on two of the wines he poured. It was difficult to be annoyed — I'd insisted on such small pours that he refused to charge me anything — but had I suffered the inflated prices on the menu, I would have felt irritated indeed. This Dubrovnik wine bar, like the Pucić Palace hotel with which it's affiliated, was a disappointment.
Wine Bar Razonoda
Ul. od Puča 1, Dubrovnik. Tel. (385) 20-326-225
Calebotta
Calebotta wine bar in charming Trogir - Photo by Hideaway Report editor
This wine bar in the old center of Trogir fronts an appealing little square filled with café tables. I also liked the interior, with its midcentury modern furnishings, exposed-stone wall and impressive wine rack. Unfortunately, the waiter was unwilling or unable to offer half glasses of wine from the large list, and no flights were available. So I opted for a 2013 Kairos Crljenak (Zinfandel) made nearby. Croatia was Zinfandel's birthplace, but local Crljenak had almost gone extinct, until some vines were recently discovered outside Split and propagated. This example tasted big and bold, with jammy fruit, a blast of spice and a punch of oak, with some vanilla smoothing things out.
Calebotta
Gradska 23, Trogir. Tel. (385) 91-738-0454
Paradox Wine & Cheese Bar
Glasses of wine at Paradox Wine & Cheese Bar in Split - Photo by Hideaway Report editor
Paradox just moved to a new location near the grand Republic Square, adjacent to Split's old center. Its roof terrace was closed when I visited, but I liked the small, simple and stylish interior. Both bartenders I met spoke fluent English and happily tailored a tasting to my specifications: two whites and two reds, one light-bodied and one full-bodied. I had a delightful spicy and citrusy Grabovac Kujundžuša from inland Dalmatia; an aromatic and gorgeously rich Stina Pošip Majstor from the island of Brač; an exciting, untamed Tomić Plavac Mali from Hvar; and a big, luscious Vuina Crljenak Štafileo from just outside Split. It was a joy of a tasting.
Paradox Wine & Cheese Bar
Ul. Bana Josipa Jelačića 3, Split. Tel. (385) 21-787-778
Diocletian's Wine House
Diocletian's Wine House, one of my favorite wine bars in Croatia - Photo by Hideaway Report editor
I reserved a private tasting with a sommelier at this wine bar and restaurant in the center of Split, which incorporates three massive ancient Roman arches in its façade. The stylish, cozy interior felt most inviting, and the engaging sommelier, Kristina, made me feel like an honored guest. The sales representative of the Rizman winery happened to be there, as did the owner of a wine marketing company, both of whom had sample wines with them. Would I be interested in trying some of their wines as well? Yes indeed! The "50-minute tasting" turned into a party lasting almost three hours, as we tried some 16 wines, along with local cheeses, olive oils and prosciutto. The wine marketer credited the United States with Croatia's wine renaissance: "Thanks to America, it's not just the old wine regions," like France and Italy, he said. "Americans are open-minded." I toasted to that, raising a glass of Rizman Nonno Pošip, a gorgeously rich and powerfully focused white that would make any winemaker proud. Closed late October through late March.
Diocletian's Wine House
Julija Nepota 4, Split. Tel. (385) 99-564-7111