For dinner, I opted to try Don Camillo, the hotel's principal restaurant, which has an Italian menu. This seemed surprising — and possibly a mistake — given that Tel Aviv is now renowned for its imaginative reinterpretation of healthy Middle Eastern and Mediterranean food. Chef Roi Antebi collaborates with the New York-based Major Food Group, whose restaurants include The Pool and The Grill in Rosen's Seagram Building on Park Avenue. It was a benign fall evening, so I opted for a table on the patio. Not feeling particularly hungry, I ordered an octopus salad, followed by gnocchi with shrimp, accompanied by a Yarden Brut Rosé from the Golan Heights. Although the wine had a local provenance, the rest of my meal seemed more evocative of the Amalfi Coast. Still, the servers were consistently friendly and enthusiastic, and not for the first time that day, I reflected that the young staff at The Jaffa were well-trained and consistently agreeable. The hotel's other dining option is Golda's Delicatessen, which, despite being named in honor of former Israeli Prime Minister Golda Meir, also seems rather out of place, being a fragment of Brooklyn inexplicably teleported to Tel Aviv.
After dinner, in search of a digestif, I headed upstairs to the old wing's deconsecrated chapel, which now serves as a glamorous cocktail bar. Alas, a corporate function was underway and I could only peer in through a half-open door at the stained-glass windows, arched ceilings and ornate plasterwork. Other amenities at The Jaffa include a 4,500-square-foot L.RAPHAEL Beauty Spa with six treatment rooms. A large gymnasium with four saunas provides an impressive range of Technogym equipment, but it is poorly lit and rather gloomy. If you prefer to exercise in sunshine, the hotel has a stable of complimentary bikes and helmets.
- Hotel at a Glance -
The Jaffa 95
Like
The combination of dignified old buildings and refined contemporary design; the tranquility of the courtyard and pool; the energetic and friendly staff.
Dislike
The lack of a restaurant with a sense of place, serving food representative of Tel Aviv and modern Israeli cuisine.
Good to Know
Jaffa's famous flea market, Shuk Hapishpeshim, is a three-minute walk from the hotel.

Rates: Lowest Rate: Classic, $750; Editor's Choice: Deluxe Sea View, $930.
Address: 2 Louis Pasteur Street
Telephone: (972) 3-504-2000
The Drisco Hotel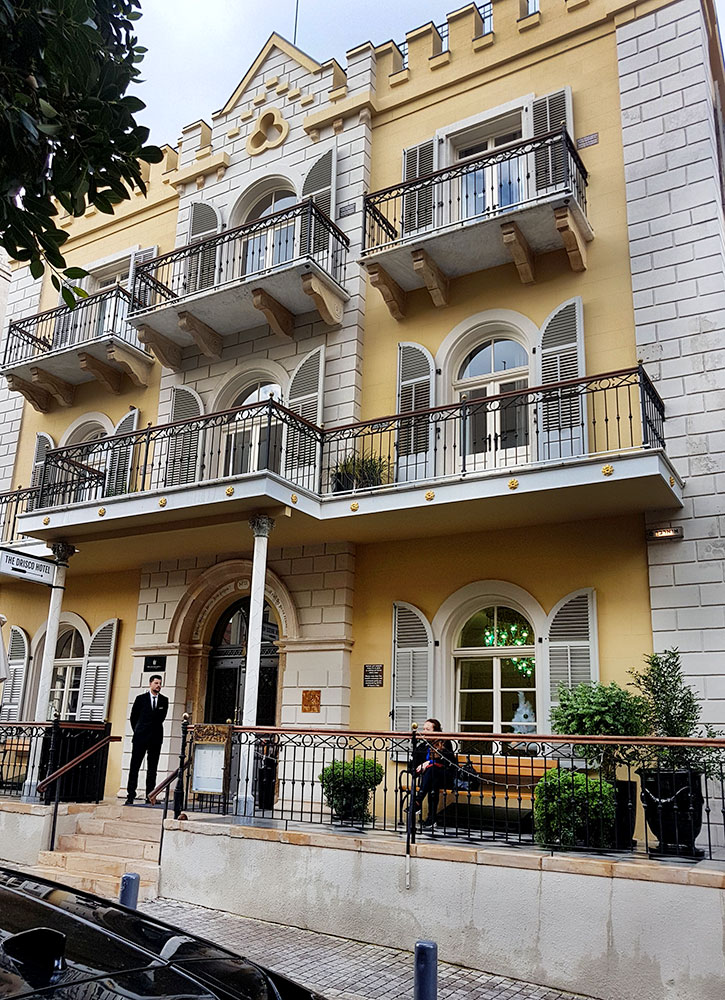 From Jaffa, it is a short taxi ride to the so-called American Colony, a quiet area at the edge of Neve Tzedek, the original Jewish neighborhood constructed outside Jaffa's city walls. The Drisco Hotel, a 42-room boutique property, opened in June 2018 as an incarnation of the once-famous 19th-century Jerusalem Hotel. In 1866, 40 American families arrived in Jaffa, led by George J. Adams, a self-proclaimed prophet and founder of New England's Church of the Messiah. Their mission was to prepare the land for the second coming of Christ, and they arrived equipped with agricultural machinery as well as prefabricated wooden houses (some of which still stand) identical to those in their native state of Maine. Among the pilgrims were John and George Drisco, who, rather than tilling the soil, decided to go into the hotel business. Unfortunately, the brothers ran out of money and were obliged to sell the property to Ernst Hardegg, a German hotelier. From 1870 until World War II, when Germans were suddenly no longer welcome, the Jerusalem Hotel was among the most lavish in Palestine.
Despite its colorful history, The Drisco proved a disappointment. The restored building is a handsome limestone structure with a grand arched doorway and wrought-iron balconies. However, when I arrived, two staff members were slouching on the steps and completely ignored me as I struggled into the lobby with my suitcase. The main public area on the first floor is a grand salon with marble columns, hand-painted walls, a long bar and several seating areas. Check-in takes place in a separate room to one side.
I had reserved a Deluxe Room but had clearly not been paying sufficient attention to the hotel's website at the time, as this turned out to be a mere 270 square feet. There was barely room for me to squeeze between the bed and the narrow work desk, while the "luxurious marble bathroom with a walk-in shower" was also minuscule. Doubtless if I had booked a suite instead, I would have been feeling much less grumpy. Heading back downstairs, I discovered that the hotel's restaurant, Zada, where I had been hoping to try the advertised Ottoman-inspired food, had closed. I perched on a stool for a bar snack instead and contemplated my next-day departure without regret.
- Hotel at a Glance -
The Drisco Hotel 88
Like
The striking main salon, with its marble columns, murals and long bar counter.
Dislike
The small rooms (only suites should be considered); the absence of a real service ethos; the lack of a restaurant.
Good to Know
The nearest beach is a pleasant 10-minute walk away.

Rates: Lowest Rate: Classic Room, $360; Editor's Choice: Attic Suite, $550
Address: 4-6 Auerbach Street
Telephone: (972) 3-741-0000
The Norman