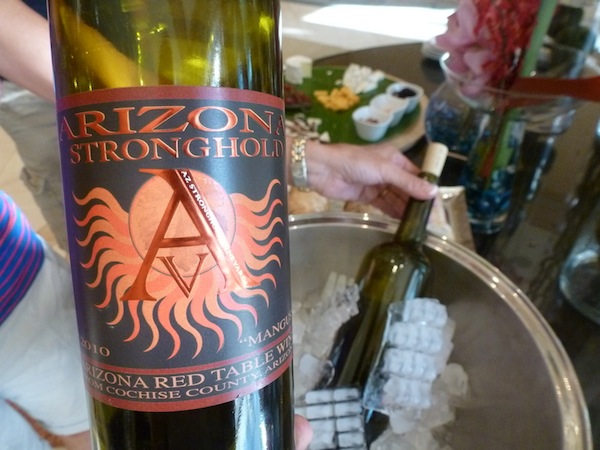 Arizona Stronghold Mangus at Canyon Suites
Sedona is much more famous for its red rocks than its red wines, but someday that may change. On my recent visit to Arizona, I was amazed by the quality of the local wines I tasted. To be sure, some turned out to be overheated fruit bombs, but many more proved to be restrained, balanced and delicious. The wines of Arizona Stronghold seem to have the biggest market share; they appeared on several wine lists I saw, including that of Frank & Albert's, a casual restaurant in the Arizona Biltmore. Since I ordered the grilled swordfish with a white bean-pancetta-rosemary ragout, I opted for a glass of the Arizona Stronghold "Tazi," a blend of Sauvignon Blanc, Chardonnay, Malvasia, Pinot Gris and Riesling. Had I not known the contents of the blend, I might have guessed from its pineappley aroma that it was a Viognier. Despite its bright fruit and floral character, this is actually a dry wine, with balanced acids and a finish of mild white pepper, which became more pronounced when paired with the fish.
The lounge of The Canyon Suites at The Phoenician also served Arizona Stronghold wines, and I took the opportunity to sample a glass of "Mangus," a blend of Sangiovese, Cabernet Sauvignon, Malbec, Petit Verdot and Merlot. The nose was enticing, with iron, earth and red fruits, and though it tasted big, ripe and jammy, it kept itself under control, pairing well with some "drunken goat" cheese.
Several tasting rooms have popped up in Page Springs, about 30 minutes outside of Sedona, and after sampling these Arizona Stronghold wines, I was excited to pay a visit and see what other gems I could find. I enjoyed wines such as the earthy and spicy Javelina Leap Syrah and Oak Creek's bracing Fumé Blanc and wonderfully aromatic Viognier, but Page Springs Cellars had the largest and most consistently appealing selection. In the classy tasting room, I happened to be standing next to Matt, an assistant winemaker, and I asked him how it was that Arizona could produce such quality wine. He gestured out the window to the hillside vineyards, which are hot and dry during the day but cool at night because of the high elevation. Aquifers and a river provide irrigation when necessary, and the vines suffer in the poor, well-drained soil, concentrating flavors in the grapes. Rhône varieties do particularly well, and Matt was convinced that Arizona would become as famous for Malvasia as Argentina is for Malbec. 
Page Springs' Malvasia tasted fruity and floral, with juicy food-friendly acids. Ample acids also kept "La Serrana" light on its feet, balancing this otherwise creamy and rich blend of Viognier and Roussanne. Other notable wines I tasted included "ECIPS," a complex blend of Mourvèdre, Syrah and Grenache, and "El Serrano," a meaty, jammy and peppery combination of Syrah, Mourvèdre and Petit Sirah. Arizona wines don't pop up in every corner store. It will likely be difficult to find them if you live out of state, which is all the more reason to make a point of tasting as many as you can the next time you're in Arizona. You might hit a dud or two, but by and large, I found Arizona wines to be consistently delightful. To read more about my recent visit to Arizona, please visit the August 2012 issue of Andrew Harper's Hideaway Report. -A.H.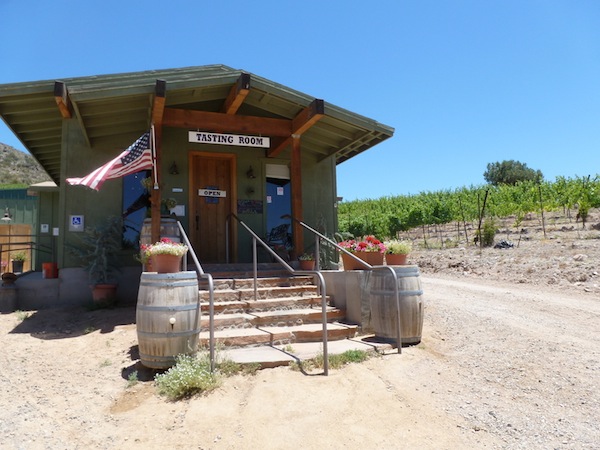 Javelina Leap tasting room