Berlin Boutiques Walking Tour
.article-cta-top
Berlin's equivalent of Harrods or Neiman Marcus is Kaufhaus des Westens, affectionately known as KaDeWe, renowned for its excellent food court as much as for its shopping. On this visit, however, I sought out smaller boutiques and quirkier shopping streets in hopes of finding some unique gifts to bring home. I must admit that we came away with more treasures for ourselves than for others!
Start your shopping walk where Rosenthaler Strasse intersects Hackescher Markt, the entrance to the Hackesche Höfe. This set of eight pedestrianized interconnected courtyards contains a wealth of independent shops and sidewalk cafés. Visit the Königliche Porzellan-Manufaktur shop, selling Prussia's answer to Saxony's Meissen porcelain, and the Golem Kollektion, which sells colorful art nouveau-style tiles. I also liked the handmade leather belts at Hoffnung Berlin and the rainbow of raincoats and umbrellas at Freitag Fashion.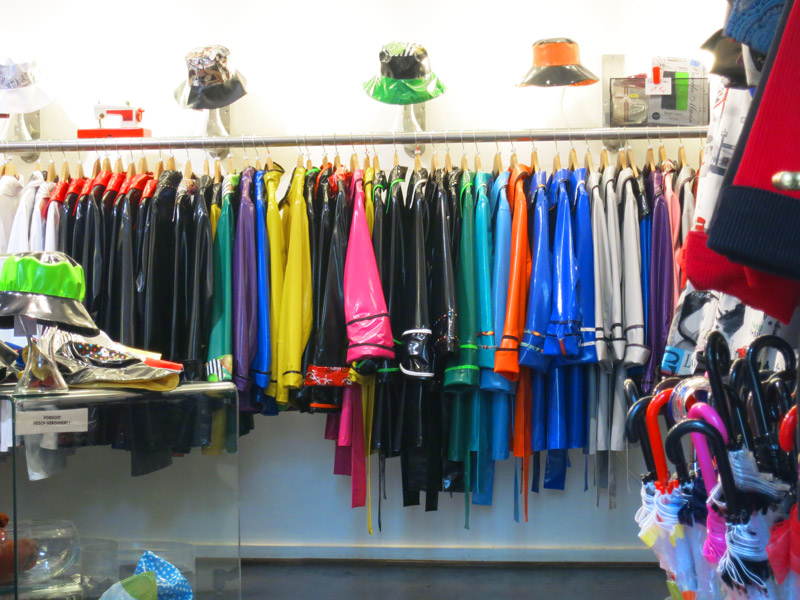 Walk from there up Rosenthaler Strasse, also lined with shops, and turn right onto Mulackstrasse. We first stopped in Brillenschneiderei Yves, which specializes in custom eyewear. I opted for some dashing off-the-rack wood-framed sunglasses. After browsing in Claudia Skoda's boutique, which sells unique knitwear for both men and women, Mrs. Harper pulled me into the Berlin branch of Volker Lang, an independent German designer who crafts beautiful leather handbags and wallets. Citing my sunglasses as justification, she splurged on an admittedly lovely "Meret" purse in cyan.
We turned right down Alte Schönhauser Strasse, passing by yet more tempting shops. You can continue along Neue Schönhauser Strasse and Rosenthaler Strasse back to the entrance to the Hackesche Höfe, or do as we did: Cut through the courtyard at Neue Schönhauser Strasse 17, turn right on Dircksenstrasse, and relax over some craft beer and sausages at Brauhaus Lemke, set under two brick arches of an S-Bahn commuter train viaduct.
Berliner Knacker with sauerkraut and roasted potatoes with bacon at Brauhaus Lemke - Photo by Hideaway Report editor