The Revitalized Museum of Modern Art
.article-cta-top
Reopened in May 2016 after a three-year, $305 million renovation, the San Francisco Museum of Modern Art (SFMOMA) features a fresh, cutting-edge design and houses a vast collection of creative contemporary works in all mediums.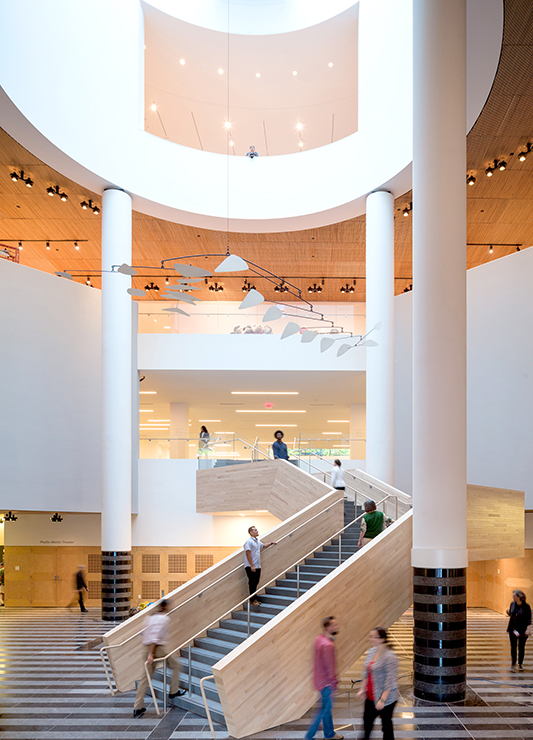 The new 235,000-square-foot expansion overseen by the Snøhetta architecture firm seamlessly merges with the original Mario Botta-designed postmodern structure. The novel building, with its unique exterior of wavy cement panels, towers over the original five-story brick structure with its own black-and-white-striped central design accent. Botta's famous open-space atrium has been preserved, but the stairs leading to the second-floor lobby have been reconfigured to allow more light to stream in through the signature oculus and for easier visitor circulation. At the Howard Street entrance, the recently added and immense COR-TEN steel structure, "Sequence," created by Richard Serra, is surrounded by floor-to-ceiling glass windows and an amphitheater-style seating area that is open to the public on one side.
With the new annex, the museum's exhibition space has more than doubled. It now encompasses two gallery floors that are free to the public and showcase thought-provoking visual exhibits including renowned Abstract Expressionist and Pop Art displays, sizable rotating installations and Doris and Donald Fisher's private collection of 1,100 works on a 100-year loan. The impressive Fisher Collection is primarily composed of works by Ellsworth Kelly, Andy Warhol and Gerhard Richter. On the third floor adjacent to the Alexander Calder: Motion Lab exhibit is a beautiful outdoor area that boasts the largest living garden wall in the United States.
When it comes time to take a break, there are three very different culinary options. For a quick pick-me-up, Affogato Bar on the third floor offers original Sightglass Coffee libations and pastries. For light fare, Café 5 serves California-fusion specialties either inside or in the relaxing sculpture garden. The culinary highlight, however, is Michelin three-starred chef Corey Lee's distinctive restaurant In Situ.
With seven floors of exhibition space, it is not possible to comfortably tour the whole museum in one day. Most floors are not thematically organized; instead, you may have a Picasso that is next to a Warhol across from a Rauschenberg. If you have only one day, I recommend starting with the Open Ended exhibition on the second floor to see the classic favorites from the museum's permanent collection prior to the remodel, which include Jackson Pollock's "Guardians of the Secret" and Henri Matisse's "Femme au chapeau." From there, head to Alexander Calder's exhibit on the third floor and relax on a bench facing the living garden wall. Next, wander to the Approaching American Abstraction exhibition one floor up to view works by Ellsworth Kelly, Cy Twombly and Agnes Martin. Head back down to In Situ for a delicious lunch to reenergize and rest sore feet. After lunch, I recommend one last stop on the fifth floor to see The Fisher Collection's Pop, Minimal and Figurative Art exhibit.
The MOMA has revitalized the art world in the Bay Area, and with educational opportunities and workshops for children, interactive displays, expanded media art offerings, galleries free to the public and a gourmet dining option, the museum is now a must-see attraction on any visit to San Francisco.