Elizabeth on 37th
This sophisticated and stylish restaurant was opened in 1981 by chef Elizabeth Terry and her husband, Michael. It sets a benchmark not just in Savannah, but for the whole country. The kitchen is now under the direction of Terry's former sous chef, Kelly Yambor, whose menus are filled with fare such as a thick, creamy butterbean soup; and seafood Gullah, a sautéed flounder mounded with local crab. The blueberry-apple pie brought together the best of summer and fall.
The Olde Pink House
23 Abercorn Street. Tel. (912) 232-4286.
I could not resist the she- crab soup and the sautéed local shrimp with ham gravy on Cheddar-grit cake and a generous side of collard greens.
The 18th-century mansion that houses this lovely restaurant is painted in a shade that would put a flamingo to shame. The interior, however, is contrastingly elegant and sedate, with classic hues and furnishings. The menu is a primer on Lowcountry classics. I could not resist the she-crab soup, with a zip of spice; followed by sautéed local shrimp with ham gravy on just-crisp Cheddar-grit cake with a generous helping of collard greens on the side. The obliging staff only added to our enjoyment.
Sapphire Grill
110 West Congress Street. Tel. (912) 443-9962. sapphiregrill.com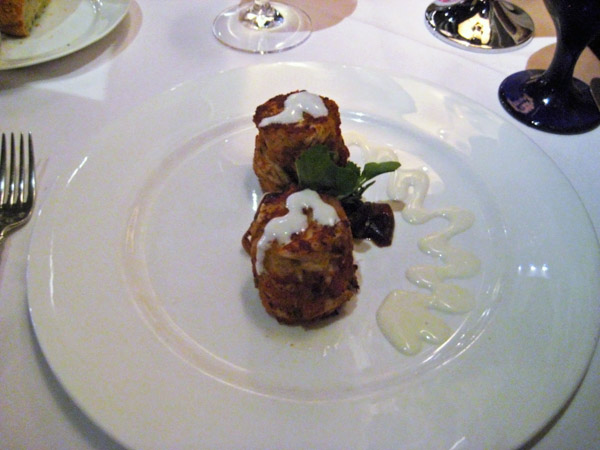 A brick loft interior provides a setting for chef Christopher Nason's contemporary cooking at this lively restaurant in the historic downtown City Market. Crab cakes are one of my favorite dishes, and here, they were exactly what I hope for: lumps of blue crab with just enough binder, which came with a side of golden potato purée, spiced crème fraîche and sweet onion marmalade. I also love grouper, and so ordered the excellent benne (sesame)-encrusted black grouper fillet with wok-seared seasonal vegetables and sweet soy accompanied by jasmine rice.