Recommended Boutique Shops in San Francisco
.article-cta-top
Selection of frames and vintage hats at Fine Arts Optical - Photo by Hideaway Report editor
Manufacturing eyewear since the 1930s, Fine Arts Optical on Valencia Street in the Mission District is a 4,000-square-foot space that specializes in the fabrication of bamboo, buffalo horn and wood frames. Most of its unique merchandise is made in San Francisco. There is also a large selection of vintage hats and horn jewelry.
Fine Arts Optical
888 Valencia Street. Tel. (415) 913-7414
Cuyana
Cuyana specializes in globally sourced, handcrafted leather accessories and fine apparel - © Suzanna Scott Photo/Lauren Nelson Design
Located above Union Square, Cuyana is an exceptional shop specializing in globally sourced, handcrafted leather accessories and fine apparel. Its philosophy of "Fewer, Better" reflects the elegant simplicity and timelessness of each item sold in the store.
Cuyana
291 Geary Street, Floor 2. Tel. (415) 445-3001
Poco Dolce
Assorted chocolates at Poco Dolce - © Poco Dolce Confections Inc.
Although Ghirardelli's chocolate has dominated the confectionery landscape in San Francisco since 1852, there are several new artisanal chocolatiers of note. One of my favorites is Poco Dolce in the Dogpatch District. Using a blend of GMO-free cacao beans sourced directly from farmers, each chocolate is handcrafted by a 10-person team. With flavors including Aztec chile, sesame toffee, almond coconut, caramel and ginger, chocolates are usually complemented by sea salt sourced from Brittany. Specialties include Bittersweet Bars and Simply Sea Salt and Mint Toffee "tiles."
Poco Dolce
2421 3rd Street. Tel. (415) 255-1443
Scheuer Linens
High-end home décor, fabrics and bedding supplies at Scheuer Linens - Photo by Hideaway Report editor
Conveniently located a short walk from Union Square, Scheuer Linens is a source of high-end home décor, fabrics and bedding supplies. Founded by Samuel Scheuer in 1935, this boutique offers luxurious European-inspired designs that range from elegant floral patterns to French country toile. Though predictably pricey, the custom-made and hand-embroidered linens offered by this San Francisco institution are gorgeous.
Scheuer Linens
340 Sutter Street. Tel. (415) 392-2813
Bryr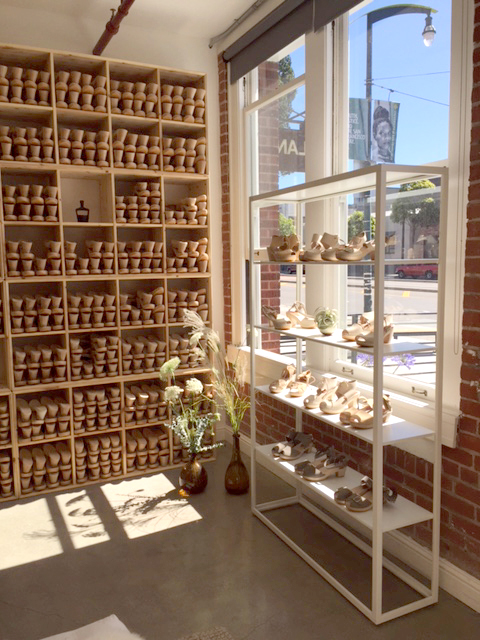 While discovering San Francisco on foot, you may want to purchase a unique pair of clogs from Bryr (meaning "to care" in Swedish), one of the many sophisticated studios springing up in the gentrifying Dogpatch District. It specializes in chic wooden-soled shoes fashioned from soft American leather and traditional wooden bases from Europe, each pair personally customized for individual customers according to desired size, heel height, style and color.
Bryr
2331 3rd Street. Tel. (415) 374-7323