Restaurant Finds in Lisbon
.article-cta-top
Portuguese cuisine is hearty, honest and delicious, with the principal ingredients being pork, bread, rice, olive oil and, of course, seafood. Set aside any worries about overdosing on bacalhau (salt cod), however. The restaurants in Lisbon offer an impressively sophisticated variety of dishes, cooked with finesse. On a recent trip I had a number of dining experiences worth sharing, both firmly local and globally inspired, upscale and down-to-earth.
A Cevicheria
Roasted octopus at A Cevicheria - Photo by Hideaway Report editor
A much-buzzed-about Peruvian spot in Príncipe Real, A Cevicheria opened its doors in 2014. The space — a white-tiled cube with a blue patterned floor and an enormous octopus sculpture hanging from the ceiling — isn't quite large enough to keep up with demand, so there is often a wait. But the food, prepared by Portuguese chef Kiko Martins and a small army of young cooks, is confident and flavorful. Meals start with cornbread, crackers blackened with squid ink, and seaweed butter. The Puro ceviche was a standout — meaty hunks of pinkish-white croaker fish bathed in a spicy leche de tigre marinade, along with sweet-potato chips, red onion and seaweed. A hearty roasted octopus came with barbecue sauce, puréed black potatoes, burst cherry tomatoes and pork crackling "popcorn." The wine list is fairly limited — stick with a pisco sour.
A Cevicheria
Rua Dom Pedro V 129. Tel. (351) 218-038-815
Bistro 100 Maneiras
Turbot with beet and saffron risotto at Bistro 100 Maneiras - Fabrice Demoulin
The name is a joke — "cem," the Portuguese word for "hundred," sounds like "sem," meaning "without," so "without manners" — and the atmosphere of this two-level art deco townhouse in Chiado is similarly antic. The irreverence extends from the artwork — on one wall, meat cleavers stab at a collage of vintage books — to the names of dishes (Bun, Baby Bun! Beets' Me). But the chef, a Balkans transplant named Ljubomir Stanisic, has serious talent: He runs the more formal Restaurant 100 Maneiras and also serves as consulting executive chef at the Six Senses Douro Valley resort. The bistro's menu swings from Portuguese beef croquettes to ramen with cod to mushroom-and-shrimp risotto. My main-course special of fragrant pork goulash, served in a cast-iron pot with pickled onions, favas and cracklings, reflected the chef's Slavic roots; it paired well with a glass of Vinha de Reis from the Dão Valley. A well-rounded cocktail list keeps the mood celebratory.
Bistro 100 Maneiras
Largo da Trindade 9. Tel. (351) 910-307-575
Ceia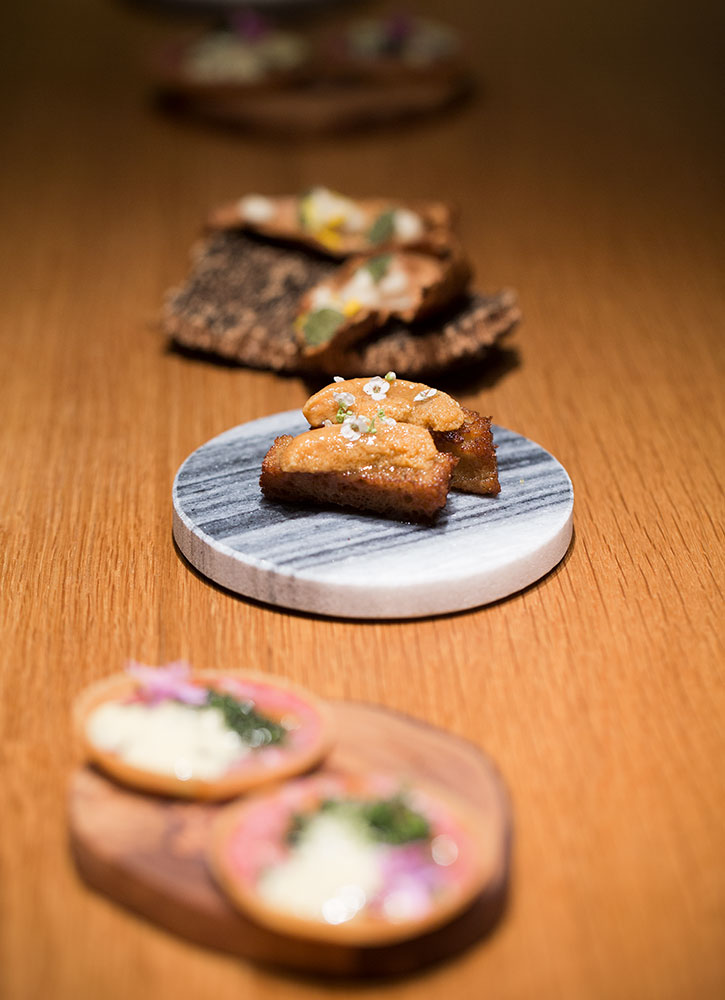 The stylish luxury guest house Santa Clara 1728, in Alfama, has a ground-floor dining room (you couldn't call it a proper restaurant) that's equally chic. Each evening, the talented young chef Pedro Pena Bastos serves an elaborate multicourse tasting menu to 14 diners seated at a long communal table. The idea is to create the atmosphere of an exclusive dinner party among friends — even if they start as strangers. This is not home cooking, however: Bastos and his team know their way around a tweezer and a foam gun and ensure the ingredients are well-sourced and beautifully presented. Highlights of my menu of 14 exquisitely balanced "moments" included an amuse-bouche of venison tartare piled on a crisp sunchoke chip; butter-tossed "noodles" made of celeriac confit and sprinkled with toasted buckwheat and shavings of house-cured bottarga; and lamb roasted in a bed of hay. A dessert of mushroom ice cream with cocoa nibs, nasturtium leaves and quince won over my initial skepticism. As the meal progressed and the wine flowed — the optional pairing included some excellent finds, like a still-youthful Poço do Lobo Arinto white from 1992 and a crisp, minerally Dão white by the young winemaker Antonio Madeira — the mood turned more convivial. A memorable and unique experience. Closed Sundays, Mondays and Tuesdays.
Ceia
Campo de Santa Clara 128. Tel. (351) 910-715-587
Cervejaria Ramiro
Small shrimp at Cervejaria Ramiro - Paulo Barata
Anthony Bourdain ate here on an episode of "No Reservations," but don't let that (or the resulting crowds) deter you — this no-frills beer hall in Intendente serves the best shellfish in Lisbon. A wait is inevitable, but they've got a system worked out: You take a ticket from the machine at the front door, pour yourself a Sagres beer from the automated tap (!) on the terrace and wait for your number to be called. The ambiance doesn't get much ritzier once indoors — think paper tablecloths, fish tanks and a boisterous soundtrack of clanging dishes and cracking crab shells (an upstairs dining room is more sedate). Once it arrives, the food will steal your attention. Delicate amêijoas à bulhão pato (cockles) come swimming in a copper pot with garlic, cilantro and an olive oil-enriched broth. Tiger prawns are split, quickly grilled to tender perfection and drizzled in melted butter. Crab, lobster, oysters, goose barnacles and other sea creatures jostle for space on the menu, but ask your waiter if carabineiros are available. These enormous "scarlet shrimp" are steamed whole; crack them open to reveal the red and white meat, bright as a carnival tent and cooked to a divine, custardlike consistency. Closed Mondays.
Cervejaria Ramiro
Avenida Almirante Reis 1. Tel. (351) 969-839-472
Epur
Marinated Maronesa beef with Vietnamese coriander at Epur - Luis Ferraz
As the name suggests, this fine-dining establishment in Chiado, which opened last year, promises pristine flavors and impeccable ingredients. The white-walled room, with its Scandinavian furniture, reflective ceiling sculpture and azulejo skirting, is beautiful if solemn. That formality extends to the suited servers, who ceremoniously present first a napkin, then a menu, followed finally by an offer of a drink. I chose the shortest of the multicourse tasting options, but after 45 minutes, having received only two amuse-bouches and one glass of wine, I realized I was in for a very long night nonetheless. French-born chef Vincent Farges, who earned a Michelin star at the Fortaleza do Guincho hotel in Cascais, certainly can cook. A velouté of celeriac with bone marrow croutons was elegant and comforting; a moist hunk of sea bass was set in a bracing celery-and-sparkling-wine nage. But the flavors felt repetitive, and the execution was inconsistent. Marinated mackerel with fennel confit and dill oil sounded bold but tasted bland. Alentejo black pork was borderline overcooked, and its mushroom ravioli accompaniment came in a doughy wrapper. When you lean into simplicity, you must get everything right — not just technique, but soul. My meal was lacking in both. Closed Sundays and Mondays.
Epur
Largo da Academia Nacional das Belas Artes 14. Tel. (351) 213-460-519
Peixaria da Esquina
Raw tuna belly at Peixaria da Esquina - Photo by Hideaway Report editor
Acclaimed chef Vítor Sobral opened this relaxed, seafood-focused spot in 2011 in the upscale Campo de Ourique neighborhood. Pristine, market-fresh fish and shellfish are fussed over by a team of chefs, who cure, marinate, grill and roast from behind a marble counter. Traditional Portuguese dishes are elevated by superb technique, like a feijoada-style stew of cod with perfectly creamy, plump white beans. Others draw on global influences and modern approaches: Raw tuna belly is sprinkled with sesame seeds and microgreens and bathed in zesty olive oil. Sweet, ivory-colored morsels of raw scallop are tossed with enoki mushrooms and toasted almond slices. The sommelier can guide you through the all-Portuguese wine list; I particularly enjoyed the Ribeiro Santo Encruzado 2017, whose crisp lemon and green apple notes are balanced by the creaminess from a short stint in French oak. Closed Mondays.
Peixaria da Esquina
Rua Correia Teles 56. Tel. (351) 213-874-644