Located just off the coast of Southern Brazil on the sandy beaches of the Emerald Coast, Ponta dos Ganchos is a private paradise, offering guests magnificent views, stylish bungalows and an ideal setting for relaxing with a refreshing cocktail.
Here are three of Ponta dos Ganchos' go-to cocktail recipes to enjoy when the summer heat hits its peak.
Tropical Fruit Caipirinha with Cachaça Gancheira
Brazil offers a rich blend of culture, sports, arts, adventure, fashion and nightlife and this cocktail represents this exquisite blend that makes visiting Brazil so unique.
1 passion fruit
1 cajun (cashew)
1 lime
1 lemon
1 strawberry
1 teaspoon sugar
1.5 oz. of Cachaça Gancheira (exclusive to Ponta dos Ganchos)
crushed ice
In a small glass, gently muddle fruits with the sugar. Add crushed ice to fill the glass and top off with Cachaça Gancheira.
Berry Delicious Kir
This recipe is an interesting variation of the classic Kir cocktail. The result is both delicious and refreshing!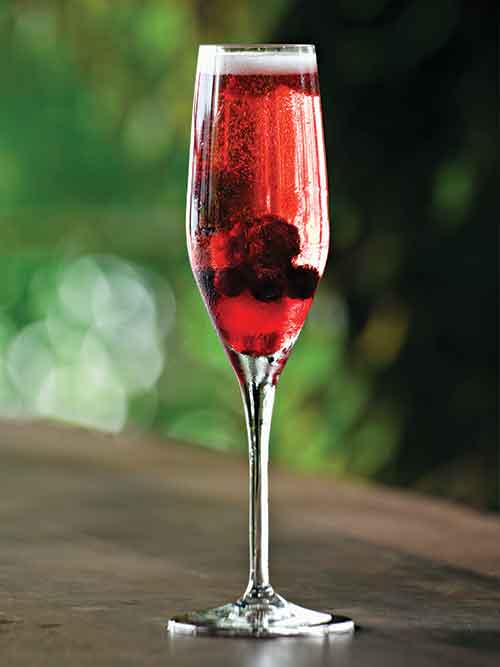 1 strawberry
1 blackberry
2 blueberries
1 raspberry
1/4 oz. crème de cassis (room temperature)
Moët & Chandon Champagne

Add fruit to the champagne flute and slowly pour champagne to fill, keeping the fruit at the bottom.
Frozen Pineapple
This cocktail is ideal for cooling off on hot summer nights.
200 ml pineapple juice
10 to 15 ice cubes
50 ml Cachaça Gancheira
2 teaspoons sugar
lemon zest


Place pineapple juice, ice cubes, Cachaça Gancheira and sugar into blender. Blend until smooth. Pour into a martini glass and garnish with lemon zest.
Voilà!

See more from our Summer Cocktail series.