Upon your return to Edgartown, spend some time enjoying the crisp morning air while the town is still quiet. After returning your bikes, grab a cappuccino from the outdoor patio at Behind the Bookstore (46 Main St.) then snake past the boutique shops on Main Street and the art galleries on South Water Street. Stop by Slate (11 N. Summer St.) for high-end women's clothing and Salte (6 S. Water St.) for accessories and home décor like cashmere throws and woven tote bags. Continue to the harbor past perfectly manicured 19th-century homes until you reach the scenic harbor and the Edgartown lighthouse.
MIDMORNING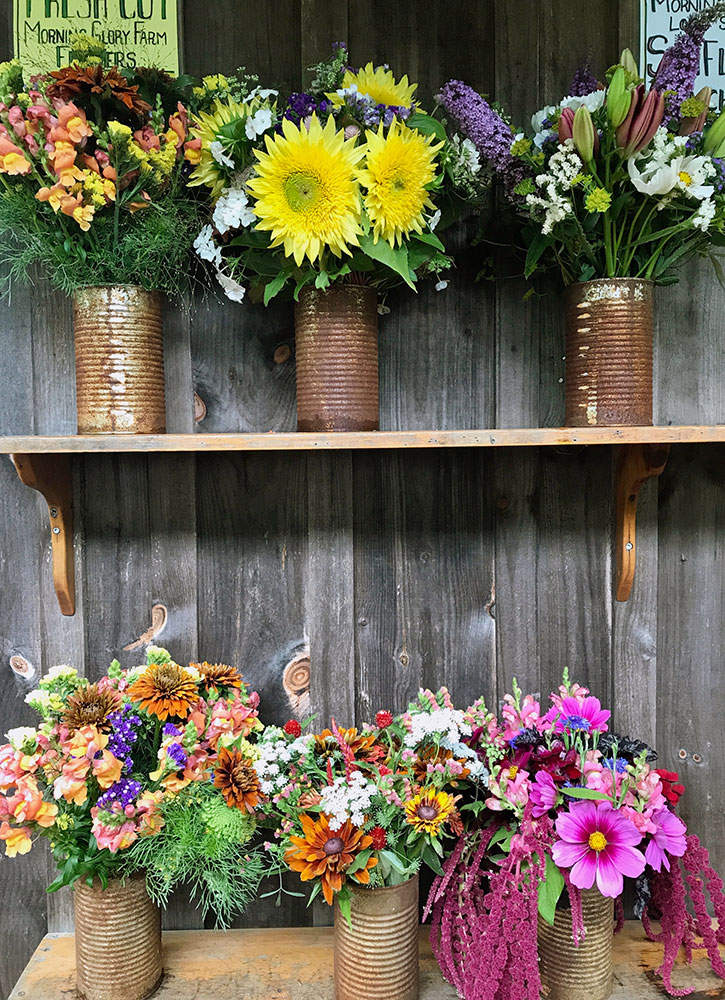 It's time to drive up-island. On your way, visit Morning Glory Farm (120 Meshacket Rd.), one of the rare spots on the island that stays open until Christmas. Browse aisles of colorful produce, dahlia bunches, freshly baked bread and locally made foods like cinnamon granola, kale pesto and lavender goat cheese.
Every Saturday morning until early October you can catch the West Tisbury Farmers Market at Grange Hall (1067 State Rd.). (A smaller fall market also takes place at the Agricultural Hall [35 Panhandle Rd.] on Saturdays from October through mid-December.) Enjoy local vendors like Chilmark Coffee and Grey Barn cheeses, but don't miss the cult-favorite egg roll from Khen's Vietnamese food stand.
When you're done at the farmers' market, walk directly across the street to the Field Gallery (1050 State Rd.), which hosts a rotating collection of contemporary art and photography, all loosely related to Martha's Vineyard. Outside, Thomas Maley's playfully abstract sculptures of dancing women dot the lawn.
AFTERNOON
Continue along the island's north coast for about 10 minutes to Great Rock Bight Preserve in Chilmark. Look for a small sign on North Road that indicates you've arrived. Once you've parked, follow the 1.5-mile hiking trail through a shaded forest until you see the ocean in the distance. A steep set of stairs will lead you down to a sandy cove surrounded on one side by red clay cliffs and on the other by the glistening Vineyard sound. This beach is almost always deserted, making it one of the most peaceful spots on the island.
By now, you're probably ready for lunch, and luckily the tiny fishing village of Menemsha is just a few minutes away. There, boats line the harbor while fishermen unload their catch of the day — cod fresh from the sound and lobsters still flexing their claws. Make your way to Menemsha Fish Market (54 Basin Rd.). This family-run seafood shack stays open all year, even during the frigid winter months when most of the island goes into hibernation. Your order: A cup of creamy clam chowder or lobster bisque and a meaty lobster roll, served hot with butter or cold with mayo.
LATE AFTERNOON
A 10-minute drive from Menemsha at the very tip of the island you'll spot the auburn cliffs of Aquinnah and the flickering glow from Gay Head Lighthouse. Avoid the overlook, which is overrun by tourists and instead continue driving down. You'll pass a parking lot and see signs directing you to Moshup Beach. Follow the trail through the windswept dunes and wildflowers for the best views of the cliffs. It's easy to spend hours walking along the rocky shores of this picturesque coastline.