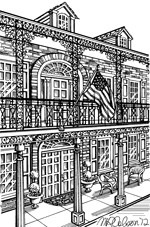 Walking through the vibrant New Orleans of today, it is easy to forget that just a few years ago, many people wondered whether the city was even salvageable. After Hurricane Katrina, there were serious calls to transform New Orleans into a Colonial Williamsburg-style theme park. Thankfully, other voices prevailed, and the city reemerged as a real place, not one entirely dependent on tourists.
More recently, strengthened levees held during Hurricane Isaac, which one taxi driver described as "an old man of a storm: not too strong and very slow, stumbling over every power line in his path." On our recent trip, we found that in many respects, the Big Easy is better than ever. Several major luxury hotels have completed extensive renovations, and the justly renowned restaurant scene has dozens more options than before. Jazz clubs jump with everything from traditional Dixieland to more experimental contemporary music. The thoroughly engrossing National WWII Museum, set in the revitalized Warehouse District, continues to expand and improve. And Bourbon Street remains its gleefully debauched self.
Nevertheless, outside the center, it is still not difficult to find evidence of the ravages of Katrina, as we discovered on an excellent "City/Hurricane Katrina Rebirth" excursion with Historic New Orleans Tours. Beyond the mansions of the Garden District, the townhomes of the French Quarter and the wildly colorful Creole cottages of the adjacent Faubourg Marigny, too many houses still bear a telltale "X" spray-painted on their façades, indicating that the building was searched and what (or who) was found inside. We had looked forward to seeing what progress was being made farther downriver in the devastated Lower Ninth Ward, which we explored on our own in 2006. Regrettably, on this occasion our tour could not enter. According to our personable guide, a visiting politician indicated he was "offended to see people profiting at others' misery." The mayor took the hint and made it illegal for tour vans and buses to drive through the Lower Ninth Ward.
Fascinating though other New Orleans neighborhoods may be, travelers tend to spend a majority of their time in the French Quarter, the historic heart of the city. The easy- to-navigate grid of streets lined with townhouses never fails to charm, particularly away from the tourist kitsch of the French Market and the excesses of Bourbon Street. Explorations just a block or two off the beaten track reveal lovingly maintained historic residences and atmospheric shops, bars and restaurants as likely to be patronized by locals as by visitors. We spent many happy hours simply wandering the quarter, pausing occasionally to browse some antiques or to fortify ourselves with a Sazerac.
Audubon Cottages
Ever on the hunt for hideaways in the French Quarter, I made a reservation at the Audubon Cottages, a collection of repurposed slave quarters in a leafy garden courtyard centered on a swimming pool. Since the seven one- and two-bedroom cottages recently came out of a multimillion-dollar renovation, I had high hopes for this property. But although we enjoyed our stay overall, Audubon Cottages didn't measure up to the standards set by New Orleans' best hotels.
Problems started the moment we walked in. Our first cottage, Seven, had faulty air-conditioning, and the manager moved us to Five, a much larger two-bedroom cottage. We loved breakfasting on the semi-private patio, enhanced by a burbling fountain, and relaxing in the loft-like living room with its exposed brick, hardwood floors and framed Audubon prints. But both bedrooms lacked windows, and little natural light could reach them. Several of the other cottages are similar in this regard, and only Four, Six and Seven have bedroom windows. The first would work well for a family, or two couples traveling together, but those unable to secure Cottage Four will likely feel more comfortable at another hotel.
Audubon Cottages 84 One-Room Cottage, $500; Two-Bedroom Cottage, $1,000. 509 Dauphine Street, New Orleans. Tel. (504) 586-1516.
Map of Recommended Hotels and Restaurants in New Orleans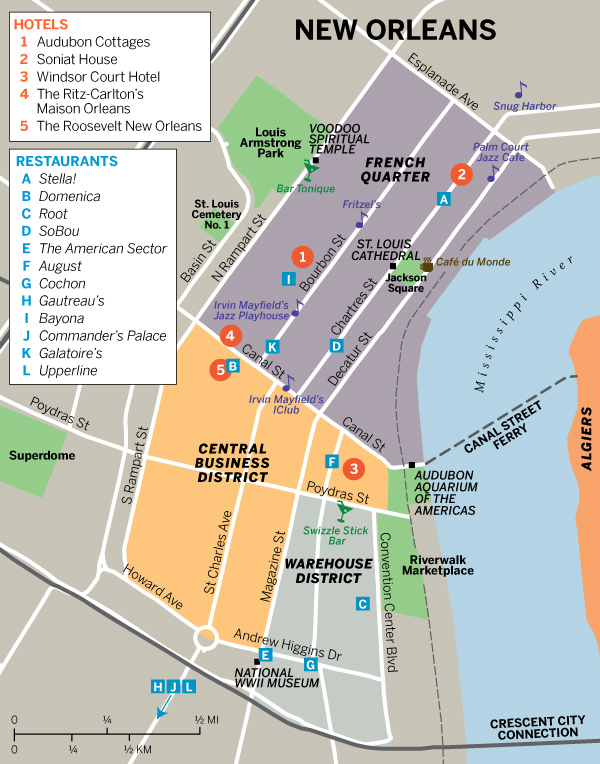 Soniat House
On the other side of the French Quarter along a particularly attractive and quiet stretch of Chartres Street, the Soniat House is a better alternative for those seeking historic surrounds, with accommodations in former slave quarters as well as in three grand mansions. Because I receive such mixed reviews from subscribers about this idiosyncratic property, I make a point of staying here whenever I pass through New Orleans. In whatever accommodation you choose, be prepared for staircases (there are no elevators) and uneven floors.
While Deluxe Rooms face a lovely garden courtyard and have appealing period touches, they tend to be snug and lack privacy. Even certain suites can be problematic, such as those numbered in the 30s, located up a vertiginous staircase. A Grand Suite with a balcony, however, is a virtual guarantee of happiness. Our Grand Suite, #64, was on the second floor of a mansion across the street from the main buildings, right above the Soniat House's tempting antique shop. Quite a few fine pieces had made it upstairs into our suite. A crystal chandelier hung from the tall ceiling, reflected in the gilt-framed mirror over the black marble fireplace. Rich floral embroidery decorated comfy armchairs, pillows and the swathes of silk comprising the canopy over the king bed. Chinese porcelain lamps, antique dressers, neoclassical desks and botanical prints filled out the rest of the suite. Two sets of French doors led to a balcony overlooking Chartres Street, perfect for breakfasting on the Soniat House's delicious biscuits. With strains of Billie Holiday drifting from the iPod dock, relaxing in this space was pure bliss.
Nevertheless, the suite wasn't perfect. The Jacuzzi tub had some scuffs, and water damage marred some of the molding and plaster near the French doors. But these quibbles miss the point of the place. The Soniat House has a soul unmatched by any other property in New Orleans. I wouldn't have been surprised to encounter Violet Venable from "Suddenly, Last Summer" in the lush courtyard behind our suite. Considering the space and character of the Grand Suites, they are well worth the expense. Those in a less extravagant mood will do better at a property such as the Windsor Court, where Deluxe Rooms and Junior Suites tend to be more consistent.
Soniat House 91 Junior Suite, $450; Grand Suite, $675. 1133 Chartres Street, New Orleans. Tel. (504) 522-0570.