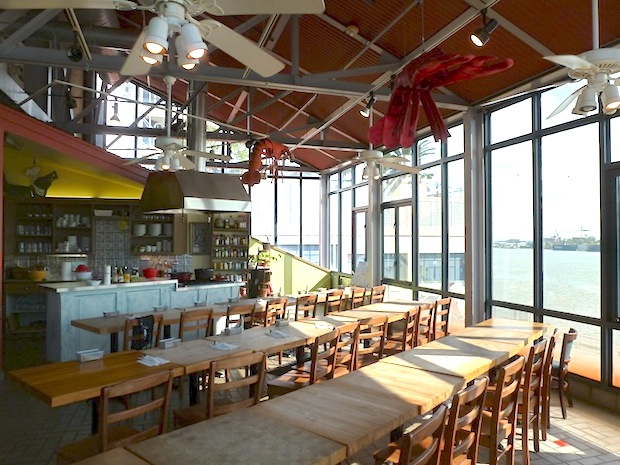 Crescent City CooksAlthough Cajun and Creole cooking never seem to taste quite as good outside of Louisiana, it can be great fun to try to recreate some of the local dishes yourself.
On our most recent visit to New Orleans, Mrs. Harper and I stopped in at Crescent City Cooks for a lesson. This colorful shop and classroom has a touristy location in the Riverwalk Marketplace, but the floor-to-ceiling windows afford fine views over the Mississippi and the Crescent City Connection bridge. Only 10 of us showed up for class (advance reservations are required), and we had no trouble securing prime seats close to the teaching kitchen. Our instructor, Scott, was born in New Orleans but had moved around the country as an Army brat, making him uniquely empathetic with those of us attempting to recreate New Orleans recipes out of state. He noted which ingredients residents typically use, but helpfully identified widely available substitutes, as well.
As he demonstrated proper roux technique, Scott related the history of the Cajun people and explained the difference between Cajun and Creole cuisines (Cajun uses almost exclusively local ingredients; Creole, the cuisine of the city, also uses imported items, such as tomatoes and butter). An engaging teacher, Scott whipped together a hearty batch of red beans and rice, rich crawfish étouffée and satisfying bananas Foster, all of which we had the pleasure of eating for lunch.
It was a delightful experience, though it was unfortunate that there was no overhead mirror. Scott had to hold one for us to see inside the fragrant pots. Crescent City Cooks offers other demonstration classes focusing on recipes for jambalaya, gumbo and bread pudding, as well as hands-on classes in which students actually get to do some cooking themselves.
Reserve as far in advance as you can; those who reserve earliest have the first choice of seats in the classroom. -A.H.