Acre
I had decided to tour Tel Aviv at the end of my trip, so we set off to the north, along a highway running beside the sea. Our first encounter with the past came at Caesarea, 35 miles north of Tel Aviv, where we stopped to wander among the ruins of a grandiose city built by Herod the Great at the end of the first century B.C. A half-hour farther on, we paused atop Mount Carmel to admire the view over the major port of Haifa before descending to the ancient city of Acre.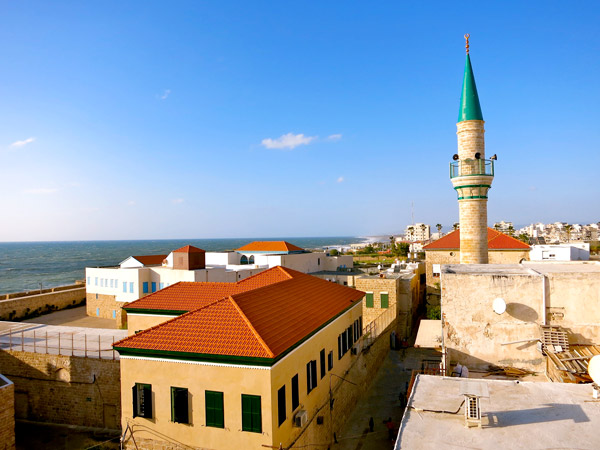 Acre (or Akko, as it is known in modern Israel) has been a place of significance for 2,500 years. Today, it comprises a new Jewish town and an old walled city, whose inhabitants are almost exclusively Arab. (Within internationally recognized borders, Israel has a population of about 8.15 million people, of whom nearly 21 percent are Arabs.) For most of the 13th century, after the loss of Jerusalem, Acre was the chief Crusader stronghold in the Holy Land. It was the last bastion to fall when Arab armies finally sacked it in 1291.
Without a guide, it might have been difficult to find The Efendi Hotel, the unassuming entrance to which is hidden in a pedestrian alleyway. Housed within two Ottoman mansions, the property has been a labor of love for Uri Jeremias, one of Israel's best-known chefs. (His renowned seafood restaurant, Uri Buri, is a five-minute walk from the hotel.) The old houses were dilapidated, and their reconstruction took eight years. The final part of the project was a seven-month restoration of the exquisite painted walls and ceilings by a team of young art graduates from Venice.
From the dignified stone-floored reception area, guests ascend via a modern elevator to 12 rooms spread out on three levels. We were escorted to Room #2, from which there is a view over a small square and the flat roofs of Acre to the green dome and minaret of the al-Jezzar mosque. (Although the outlook is appealing, the muezzin's 5 a.m. prayer call is a considerable drawback.) Some Grand Deluxe Rooms, and both the Royal and the Presidential suites, have sea views and should be requested. Still, we were very comfortable in Room #2, which came with a marble floor, Turkish carpets, a chandelier suspended from a stenciled ceiling, a glass-fronted armoire and a modern bath with an effective glass-enclosed rainfall shower.
Although The Efendi has no formal restaurant, a lavish breakfast is served in a stone-walled dining room off the lobby (a choice of eggs is accompanied by delicious local bread, cheese, yogurt, honey, fruit, olives and salad). A short flight of steps leads into a cellar with sixth-century Byzantine columns and 12th-century Crusader walls. There, wine and cheese are offered each evening. Most guests stroll to Uri Buri for dinner, which is located in a 400-year-old Ottoman house next to the Acre lighthouse. The fish and seafood are the best that the Mediterranean can provide, and Uri Jeremias is a talented chef, as well as a hospitable and articulate host.
The chief pleasures of a stay at The Efendi are provided by the magnificent salons and terraces, which are idyllic places to relax with a book or just to sip a glass of wine while gazing at the sea. Overall, the atmosphere of the property is calm, civilized and aesthetically refined.
AT A GLANCE
LIKE: Spectacular salons and seaview terraces; friendly staff; the atmospheric small spa; the delicious Israeli breakfast.
DISLIKE: The lack of an on-site restaurant; the absence of evening turndown service during our stay.
GOOD TO KNOW: The narrow streets of this walled city may seem intimidating at first, but Acre is a friendly place through which it is a pleasure to stroll.
The Efendi Hotel 93 Grand Double Room, from $400; Suite, from $605. Louis IX Street, Acre. Tel. (972) 74-729-9799.