Indelible Travel Memories 2016
.article-cta-top
Our lunch setup beside the surf along the Skeleton Coast - Photo by Hideaway Report editor
After a four-hour drive through the desert, we finally reached the Atlantic shore, where hundreds of Cape fur seals were bobbing in the roiling surf. Before our arrival, someone had set up a long table on the beach, and half a dozen metal-framed canvas chairs had all been arranged to face the ocean. Our guide, Papa-G, began opening large plastic containers and scooping their contents onto metal serving plates. He then uncorked bottles of red and white South African wine. We sat down for a lunch of fried chicken, meatballs, pasta and feta salad. Our chairs were so close to the sea that exhausted breakers occasionally washed around our ankles. A combination of the salty breeze, the hypnotic roar of the surf and the wine quickly induced a sense of profound well-being. We had come, it seemed, to the end of the earth, and all our cares were behind us.
Visiting the experimental winery at Catena Zapata in Mendoza, Argentina
I delighted in sampling cutting-edge wines right from the barrel at Catena Zapata in Mendoza, Argentina. - Photo by Hideaway Report editor
Rising like a Mayan pyramid from the vineyards, the Catena Zapata winery is one of Mendoza's most popular stops. We took the basic tour, accompanied by 10 other people, but what really made the visit unforgettable was our private tour of the experimental winery, led by two enthusiastic and aspiring winemakers. I delighted in sampling cutting-edge wines right from the barrel, such as a rich and warmly spicy Roussanne and a surprisingly good Criolla, a variety typically relegated to bulk wine. My favorite was the gorgeous passito of Malbec, a zesty, jammy wine made from sun-dried grapes. Clearly, Argentine winemakers are not content to simply sit on their Malbec laurels. Mendoza continues to be a hub of viticultural innovation.
Sleeping under the screened open-air atrium of our room at L'AND Vineyards, the Alentejo, Portugal
Sky View Suite bedroom at L'AND Vineyards in Portugal's Alentejo region - © Fernanda Guerra
After enjoying the woodburning fire on our terrace on a pleasantly cool evening, we were happy to turn in at the end of a long day. The contrast between the fresh country air and the air-conditioning in our suite was disappointing however, until I discovered a previously unnoticed switch in the bedroom. Slowly, our ceiling rolled open to reveal stars in an indigo sky. As the roof was screened, we shut off the air-conditioning, inhaled lungfuls of eucalyptus-scented air, and sank into untroubled sleep.
Cycling along remote rural roads in Cambodia
Shimmering rice paddies in the Cambodian countryside, where local farmers were planting a new crop. This backbreaking task requires each new shoot to be stuck into the saturated earth by hand. - Photo by Hideaway Report editor
As pleasant as it was to gaze at the scenery scrolling past the deck rail of our boat, the Aqua Mekong, I will never forget our bicycle forays into the emerald countryside. Kitted out with state-of-the-art equipment and led by guides who clearly knew the territory well, we embarked on journeys that took us to the workshops of artisanal silversmiths and the homes of talented potters, as well as through shimmering rice paddies, where local farmers were planting a new crop of rice, a back-breaking task requiring each new shoot to be stuck into the saturated earth by hand. Everywhere we went, children ran to windows, doors and the road's edge to greet us.
Hiking in the Kimberley, Australia
Chain of freshwater ponds we hiked along to reach a stunning cascade of waterfalls in the Kimberley, Australia - Photo by Hideaway Report editor
On an excursion from The Berkeley River Lodge, our guide, Bruce Maycock, eased our boat toward a rocky inlet. "This will be a bit of a hike," he cautioned, "but I think you'll like it." With that, we hopped out and began flanking a stream punctuated by inviting pools of water, which would have provided welcome relief from the sun. "Not yet," warned Bruce. "The salties can get up this far." So we continued, until, tired and sweaty, we were high enough to be out of danger from crocodiles. Following Maycock, we jumped into a big pool fed by a stunning cascade. The cool water crashed around our heads and pummeled our backs in a delirious outdoor massage.
Reading in the lighthouse tower at Faro Capo-Spartivento, Sardinia, Italy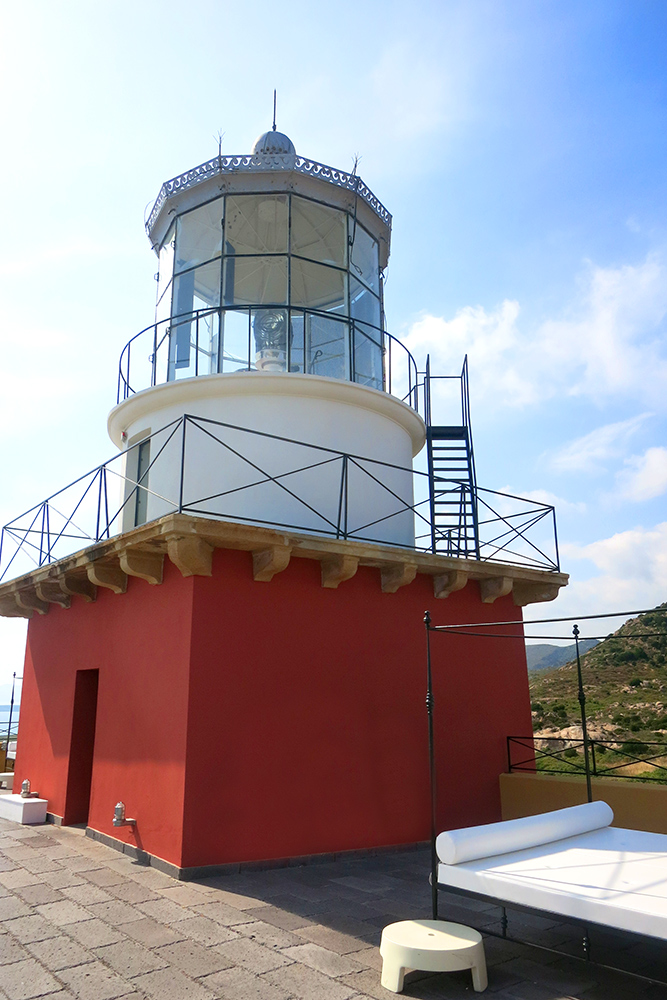 Sardinia's idyllic Faro Capo-Spartivento hotel is housed within a former naval lighthouse. Having settled in, I set off to explore and soon discovered a staircase that led up to the lighthouse keeper's watch, a perch made even more companionable by the fact that it was furnished with two chairs and a telescope. Lulled by briny breezes, I spent several quiet hours dividing my attention between a book and the soul-stirring views of the azure Mediterranean. Occasionally, a passing ship would come within range of my telescope.
Horseback riding in the vineyards of Chile
Horseback riding through the scenic vineyards at Viña Vik in Chile - Photo by Hideaway Report editor
Titanium-roofed Viña Vik cuts a startling profile amid its acres of vineyards and orchards, as though a Frank Gehry-designed flying saucer had landed on a convenient hilltop. One morning, I descended from the hotel to the corral, where I met the property's wrangler, Raul. We rode together through the sensationally scenic vineyards surrounding Viña Vik atop sure-footed mounts which had no trouble navigating the sometimes steep and rocky trail. At the highest point, Tuscan-like vistas extended for miles. Portly but nimble quails darted in and out of the vineyards, and as we trotted along the lake beneath the hotel, I spotted flocks of cranes, ducks and southern lapwings. They scattered as we approached, flecks of white and black against a perfect cerulean sky.
Feasting at the sausage stand at KaDeWe department store, Berlin
A variety of sausages at the KaDeWe department store in Berlin - Photo by Hideaway Report editor
The sixth floor of this venerable upmarket department store in western Berlin is an internationally renowned destination for lovers of all kinds of German wursts and other sausages. Over 200 different varieties are sold in the store's superb food hall, and dozens of them can also be eaten on the spot with garnishes of potato salad or coleslaw. We indulged in an impromptu feast, washed down by predictably excellent draught beer.
Listening to elk bugle from our porch at Jenny Lake Lodge, Grand Teton National Park, Wyoming
View of the Tetons from our cabin at Jenny Lake Lodge - Photo by Hideaway Report editor
It was late October when we arrived at Jenny Lake Lodge. Aspens glowed with autumn gold, but low-lying clouds hid the craggy peaks of Grand Teton National Park. We enjoyed a leisurely dinner in the lodge's log dining room, so night had fallen by the time we finished dessert. Outside, no moon or stars were visible, and a light mist descended as we made our way along a path through the smoke-scented air in the darkness. Then, from the distance, came the eerie sound of bugling elk. Thrilled, we stopped and listened as one bull's challenge was answered by another, and another, and another. The next day, the clouds parted and revealed the majestic Teton spires, powdered with fresh snow.
Wading the bonefish flats, Andros Island, Bahamas
The shallow, translucent waters of Andros are ideal for bonefishing. - Photo by Hideaway Report editor
Not for nothing is Andros known as the "Bonefishing Capital of the World." The island's surrounding waters hold a huge population of the "gray ghosts of the flats." For me, the pinnacle of the sport is wading knee-deep in translucent water, moving stealthily, trying not to make a splash, letting one foot at a time sink into the soft white sand. Only with the aid of polarizing sunglasses is it possible to spot the swiftly moving shoals. Often, two or three members of the group break away and begin to follow the fly as you retrieve it, until one, bolder than the others, finally grabs it. Suddenly, you seem to have become accidentally hooked up to a motorbike. Aside from the thrill of the fishing, Andros provides an environment of therapeutic space and solitude. There are always seabirds to look at, and in the deeper water, you frequently encounter rays, turtles and small sharks. Out on the flats, the world's troubles seem infinitely remote.