Hôtel Les Haras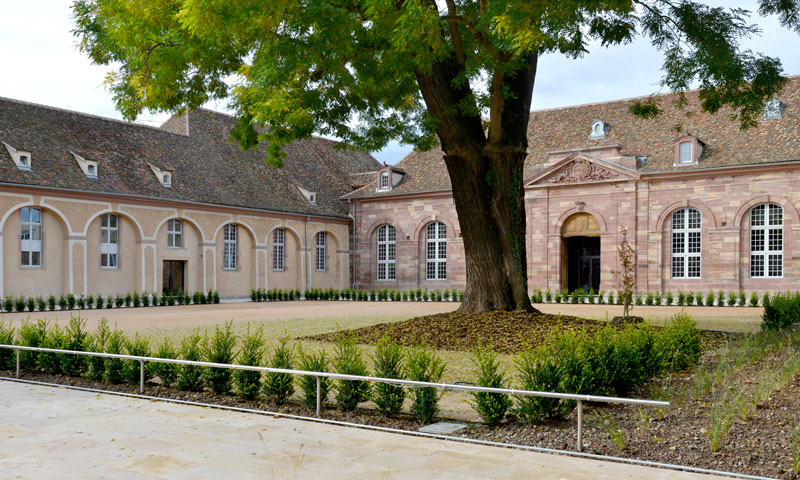 Stringent zoning in the historic center has made it nearly impossible to build new structures, which explains why the creation of two recent four-star hotels, the 55-room Les Haras and the 57-room Cour du Corbeau, required the complicated and costly renovation of historic buildings. Hôtel Les Haras was designed by the Paris-based French team of Patrick Jouin and Sanjit Manku. (The pair often work for chef Alain Ducasse and were responsible for the new décor at his restaurant in the Hôtel Plaza Athénée.) Their brief stipulated that the 18th-century façades of a disused royal stable complex could not be altered and that all internal modifications could be dismantled later if required. The integrity of the structures had to be respected, even though many of the spaces were not easy to convert into hotel rooms.
On arrival, we found a cobblestone reception area containing an equestrian-themed mural by graphic artist Philippe David, which clearly referenced the buildings' history. Waiting for our room to be ready, we sat in the calm of the hotel's large private garden, which is dominated by a huge centuries-old chestnut tree. Regrettably, the property's initial charm was compromised by the chilly, businesslike attitude of the young women at reception. But once we'd settled in, we liked our junior suite under the eaves very much indeed, with its solid oak floor and saddle-stitched headboard upholstered with tobacco-colored hide from Haas, the Alsatian saddlery company that supplies Hermès. The rest of the custom-made contemporary furniture was also understated and beautifully crafted. Though the windows were small — again, these are buildings that could not be altered for historical reasons — the room was well-lit, quiet, functional and unusual in the best sense of the word.
The hotel lacks a spa and gym, with its most notable amenity being Brasserie Les Haras, a restaurant and bar run by chef Marc Haeberlin of three-star L'Auberge de l'Ill, located 40 miles to the southwest in Illhaeusern. The menu at this popular spot runs to a mix of updated Alsatian classics such as a delicious pâté en croûte (a combination of four meats surrounding foie gras, all baked in pastry); sautéed pike-perch with horseradish cream, sauerkraut and steamed potatoes; and lighter modern dishes like a smoked-trout Caesar salad, and pork belly braised for 48 hours with white beans and thyme oil. Even if you're not staying at the hotel, this restaurant is highly recommended. Overall, we liked Les Haras' distinctively Alsatian personality, and this, along with its convenient location within an easy walk to nearly everything you might want to do or see, made our stay a considerable pleasure.
AT A GLANCE
LIKE: Intriguing and sophisticated renovation of historic royal stables; exceptional modern furniture in well-designed rooms.
DISLIKE: Distant young staff at the front desk.
GOOD TO KNOW: Rooms in the modern annex should be avoided, as they are devoid of charm. Brasserie Les Haras is extremely popular and should be booked well in advance.
Hôtel Les Haras 93 Deluxe Room, $240; Suite, $290. 23 rue des Glacières, Strasbourg. Tel. (33) 3-90-20-50-00.