Every year around this time we get a flurry of questions about the gifts we are giving for the holidays. With this in mind, here is the first in a series of themed holiday gift guides. Below you will find our suggestions for the perfect holiday gifts for the adventure traveler.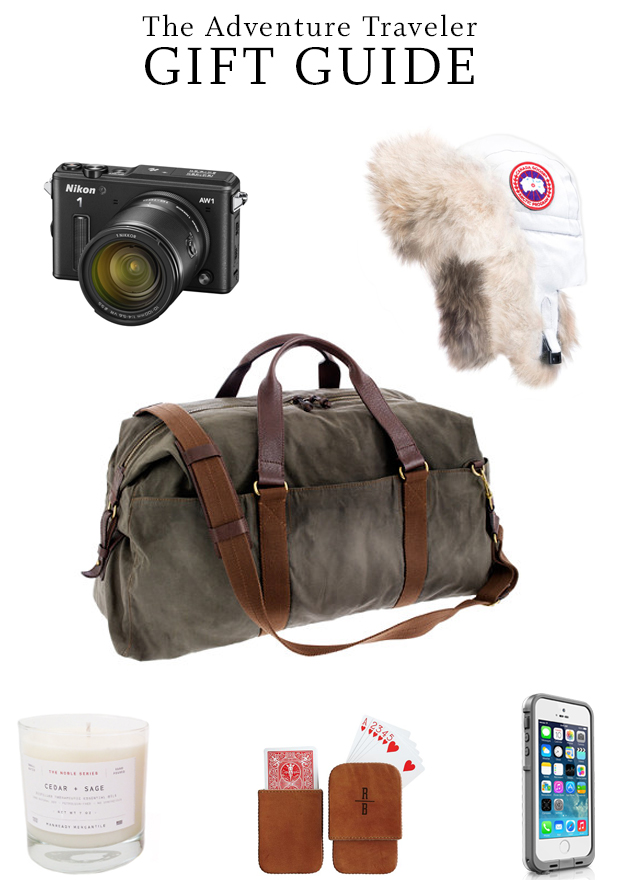 Nikon 1 AW1 – $999.95. One of the sharpest looking adventure cameras to hit the market. It has two interchangeable lens options and is waterproof to 49 feet, freeze-proof to 14°F and shockproof to 6.6 feet. You can even geotag images with the built-in GPS.
Canada Goose Aviator Hat – $225. This hat is as practical as it is stylish. The fur liner and white down fill will keep your ears warm in even the most extreme temperatures, whether you are trekking in Patagonia or at home shoveling snow this year.
J.Crew Abingdon Weekender – $198. The perfectly weathered bag for all of your travel essentials. This classic weekender comes in several colors but we like the army green which is slightly distressed and worn, meaning you can't do it much harm when you throw it in the back of your 4x4 Jeep in the Outback, or check in on the airplane.
Manready Mercantile Bergamot + Teak Soy Candle – $28. This best-seller scent has subtle hints of citrus, teakwood and tobacco. Soy burns cleanly, unlike petroleum, and the candles are made from 100% naturally derived essential oils. When the candle burns out, simply wash the holder and you have a sturdy (and rugged) whiskey tumblr.
Mark and Graham Rustic Leather Card Box – $49. Playing cards are the adventure travelers' go-to accessory. If you've ever sat out a storm in a jungle hut in Thailand or spent a lazy afternoon in the bush, you know what we are talking about. This set comes in a unique buffalo brown leather case and comes with complementary monogramming.
LifeProof iPhone 6/6s frē Case – $79.99. Travel can be hard on your gear. These cases are water proof, dirt proof, snow proof and shock proof - which means you can focus on getting that great Instagram shot and forget about the rest.
Looking for more gift idea inspiration? View the Andrew Harper Holiday Guide.