Nick Morgan and his extended family recently took a trip to Hawks Cay Resort in the Florida Keys to commemorate his 60th birthday. Although Hawks Cay is not an Andrew Harper-recommended property, the hotel and area turned out to be "the right mix of casual and luxurious" for the family celebration, with 17 attendees ranging in age from 5 to 60. And, as Nick pointed out, "it was in a warm place!"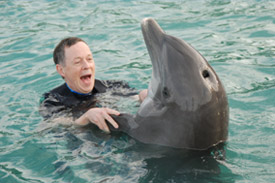 Nick Morgan
---
Describe yourself in three adjectives.
Gregarious. Creative. Daydreamy.
---
What is your occupation?
Writer and coach.
---
Where do you call home?
Boston.
---
When traveling, you won't leave home without:
My Bose® QuietComfort® headphones.
---
Who do you typically travel with?
My wife.
---
How many trips do you take each year?
A dozen or so.
---
Where are you going next?
Alas, Pittsburgh for business.
Why did you choose to visit Hawks Cay Resort?
It was my 60th birthday, so we decided to get the whole family together (17 strong) for a reunion.
Was Hawks Cay a suitable holiday destination for all ages?
There's lots for kids to do, even a separate pool and café area for them. Adults have several bars and restaurants to choose among, and there is plenty of sun and surf for all!
Why Andrew Harper? What led you to use the Travel Office in planning your recent trip?
We've come to count on Andrew Harper for spot-on recommendations when we're looking to get away to somewhere special, and whenever we have a complex set of travel arrangements.
The Travel Office did an amazing job getting people from six cities around the world flown in to arrive in Miami at the same time. When we arrived, three SUVs were waiting for us all, and two condos once we got to Hawk's Cay – a huge logistical challenge beautifully handled by Andrew Harper.
Can you share a trip highlight with us?
Racing my two sons-in-law across the bay on jet skis. The sunset cruise on Christmas Eve. Swimming with the dolphins. There were so many!
Who won the jet ski race?
I did! Did they let me win? They're not saying. It was my birthday.
Could you expand on the sunset cruise on Christmas Eve?
The resort sends you out in a boat that holds 35-40 people. We represented about half the passengers. It's about an hour around the bay, and at the perfect moment, when the sun is setting, they hand around champagne, and you toast your good fortune. Someone tipped off the crew, so everyone sang "Happy Birthday" to me as well.
What is your travel philosophy?
We like to go somewhere special and luxurious.
Have you been there before or is this the first time?
First time.
What was a great meal you ate on this trip?
We got some fresh fish and veggies, grilled them outside and had a pool party.
What do you wish that you had packed?
Fewer clothes – all you really need in Florida are shorts and T's, but that's hard to believe coming from the wintry north.
What item or experience was "worth every penny" on this trip?
Swimming with the dolphins. Dolphins are massive, dignified creatures. When they get near you, you appreciate how small a human is compared to these wonderful animals.
What souvenir did you bring back? Did it come from a particularly memorable store?
Great T-shirts from the resort store.
What would you advise someone to skip?
Skip the town – not much to see, and the traffic is bad.
What did you not have time to do that you wish you had?
More time at the beach!