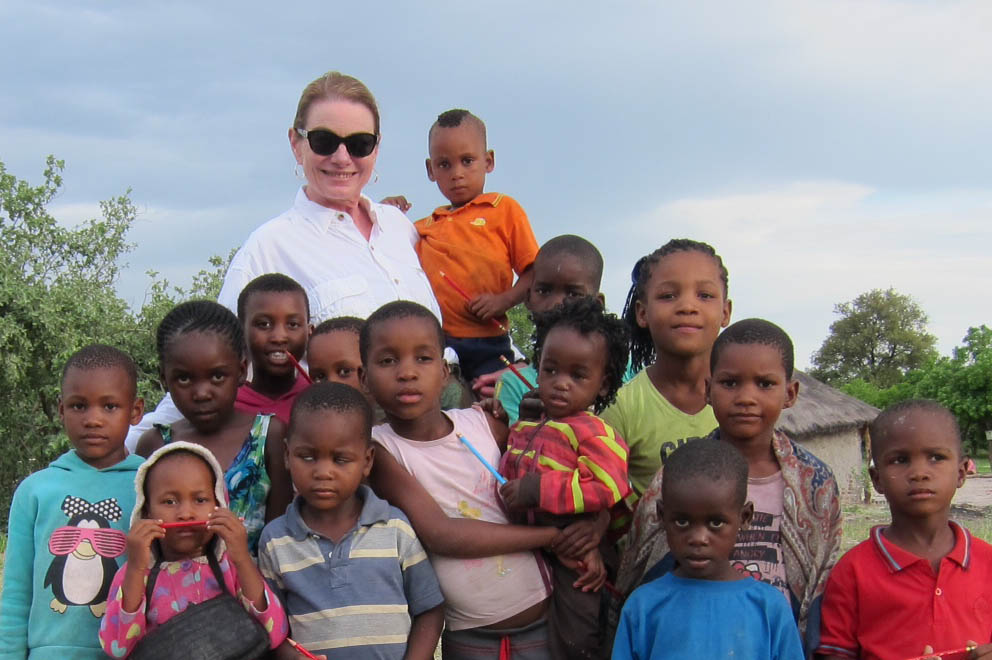 Gayle Ellis
---
What is your travel philosophy?
GO NOW!
---
Describe yourself in three adjectives.
Animal lover, foodie, easygoing.
---
What is your occupation?
I'm recently retired from the justice system.
---
Where do you call home?
Boulder, Colorado.
---
When traveling, you won't leave home without:
My camera, a list of restaurant recommendations.
---
Who do you typically travel with?
My husband.
---
How many trips do you take each year?
One major trip, a couple of two- to three-day city trips, a couple of weeks at our apartment in Puerto Vallarta.
---
Where are you going next?
I need to plan a family reunion next, to get my Colorado family together with nieces and nephews who live in England.
Why did you choose to visit Southern Africa?
We knew we wanted to go back to South Africa, and the country is so vast that we decided to make our trip all about safari, rather than trying to fit in Cape Town and the wine country. That decided, I wanted to choose lodges with very different terrains, climates and animal-viewing. We had stayed at Londolozi several years ago, so decided not to repeat Kruger.
Then I saw write-ups about Azura in the Harper newsletter. It was billed as a marine safari, which sounded intriguing and, as we live in Colorado, ending our trip with a beach vacation in Mozambique in December sounded quite exotic. It was! Azura is so unspoiled, and the people were wonderful and knowledgeable. Several of our guides were born on this little island of 2,000 residents.
Why Andrew Harper? What led you to use the Travel Office in planning your trip?
I've subscribed to the Harper newsletter since Town & Country magazine did a little article about The Hideaway Report probably 25-30 years ago. (Call me a bad housekeeper, but I still have the article!)
Also, travel within northern South Africa is all done by small planes, and you just about have to have the assistance of an experienced travel agent to put it together.
How did you balance adventure and travel?
The Andrew Harper Travel Office provided the balance. We weren't thrilled with the prospect of an overnight at the Johannesburg airport between two of our safari camps, but the InterContinental Hotel turned out to be very nice, convenient and restful. Having cocktails in the bar was very chic, and dinner in the restaurant was wonderful. I had one of the best pieces of fish ever — kingklip, I think. We also got a day room at the InterContinental to sleep several hours before flying home, and that was a good start to a long journey.
Regarding the question of balance, we could have flown from Mateya Lodge to Johannesburg for our flight to Tswalu, but we chose a four-hour drive so that we could see some of the countryside. The AH Travel Office arranged a car and driver for us. It was a relaxing drive.
Can you share a trip highlight?
Staying in such high-end camps, I feared we'd only meet other Americans. When we travel out of the States, I want to meet the indigenous people and learn about their culture. On Azura, a wonderful guide, Paolo, took us to his church on Sunday morning and introduced us to the congregation.
What was something that you learned about Mozambique's culture from Paolo and your experience at his church?
The natives of Azura Island are content with so little. It's a wonderfully comfortable place for Americans to travel because the people like us and want very much for us to like them and their country. The Sunday morning we visited Paolo's church, I happened to have about $45 in rand which I gave for the offering box, and you'd have thought I gave them $2,000. Paolo made a point of coming to see us the next day to tell us how overwhelmed his pastor was with our generosity and how thrilled his friends were with the photos I gave them.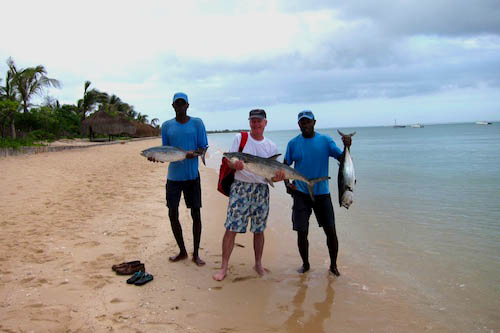 What item or experience was worth every penny?
The extra excursions offered at Azura. The island-hopping took us to Pansy Island, oddly covered with sand dollars, which we saw nowhere else, an island that is one giant sand dune where, at the top, you can see mainland Mozambique in one direction and the Indian Ocean beyond Azura in the other direction, snorkeling in a gorgeous reef that made me feel like I was swimming in an exotic aquarium, and then a picnic lunch on a secluded beach. Deep-sea fishing is another extra offered at Azura.