Eight London Cocktail Bars Not to Miss
.article-cta-top
New York's cocktail scene was just getting interesting when Prohibition sent top bartenders like Harry Craddock abroad to London. There, he wrote "The Savoy Cocktail Book," still regarded as one of the greatest cocktail compilations ever produced.
Named the World's Best Bar at this year's Spirited Awards, The Savoy's American Bar draws thirsty crowds to this day, but it is just one of London's many venues serving superlative mixed drinks. Prohibition may be long gone, but London still ranks as the best city in the world for craft cocktails, bars like Chicago's Aviary and New York's Bemelmans notwithstanding.
We had more than our fair share of delicious cocktails on our recent trip to London, and the eight bars below ranked as my favorites.
American Bar at The Savoy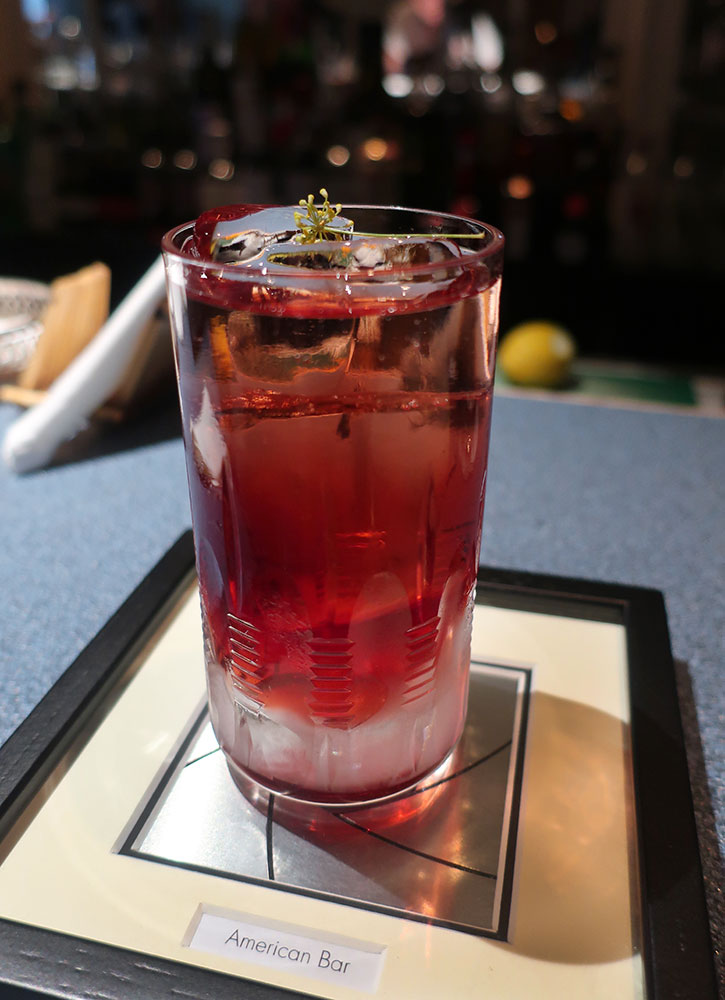 One Londoner I chatted with told me that the recent renovation had ruined this bar, and it does feel louder and livelier (and more expensive) than before. It also has a clientele of mostly tourists. That said, The Savoy's American Bar has a beautiful, clean-lined art deco décor, a pianist at a grand piano and perfectly mixed cocktails. I sipped a White Nights, made with Bombay Sapphire Gin, Campari infused with fig, Cocchi Storico Vermouth di Torino and portlike Visciole wine. It tasted fruity, bitter and smooth, and a float of sparkling wine lightened the texture. Expensive but worth it. For an American bar that feels cozy rather than glamorous, opt instead for The Stafford London's, which also recently underwent a renovation.
American Bar at The Savoy
Strand. Tel. (44) 20-7836-4343
The Bar at Roast
The Bar at Roast - Photo by Hideaway Report editor
With a unique location in the Borough Market overlooking the food stalls, The Bar at Roast is most interesting during the day, when you can watch the bustle below. At night, it feels like something of a secret, hidden away above an otherwise closed-up market. The Roast Restaurant focuses on seasonal British ingredients, and so it only seemed appropriate to order The Brit cocktail of London-made Half Hitch Gin, the ginseng-based Kamm & Sons British aperitif and Carpano Antica Formula Vermouth. This twist on a Negroni tasted bittersweet, with a delightful caramel note on the finish.
The Bar at Roast
The Floral Hall, Stoney Street. Tel. (44) 20-3006-6111
The Blind Pig
Various liqueurs at The Blind Pig - Photo by Hideaway Report editor
The Blind Pig styles itself as a speakeasy that's "hidden above the restaurant" Social Eating House, but the staircase leading to it is clearly visible from the dining room. It's more fun to enter the popular, stylish bar from the street, under the "Opticians" sign to the right of the restaurant. Upstairs, vivacious bartenders preside over a literary list of cocktails with names like Pooh's Hunny Pot and Paddington's Lost and Found. I opted for Jermima Puddle-Duck's Fowl Play, since our bartender, Kevin, came up with the recipe himself. Inspired by duck à l'orange, it incorporated duck fat-washed Aylesbury Duck Vodka, blood orange, green Chartreuse, honey, herbs and spices. It tasted rich and savory, with some citrusy brightness and a touch of depth from the Chartreuse. Delicious.
The Blind Pig
58 Poland Street. Tel. (44) 20-7993-3251
Dandelyan
The Koji Hardshake from Dandelyan - Photo by Hideaway Report editor
I wondered if Dandelyan, set in the Mondrian hotel on the South Bank of the Thames, could live up to its reputation. In 2017, the Spirited Awards named it the World's Best Cocktail Bar, and this year it earned the World's Best Cocktail Menu award. Considering such accolades, I braced myself for some attitude from the staff, but everyone proved friendly and down-to-earth. "If someone wants a mojito, that's just fine," bartender Ashton told us. "We'll make them the best mojito they've ever had." I believe it, but I recommend ordering from the justly acclaimed menu nevertheless. The cocktails are both unique and exquisite. Served in an unexpected flute, the Nitrate Manhattan mixed Tapatio Blanco Tequila, Talisker 10-year Whisky, rhubarb saison beer (flattened and infused with herbs), bitters and lanolin, to enrich the texture. It was a smoky, bittersweet joy. I also loved the Koji Hardshake, a soothing, sweet-savory nightcap of Dewar's 12-year Scotch, lemon, koji (in this case, miso clarified with egg white), cream and licorice bitters, garnished with a truffled marshmallow. A manager mistook me for a regular here, and if I lived in London, I would be. (Note: This bar will close in early 2019. The same team plans to open a reconceived cocktail lounge in the space shortly thereafter.)
Dandelyan
20 Upper Ground. Tel. (44) 20-3747-1063
Mark's Bar HIX Soho
Mark's Bar HIX Soho - Photo by Hideaway Report editor
Chef Mark Hix helms one of my favorite restaurants in London, but I must admit I'd never sat down to a cocktail in its stylish basement bar. Its license requires that food be served with the cocktails, and so we ordered some addictive cheese croquettes (later removed from the bill) to accompany our drinks. In keeping with the British theme of the restaurant and bar, I chose a Pomona, surprising the bartender. "Not many people order that one," he remarked, "which is a shame." I agree. This cocktail of Somerset 3-year Cider Brandy, morello cherry eau-de-vie, Somerset Pomona apple liqueur and Peychaud's Bitters tasted strong, sweet and spicy, with a balancing undertone of bitterness.
Mark's Bar HIX Soho
66-70 Brewer Street. Tel. (44) 20-7292-3518
Seymour's Parlour
The Turf Club from Seymour's Parlour - Photo by Hideaway Report editor
The appealingly cluttered Seymour's Parlour occupies one of the front rooms of The Zetter Townhouse hotel, in Marylebone. I like its homey, lived-in feel, appropriate for a charming high tea in the afternoon or a cozy cocktail later on. Although the lounge doesn't look like a center of top-notch mixology, I had an excellent Turf Club of Old Tom Gin, Dubonnet, "grape reduction" and Peruvian bitters, garnished with a blade of grass. In the setting of Seymour's Parlour, this bittersweet and herbaceous twist on a classic Martinez tasted most civilized indeed.
Seymour's Parlour
28-30 Seymour Street. Tel. (44) 20-7324-4555
Swift
The basement lounge at Swift - Photo by Hideaway Report editor
A two-minute walk from Kettner's Townhouse in Soho, Swift is the newest bar by the team responsible for two of London's most acclaimed cocktail lounges, The Nightjar and Oriole. We sat down at the bar in the sleek street-level space, which does not accept reservations, whereas in the dim and romantic basement lounge, they're recommended. In the mood for something refreshing before dinner, I ordered a Medallion, mixed with lemongrass-infused gin, grappa, lemon sherbet, absinthe and mint. This cheerful cocktail was bright, citrusy and strong, and all too easy to drink.
Swift
12 Old Compton Street. Tel. (44) 20-7437-7820
The Vault
The entrance to The Vault - Photo by Hideaway Report editor
Our engaging bartender at Swift recommended The Vault, which has much more of a speakeasy feel than The Blind Pig. To enter, walk to the back of Milroy's, a whiskey shop and bar, and push on the right-hand bookcase. Downstairs, locals mostly in their late 20s through 40s crowded the casual, candlelit space, drinking expertly mixed cocktails like the Freefall, a complex combination of aquavit, mezcal, apricot and fino sherry, and the French 94, a mix of pineapple juice, rum, Campari and Dolin Blanc, which had surprising depth. "It's very sexy in here," I heard a neighbor remark, indicating a lip-locked couple nearby. Although we were some of the oldest patrons in The Vault, the welcoming staff made us feel like VIP guests.
The Vault
3 Greek Street.
In addition to the bars above, I also enjoyed cocktails at the bars of several of the hotels where we stayed. Of those, my favorites were The Franklin hotel's jewel box of a bar in Knightsbridge, L'oscar's plush lounge in Holborn, the airy rotunda bar of the Four Seasons Hotel London at Ten Trinity Square and the convivial 1920s-themed Piano Bar in Kettner's Townhouse in Soho, popular with a local crowd.
Lest this lengthy list of bars makes you wonder whether I did anything in London other than tipple, please read my article about London museums, and please avoid my article about English sparkling wine.