Dining Discoveries in Porto
.article-cta-top
Porto's fine-dining scene lacks the kaleidoscope of options you'll find in Lisbon, but it's catching up — as befits a city with a rising profile among travel trendsetters (whoever those are) and a deep winemaking tradition. The restaurant at The Yeatman hotel remains Porto's top table, but there are other establishments worth a visit, whether for a gastronomic evening out or a more casual lunch or dinner. Here are a few places where we enjoyed meals during a recent visit.
Pedro Lemos
Pigeon with chanterelles and grilled endives at Pedro Lemos - Photo by Hideaway Report editor
Foz is one of the oldest neighborhoods of Porto, near the mouth of the Douro River, and up one of its charmingly narrow streets you'll find this elegant restaurant in a restored stone house. Opened by chef Lemos in 2009, it has earned a Michelin star since 2014 for dishes that deftly combine Portuguese traditions with contemporary global flavors. I ate in the upstairs dining room — handsome with gray-blue walls studded with black ceramic swallows — and opted for an "abridged" three-course dinner rather than the longer tasting menus on offer. With amuse-bouches and other extras, this still ended up as a series of seven dishes, each of them superb. A dainty quail tart arrived alongside a small bowl of quail dashi with spinach. A disc of foie gras came on a raku ceramic plate dotted with several pear-Madeira sauces; this was paired with a 10-year Barbeito Verdelho Madeira. Azorean tuna loin referenced Japan with its accompaniment of enoki mushrooms and wasabi pearls; pigeon served with chanterelles and grilled endive evoked France. But the ingredients were mostly Portuguese, with some of the produce grown on a small rooftop terrace. The service, with waitstaff dressed in formal black jackets but charismatically conversational, was pitch-perfect.
Pedro Lemos
Rua do Padre Luís Cabral 974. Tel. (351) 220-115-986
Terreiro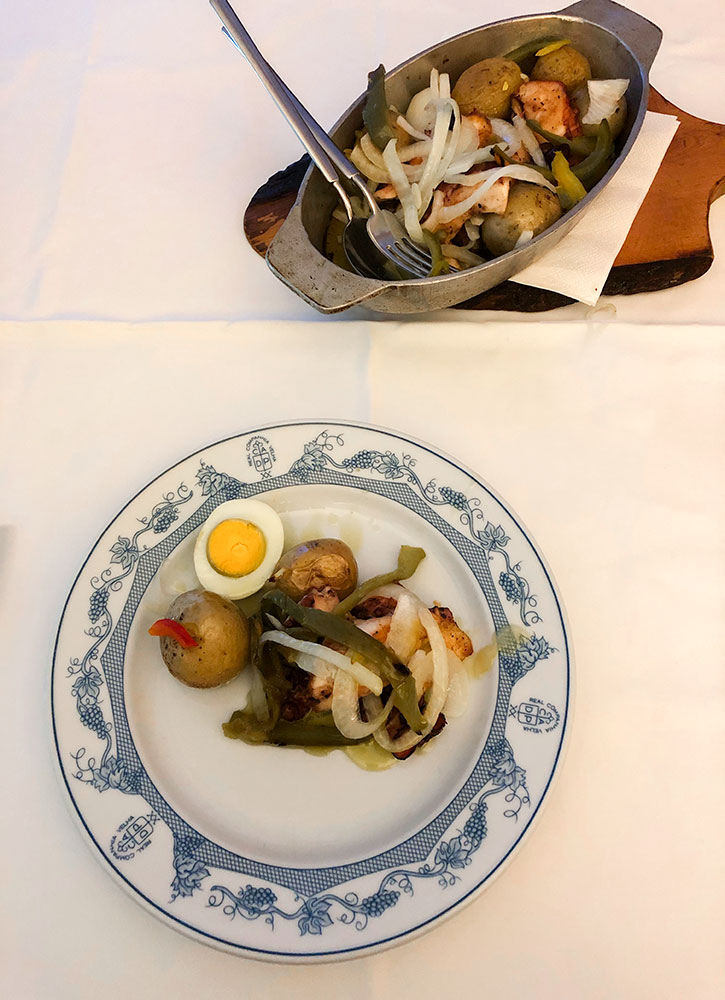 The popular and picturesque waterfront district around Praça da Ribeira is, unsurprisingly, crawling with tourists — and mediocre restaurants to serve them. This little find, just set off from the river, is a happy exception. A compact, bilevel space with shiplapped walls, a beamed ceiling and a tank crawling with lobster, Terreiro serves homestyle cuisine to a crowd of local families. Seafood is a specialty; you could do worse than to start with a dozen freshly shucked oysters and continue with a dish of toothsome, tender octopus grilled with olive oil and lemon and served with small, creamy potatoes, hard-boiled eggs, slices of fennel and plump cloves of roasted garlic. In nice weather, an outdoor terrace is an ideal perch for sipping a bottle of Albariño and enjoying the riverside view.
Terreiro
Largo do Terreiro 11/12. Tel. (351) 222-011-955
Puro 4050
Black spaghetti with shrimp, squid and dried tomatoes at Puro 4050 - Photo by Hideaway Report editor
Chef Luis Américo gained notice for Cantina 32, his Portuguese-style bistro on stylish Rua das Flores. His new spot, located a few doors down at the foot of the street, is decidedly Mediterranean. Inspired by a tasting trip to Italy, Américo now receives regular shipments of DOC salumi and top-quality buffalo mozzarella from Campania. I enjoyed a properly creamy ball of burrata with Parma ham and pesto, and a bowl of perfectly al dente black spaghetti with shrimp, squid and dried tomatoes. The chic, narrow space has a louche, postcolonial air, with rattan pendants, director's chairs and dark-painted walls lined with framed maps and botanical prints.
Puro 4050
Largo São Domingos 84. Tel. (351) 222-011-852