Cucumber Gazpacho Recipe From Las Ventanas
.article-cta-top
Whether planning to entertain friends or enjoy a quiet evening on your patio, this cucumber gazpacho recipe, from Las Ventanas al Paraiso, a Rosewood Resort, is refreshing and simple to prepare. It pairs perfectly with a nice glass of crisp white wine.
Cucumber Gazpacho
Yields 4 Servings
Gazpacho ingredients
2 English cucumbers (approx. 8 inches each)
1 tomatillo
1/2 green pepper
1/4 peeled white onion
1 clove garlic
4 mint leaves
10 parsley leaves
4 basil leaves
2 ounces lime juice
2 ounces white wine vinegar
3 ounces olive oil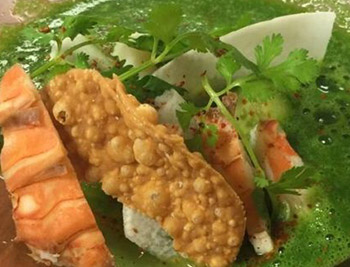 Garnish ingredients
2 1/2 tablespoons jicama, chopped in small cubes
1/4 cup English cucumber peeled, sliced thinly
12 cilantro leaves
Handful croutons
8 ounces poached lobster, sliced in medallions (optional)
Cut all vegetables for the gazpacho in quarters and blend together with herbs using a food processor or blender. Process continuously until the ingredients are liquefied. Next, combine lime juice, vinegar and olive oil and slowly add to the running blender. Season with salt and pepper. Serve with garnish.