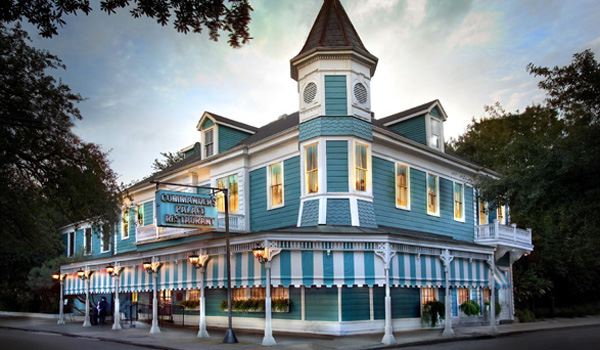 © Commander's Palace
Over the years, Commander's Palace in New Orleans has proven to be among those rare establishments where the combination of food, service and ambience never falters and more than justifies repeat visits. It is a very special place. The restaurant is set in a striking building painted a vivid turquoise with ornate white trim. Emile Commander started it in 1880 to serve the distinguished families of the Garden District. The Brennans have run it with meticulous care since 1974, when one branch of the family left the management of their eponymous restaurant in the French Quarter after a dispute.
While siblings Ella, John, Dottie and Dick all contributed to creating a successful restaurant with a national reputation, no one would deny the key role played by "Miss Ella" in bringing Commander's to its current preeminent position. Miss Ella is natural host with a gutsy laugh, a sparkle in her eye, a love of politics and a knack for telling a tale. She also has a superb eye for talent. She has brought extraordinary chefs such as Paul Prudhomme, Emeril Lagasse, the late Jamie Shannon and now Tory McPhail to head the kitchen. All have acknowledged the generous role she played in their careers. Miss Ella has now stepped back, and the restaurant is under the capable direction of her daughter Ti Martin and niece Lally Brennan (John's daughter).
Commander's suffered extensive damage during Katrina, but with great perseverance Lally and Ti brought it back. In fact, it looks sharper than ever — especially the luminous Garden Room, one of the prettiest dining venues in the country. McPhail is cooking at a level worthy of his predecessors, and on our last visit to New Orleans, we feasted on his classic turtle soup enlivened with sherry, as rich and flavorful as ever. But it was the main course that brought our taste buds to full attention.
For this dish, McPhail pan sears wild white shrimp in a potent mix of garlic, hot sauce and Abita beer, a local brew. This is served on a bed of brie-infused stone-ground grits with charred chilies, all given another dash of flavor with a few splashes of spicy barbecue sauce. The not-to-be-missed bread pudding soufflé is dubbed "the queen of Creole desserts" and is a royally rich concoction of bread, cream, sugar and spices given an airy lift with an egg-white meringue and a little kick with a whiskey-spiked sauce. The service is clockwork efficient and "N'awlins" friendly, a felicitous combination, and it creates an atmosphere in which adjacent diners are apt to start talking and sharing menu recommendations. If you are in town on a Sunday, the Jazz Brunch is a favorite local tradition. Start with the classic New Orleans eye-opener, a brandy milk punch. We do.
Commander's Palace, 1403 Washington Avenue, Tel. (504) 899-8221.