Classic Update: Mountain 
Refuge
.article-cta-top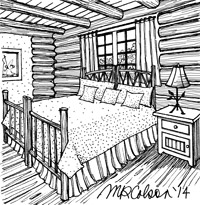 Located at the end of a remote box canyon and surrounded by 13,000-foot peaks, Colorado's 
Smith Fork Ranch (97) 
is almost the definition of a Rocky Mountain hideaway. The nearest town, Crawford, seems to exist in a time warp. The ranch was first homesteaded in the 1880s, though the surviving buildings are mostly of a later date. This once-dilapidated enclave has been lovingly restored, and decorated with a refined sensibility. Accommodations consist of three separate cabins and two guesthouses. The River House lodgings are particularly desirable. Dinners are occasions of serious gastronomic intent and feature local lamb, beef, venison and trout. Most days are spent in the saddle. Alternatively, guides escort hikers through the majestic Black Canyon of the Gunnison National Park. Trout anglers have access to three miles of crystal-clear stream. Smith Fork Ranch is a civilized retreat that inspires nostalgia for the Old West and the values of a more innocent age.
Illustration by Melissa Colson
Smith Fork Ranch, Crawford, Colorado - Smith Fork Ranch
Smith Fork Ranch, Crawford, Colorado - Smith Fork Ranch
Smith Fork Ranch, Crawford, Colorado - Smith Fork Ranch
Smith Fork Ranch, Crawford, Colorado - Smith Fork Ranch