At the end of a chilly December day in Strasbourg, the city's magnificent sandstone cathedral glows in the peach-colored light of dusk and the brisk air is perfumed by the scents of Christmas — delicious whiffs of nutmeg, clove and cinnamon, plus the occasional refreshing gust of pine. Though Alsace, France's northeasternmost province, is delightful year-round, there's no better time to discover its cities than December, when many are animated by marchés de Noël, monthlong open-air Christmas markets.
These markets are an old-fashioned celebration of all there is to love about the holidays, and they delight with friendliness and a gentle atmosphere. Here, you can find everything you might need, from tiny ornaments of knotty pine decorated with holly and mistletoe to evergreen boughs and garlands of colored lights. The markets set up on the first Sunday of December and remain open until Christmas Day, with a few continuing until just after New Year's. They are a long and proud tradition, eagerly awaited by Alsatians, regardless of creed.
This much-coveted corner of Europe has been traded back and forth between France (Catholic) and Germany (mostly Protestant) for centuries, usually at gunpoint. Alsace also has an ancient Jewish community, along with a thriving, more recent Muslim population. The Christmas markets come from Alsace's Germanic roots, but the wares on sale — handblown glass ornaments, beeswax candles, toys, beautifully embroidered linens, wreaths of straw or dried apples and local holiday foods such as bredle (the spice cookies that became popular when East Indian spices arrived in the Rhine Valley via Holland during the 16th century) — find a place in the winter festivities of many faiths.
To share in the joy of Alsace's Christmas markets, start in Strasbourg, where the first marché de Noël opened in 1575, before moving south through Obernai and Colmar before arriving in tiny Kaysersberg. (Travel tip: Bring a carry-on bag and a roll of bubble wrap to transport your fragile finds home safely.)
In Strasbourg, the liveliest and most authentic of the city's three marchés de Noël is found in the Place Broglie. Here, strollers drink cups of vin chaud (mulled wine) and browse stalls selling local winter holiday wares, including bluets au vinaigre (pickled blueberries eaten with game and fowl), smoked ham, foie gras and hutzelbrot, a rye-flour Christmas cake filled with figs, dates, apricots and raisins. Children gaze up at displays of old-fashioned metal toys, including intricately detailed cars and locomotives, and sets of miniature metal dishes and kitchen tools.
In delightful Obernai, the small but charming Christmas market in the Place du Beffroi sells some excellent Alsatian foods, including raw-milk Münster cheeses and homemade hams and conserves. Other stands offer blueberry jams and ladle up delicious hot spiced wild blueberry juice. Bone-warming homemade soup includes potimarron-châtaigne (pumpkin-chestnut), a delicious local favorite. Stop by the market in the Place de l'Etoile to shop for Christmas tree ornaments, and don't miss the living crèche in the Place du Marché.
With its ancient half-timbered houses and elegant sandstone palaces, Colmar is one of the most handsome cities in France, and celebrates Christmas with a contagious enthusiasm. Easily visited on foot, the whole town is festively lit and decorated with holly, giant bows and oversize glass ornaments.
The most enchanting Christmas market here is the Marché de Noël des Enfants (Children's Christmas Market) in the Petite Venise quarter, where many stalls sell beautifully made, long-wearing old-fashioned wooden and metal toys. Colmar also loves good food, and the stalls in Place de l'Ancienne Douane sell everything from honey and cookies to Alsatian foie gras and eaux de vie (a clear brandy distilled from framboises sauvage — wild raspberries, houx — holly berries, and pruneaux — plums). Don't leave town without seeing the magnificent Isenheim altar painting, one of the great works of art of medieval Europe which is celebrating its 500th anniversary this year, at Colmar's Unterlinden museum.
Alsace is a popular wintertime destination for the French, and also lures many Germans across the Rhine on the weekends, so try to save the quaint town of Kaysersberg for a quieter weekday visit. Festooned with holly and mistletoe, the town's marché de Noël is found in the streets around the Chapelle Saint-Michel and the Hôtel de Ville. Here, you'll find stalls selling springerle — wheat-flour cookies scented with anise seed and shaped with elaborately carved wooden molds; handpainted glazed Soufflenheim kitchenware; delicate handblown glass ornaments; embroidered linen sachets filled with herbs or balsam; and homemade dolls and dolls' clothing.
The best place in town for lunch is the excellent La Winstub in the Chambard hotel (9-13 rue du Général de Gaulle, Tel. 33-3-89-47-10-17. US$50), which serves hearty local dishes such as choucroute garnie, or sauerkraut garnished with sausages and pork. Finally, one phrase in Alsatian dialect will surely come in handy during any tour of the region's Christmas markets: "E gueti Wd´nâchte!" ("Merry Christmas!").
Visit this website from the Tourist Board of Alsace for a detailed calendar of events, as well as comprehensive travel-planning specifics.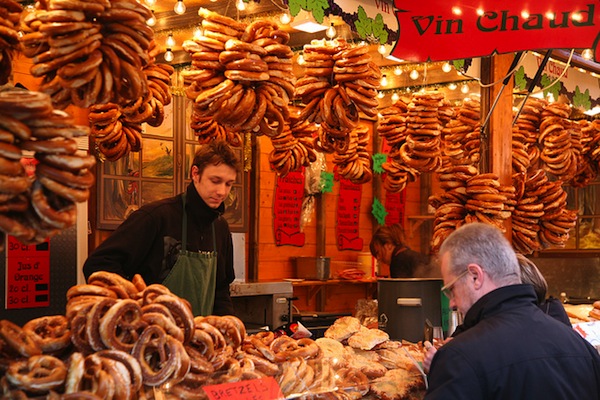 Christmas market in Strasbourg