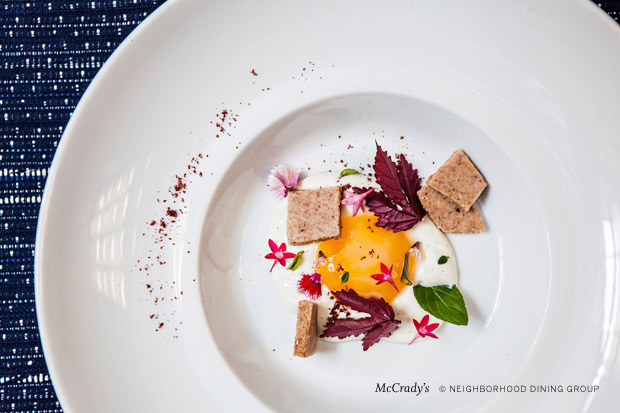 MCCRADY'S — In this former warehouse, Chef Sean Brock takes a more experimental tack than at his renowned Husk, with smaller portions and carefully composed presentations. My four-course selection included oysters served with egg yolk and green garlic; a medium-rare filet of cobia (black kingfish) with cabbage, cooked sous-vide in pork fat; succulent duck breast with tart satsuma marmalade, mild radishes and a surprising cube of rather dry duck confit; and a caramelly frozen brioche "parfait" with contrastingly bitter kumquats. Creative wine pairings such as Hungarian Furmint rose to the occasion.
2 Unity Alley. Tel. (843) 577-0025. 
FIG — One of Charleston's more difficult reservations, FIG (Food Is Good) serves delicious Continental- and Lowcountry-inspired dishes with local seasonal ingredients. A creamy chicken liver pâté was leavened by tangy mustard and spicy pickled vegetables, and the ethereal wahoo, wrapped in lemony poached butter lettuce and served over an airy soubise, tasted superbly fresh, light and clean.
232 Meeting Street. Tel. (843) 805-5900. 
THE ORDINARY — Reservations are just as necessary at this "oyster hall" set in a spacious former bank building. Chef Mike Lata of FIG opened this local seafood-focused venture in late 2012, and it is already a great success. My favorite dish was the pickled shrimp, a humble-sounding appetizer that Lata updated into a gorgeously composed salad. The briny baked Otter Island oysters were a close second, served on the half- shell in rich bottarga butter (infused with roe). Try the Royal Bermuda Yacht Club cocktail, which adroitly balances sweet, citrusy and bitter flavors.
544 King Street. Tel. (843) 414-7060.
PALMETTO CAFE — This bright, conservatory- like restaurant in the mall on the ground floor of the Charleston Place hotel recently reopened after a major refurbishment of both the space and the menu. The crab cake appetizer I ordered seemed to be composed entirely of sweet meat, encased within a crunchy crust. A similarly delicious main course of fresh, golden-crusted tilefish came atop a disk of turmeric rice studded with chorizo, flanked by three plump fried oysters. I love drinking sparkling wine with savory seafood like this, and a glass of zesty Schramsberg Brut Rosé "Mirabelle" paired perfectly.
205 Meeting Street. Tel. (843) 722-4900.
SLIGHTLY NORTH OF BROAD — This "eclectic Lowcountry bistro" has a prominent East Bay Street location, which ensures that it is almost always busy. Plastic tablecloths only slightly diminish the appealing atmosphere of the renovated ware- house. I enjoyed a hearty seafood lunch of meaty local clams in a flavorful broth, and fresh wahoo in a spicy oyster mushroom broth with tasso ham and butter beans.
192 East Bay Street. Tel. (843) 723-3424. 
Illustrations ©Melissa Colson