Castles in Mecklenburg: Schloss Basedow and Schloss Güstrow
.article-cta-top
On the south side of Malchiner Lake at the turn for the village of Basedow, we saw a weatherbeaten sign pointing to a "Schloss," or palace, in one kilometer. Curious, we took the turn and discovered the romantically rambling Schloss Basedow, a red brick and white stucco northern Renaissance-style palace fronted by flower gardens.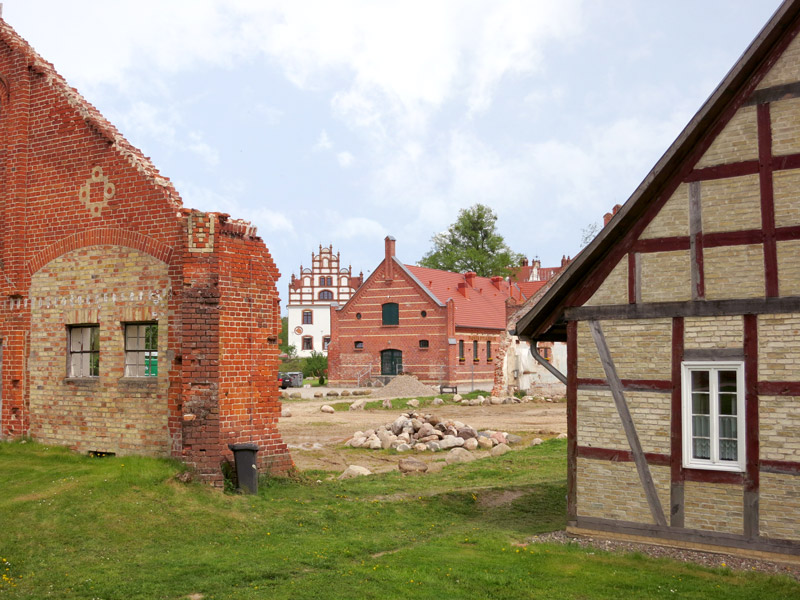 In a more well-known region, I suspect a palace of such beauty would be a major attraction, or perhaps a luxury hotel. It's currently undergoing restoration, and Christel Müller gives 60-minute guided tours in German. Most of the brick outbuildings of the estate currently lie in picturesque ruins, but a sign indicated that they would soon be incorporated into a new wellness hotel. One outbuilding, a pretty brick barn, has already been converted into a steakhouse with a beer garden overlooking the palace (farmer-steakhouse.de). Another, the estate's old sheep stall, now houses a delightful farm shop specializing in products employing Sanddorn (sea buckthorn), one of the culinary world's most fashionable ingredients. I couldn't resist trying a sip of the homemade Sanddorn liqueur, which tasted pleasantly citrusy and savory.
The original ornate decoration of most rooms at Schloss Güstrow remains intact.
Of Mecklenburg's many other palaces, the Schloss Schwerin is the most well-known. But we were feeling lazy when it came time to make the 90-minute drive to the island palace, and opted instead to make the 30-minute drive to Schloss Güstrow. Perhaps northern Europe's most important Renaissance palace, Schloss Güstrow was a more-than-adequate substitute. The original ornate decoration of most rooms remains intact, most memorably in the banquet hall, which is surrounded by a frieze of red deer incorporating real antlers. An expanse of formal flower gardens leads up to the palace. The adjacent town of Güstrow also merits a look, with its northern Gothic brick cathedral and well-preserved historic center. Art enthusiasts may also want to visit the nearby lakeside home and studio of Ernst Barlach, an important expressionist sculptor and printmaker.