Cantuccini Recipe From Hotel Le Fontanelle
.article-cta-top
Italian cuisine is well-loved, but most people think of pizza and pasta before they consider the country's delicious desserts. In fact, Italian cookies and biscuits can be found throughout the world in cafés and shops, often under the label of biscotti. You may see them called cantuccini or cantucci in Italy, served with a small glass of vin santo following a meal. Light and crunchy, they are ready to absorb the sweet wine. Here is a recipe for traditional cantuccini cookies (almond biscotti) from recommended Hotel Le Fontanelle in Tuscany.
Traditional Tuscan Cantuccini Cookies
4.4 ounces raw, unpeeled almonds
3/4 cup + 1 tbsp. granulated sugar
2 eggs
1 tsp. grated lemon zest
2 cups + 1 tbsp. all-purpose flour, sifted
Pinch salt
1 tbsp. honey
1 tsp. baking powder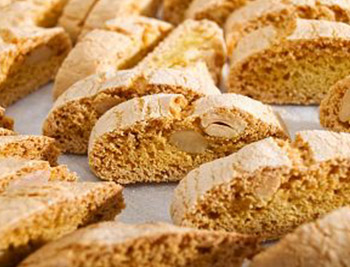 Preheat oven to 325°F. Toast almonds in a shallow pan over medium heat for about 6 minutes or until nuts are fragrant and lightly browned. Set aside to cool. In a bowl beat sugar, eggs and lemon zest until light and creamy. Stir well. In a separate bowl combine flour, salt, honey and baking powder, then add to the first bowl and mix until well blended. Finally, fold in the toasted nuts.
Divide the dough into two equal parts; form thin loafs and place on a cookie sheet lined with parchment paper. Make sure they are neither too close to one another nor too close to the sides of the sheet. (If the dough is a little sticky, dust the board and your hands with flour and it will work fine). Bake in the preheated oven for about 25 minutes or until lightly browned. Place on a cutting board and carefully slice at an angle into 1/2- to 3/4-inch slices. Lay slices flat on the baking sheet and return to the oven for an additional 20 minutes (same temperature), turning them once after 10 minutes. Then remove from oven and cool on the wire rack. Store at room temperature in an airtight tin or container.