The principal gateway to this inspiring region is the dusty desert outpost of Maun, located an hour and 45 minutes by jet northwest of Johannesburg. From there, it is another 60 minutes by light aircraft to Selinda Reserve, a 320,000-acre private concession centered on the Zibadianja Lagoon, a two-mile-long body of fresh water teeming with crocodiles and hippos and home to impressive herds of elephant.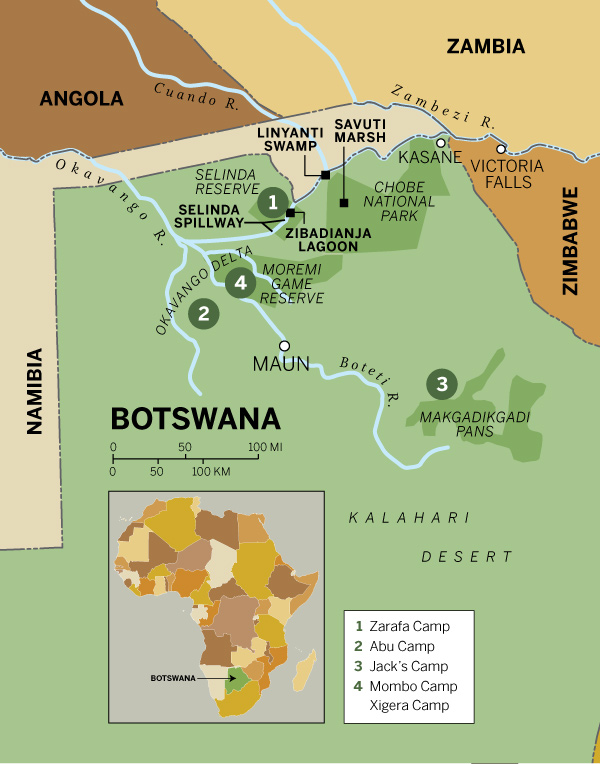 Zarafa Camp opened in 2008, the brainchild of celebrated filmmakers Dereck and Beverly Joubert, five-time Emmy Award winners and Explorers-in-Residence at National Geographic. For more than 25 years, the Jouberts have chronicled the wildlife of northern Botswana in classic films such as "Eternal Enemies: Lions and Hyenas," "Eye of the Leopard" and, most recently, "The Last Lions." Drawing on their decades of experience, they decided to create the perfect safari camp in an ideal location. Perfection is hard to pull off, however, and prior to our visit, we feared disappointment.
We arrived at the camp after a bumpy 45-minute drive from the airstrip. Greeted at the door of our vehicle by a group of extremely friendly African staff, we were ushered into the main lounge area of the camp. There, we found spacious and atmospheric living and dining areas housed beneath a steep, coffee-colored canvas roof and decorated in a French neocolonial style with dark woods, polished leather, framed maps and shelves of hardback books on African history and wildlife. One entire side of the structure opened onto a huge deck that commanded a spellbinding view of the lagoon. Less than 100 feet from its edge, around 40 elephant were happily squirting one another with water.
The guest lodgings at Zarafa comprise just four magnificent 1,000-square-foot tented suites, each with a private plunge pool, shaded by massive ebony trees. The interiors are divided into three "rooms." Large living areas come with leather sofas and armchairs, polished wooden floors, Oriental carpets, antique chests and old-fashioned writing desks. Beyond a canvas screen, equally expansive bedrooms feature king-size beds draped with mosquito netting, and gas fireplaces with burnished copper chimneys. Beyond that, baths provide glamorous copper-clad tubs and effective indoor showers. (Each also has an outdoor shower at the end of a wooden walkway directly overlooking the lagoon.) The suites have electric lighting, but are not air-conditioned. (We visited Zarafa at a hot time of the year, but thanks to the shade of surrounding trees, the ceiling fans proved entirely sufficient.) In an imaginative touch, each "tent" is provided with its own Swarovski binoculars, plus a top-of-the-range Canon camera with 35-135mm and 100-400mm zoom lenses. Guests' photos are then burned to a DVD at the end of their stays. Overall, Zarafa's accommodations provide exceptional levels of privacy, comfort and style.
Having taken tea on the deck, we were driven a short distance to the edge of the lagoon, where the camp's pontoon boat was tied up. Its upper deck was furnished with leather sofas and Oriental rugs, providing an environment fit for a lounging pasha. We began to cruise slowly and almost silently along the shoreline, watching hippos and elephant at a distance of little more than 50 feet. Our blissful voyage ended only with the rapid descent of the sun, a colossal orange fireball, into the darkening waters of the lagoon.
The Selinda Reserve enjoys a unique location, being virtually equidistant from the Okavango Delta, Linyanti Swamp and Savuti Marsh, the three legendary wildlife areas being connected by the Selinda Spillway and the Savuti Channel. This makes for exceptional year-round game-viewing. The local Selinda pride numbers 15 lion, but it has a large territory, and a sighting is not guaranteed. A pack of rare wild dog can frequently be tracked down, however, and leopard sightings are relatively common. (One morning, we were lucky enough to find a mother and a full-grown cub strolling through the trees at the edge of the spillway and were able to follow them for nearly 20 minutes.)
By the time of our departure, Zarafa had fully lived up to our expectations. It is an idyllic camp, with delicious food and superior service. And with a maximum of eight guests, it provides a semi-private safari experience. However, it is important to understand that this is a true wilderness area. Zarafa does not offer air-conditioning, television, Internet access, cell phone coverage or a spa - though there is a small gym. Some people may find this frustrating, or even unacceptable, but others will relish their temporary escape from the modern world.
Zarafa Camp 98 Tented Suite, from $2,298 for two (all meals, house beverages, scheduled activities and park fees included). Tel. (27) 11-807-1800.
It is a 40-minute Cessna flight from Selinda to the heart of the Okavango Delta. There, over the past 20 years, Abu Camp has acquired a reputation as the preeminent place to ride on African elephants. Now partly owned by Paul Allen, co-founder of Microsoft, Abu reopened in April 2011, having been completely rebuilt and refurbished. Set on a 500,000-acre private concession, it has just six accommodations. Overlooking a tranquil lagoon and shaded by hardwood trees, the suites are idiosyncratic canvas-and-beam structures that are part tent, part cabin. Like those at Zarafa, they are not air-conditioned, but are effectively cooled by ceiling fans. All have been individually decorated, so it is impossible to generalize, but ours came with cream walls, bleached wooden floors covered by sisal matting, wicker screens, a four-poster king-size bed, wingback armchairs, a large writing desk, dramatic framed black-and-white photography and decoration that ranged from traditional African sculptures to a tower of Louis Vuitton steamer trunks. The huge and splendid bath provided a walk-in shower, twin basins set in a black marble vanity, electric lighting and extravagant amounts of hanging space. In fact, if you didn't know that you were in the Okavango, you might fancy yourself in Los Angeles. A glass door opened onto a deck with a soaking tub, where it became my habit to lie, up to my neck in foam, watching the fish eagles that live nearby. (On one occasion, this blissful reverie was interrupted by the unexpected arrival of an elephant, which proceeded to rip branches from a tree no more than 15 feet away!) Although the suites at Abu do not have plunge pools, they do offer attractive sundecks with loungers. Overall, they provide an exceptionally elegant and relaxing environment. Once comfortably settled with a good book and a pair of binoculars, I felt little incentive to leave.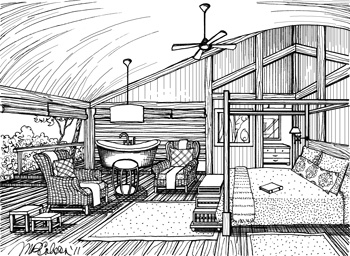 The lavish public areas at Abu are contemporary African in style and include a tranquil library and an adjoining communications center. Uniquely for the Okavango, and presumably thanks to the personal intervention of Allen, the latter provides a reliable Internet connection, and hence phone calls via Skype. During our visit, the standard of the cuisine was consistently high and was equal to that you might expect at a good restaurant in Johannesburg or Cape Town. In fact, at the end of our stay, the only aspect of the camp that seemed deserving of criticism was the rather lackluster swimming pool. Set on a cramped deck overlooked by a pizza oven, it seemed little more than an architect's afterthought.
As at most camps in the Okavango, game-viewing at Abu is by customized safari vehicle, or, at the time of the annual flood, by makoro (local dugout canoe). The large game species, including lion and leopard, are relatively common, and the birdlife is prolific. The big difference at Abu is the opportunity to ride on, or walk with, the camp's trained herd of elephant. This includes mature animals of over 30 years old, as well as youngsters standing little more than 4 feet tall at the shoulder. We had no idea what to expect and feared that we might encounter a circus-like atmosphere, but the reality could not have been more different. The elephant boma (enclosure) is impeccably well-organized, and you don't have to be any kind of expert to see that the animals are extremely happy and well cared for.
On our first afternoon, we opted to walk rather than ride, so, as soon as the heat of the sun began to diminish, we set out into the bush accompanied by eight or nine elephant and several guides (including one with a rifle). A 2-year-old elephant opted to stroll beside me, enabling me to pat his head and tickle his ears as we ambled along. Occasionally, however, if we fell too far behind his mother, he would give me a slight shove with his trunk as a gentle inducement to catch up. The most extraordinary thing about walking with elephants, however, is that other wild animals are unfazed by human presence. Creatures that would not have let you approach to within 300 yards unaccompanied stand their ground and gaze imperturbably, presumably confident that if the elephant believe you are safe, then you are unlikely to prove a danger to them.
For those who wish to take their Abu elephant experience to its ultimate conclusion, the camp now offers a "Star Bed" overlooking the boma. Here, you can sleep high above the ground, disturbed, apparently, only by the snoring of the elephant below.
Abu Camp 98 Tented Suite, from $3,875 for two (all meals, house beverages, scheduled activities, laundry and park fees included). Tel. (27) 11-807-1800.
Until about 20,000 years ago, the rivers Okavango and Cuando flowed directly into Lake Makgadikgadi, an immense body of water covering an area larger than Switzerland. Then, as a result of seismic shifts, the lake drained away, creating the Okavango Delta and the vast Makgadikgadi salt pans. Today, the eerie white flats extend for over 6,000 square miles.
Jack's Camp is located on a low island at the edge of the pans, an hour by light aircraft southeast of Maun. On our first visit more than 15 years ago, it was an atmospheric place of silence and emptiness, overseen by the immense and cloudless Kalahari sky. But back then, its tents were too basic to appeal to most Harper members. However, over the years, reports reached me that Jack's had become more sophisticated, so I decided to take a second look.
We were met at the airstrip by Super, an employee for more than 20 years, who politely (if implausibly) claimed to remember us from our previous visit. A charming and articulate man, he drove us to camp by a leisurely and circuitous route. It was toward the end of the hot, dry season, but the Kalahari grasslands were scattered with zebra and wildebeest that had arrived in anticipation of the rains, which, in a matter of days, transform the desert into a vast meadow of nutritious green grass.
Jack's was founded by the adventurer and filmmaker Ralph Bousfield in memory of his father, a larger-than-life pioneer whose scarcely credible resume includes a stint as a lion tamer for the movie "Born Free." The enormous main living and dining tent reflects the men's shared passion for Africa's most elemental places. A stuffed lion in a glass case stands guard over a treasure trove of animal skulls, fossils, eggs, spears, arrows, hundreds of books and maps, 19th-century etchings, and framed posters for exhibitions by the artist and photographer Peter Beard. The tent itself is dark-green canvas on the outside, but its interior is lined by a voluptuous canopy of pale raspberry-pink cotton. The dark wooden floor is covered by sisal mats and Persian carpets, while the easy chairs come with kilim-covered cushions. Down the center of the tent, a dining table seats 20 in comfort, and looks as though it might originally have been intended for army officers on some far-flung Victorian campaign.
The 10 guest tents share the same nostalgic décor, with four-poster beds, writing desks, antique furniture, brass-bound chests and bookshelves crammed to capacity. However, now they are also extremely comfortable, with large electric fans, en suite baths, effective indoor and outdoor showers, and spacious verandas.
Aside from the significantly upgraded accommodations, the camp's other most obvious innovation is a splendid swimming pool, shaded from the desert sun by another flamboyant cotton canopy. Close by, a waterhole has been dug—paradoxically, just a few feet beneath the surface of the Kalahari lies an abundant supply of pure water —which, along with elephant, zebra, wildebeest and various antelope species, occasionally attracts a wandering pride of lion. Wildlife sightings at Jack's are much more prolific during the December to April wet season, but the waterhole now ensures that there is something to look at year-round. (It is possible to visit northern Botswana at any time of year, as the rainy season generally involves brief downpours between extended periods of sunshine. However, October and November can be unpleasantly hot during the day, and in the June-August high season, the nights are often chilly.)
After a delicious lunch, accompanied by icy homemade lemonade, Super proposed a late-afternoon visit to a nearby meerkat colony, whose occupants have become habituated to human visitors. Meerkats are endearing small mammals belonging to the mongoose family that characteristically use their long tails to stand upright to spot predators such as jackals and large eagles. After a short drive in a Land Rover, we came to their network of burrows and sat down to await their return. Within minutes, around 20 of the creatures had arrived, squeaking excitedly. Being in constant danger of attack, meerkat groups appoint sentries, and the designated animals then seek out the highest vantage points from which to keep watch. To my amazement, one meerkat identified an ideal observation tower and promptly ran up my arm to stand on top of my head, where it remained for more than five minutes!
Some activities at Jack's Camp are seasonal. For example, during the dry season, guests can venture out onto the Makgadikgadi pans to search for Stone Age artifacts, to gaze at the overwhelming night sky or to undertake longer mobile safaris. (At this time of year, a second camp is erected immediately adjacent to the salt flats.) However, some equally memorable experiences, such as walking with the local San Bushmen hunter-gatherers, are possible year-round.
For those of a romantic and adventurous spirit, Jack's Camp cannot be recommended too highly. It is a unique and unforgettable place, one, moreover, that is extremely well-run and well-organized. And its epic Kalahari setting provides an astonishing counterpoint to the tangled waterways of the Okavango Delta.
Jack's Camp 96 Tented Accommodation, from $2,550 for two (all meals, house beverages and scheduled activities included). Tel. (27) 11-447-1605.
Illustrations ©Melissa Colson