The Sibley Guide to Birds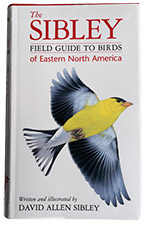 I have considerable respect for the famous Peterson series of field guides, but my favorite portable bird book has become "The Sibley Field Guide to Birds" (in Eastern and Western North America editions). Both volumes are adapted from "The Sibley Guide to Birds," which caused great excitement when it debuted in 2000. A superb reference work, this is the achievement of David Allen Sibley, who not only wrote the authoritative text but executed the beautiful illustrations. The legendary Roger Tory Peterson also contributed text and illustrations to his own guides, but I give the edge to Sibley because maps showing the expected range of species are included in the entries themselves. As many birds closely resemble one another, such maps can be critical for correct identification.
Sibley provides information on more than 650 bird species found east of the Rocky Mountains, depicted in more than 4,200 illustrations. I put this guide to good use on my trip, but subsequently, I have found myself happily studying it in comfort at home.