With its sleek gray-on-gray interior and inventive fare, this restaurant is more highfalutin and exciting than any other in town. Take the newfangled Old-Fashioned: With vodka instead of whiskey, and salt-cured-strawberry simple syrup, it's weighty, weird and wonderful. Exemplifying a trend in fancy Southern restaurants a farm's worth of seeds — from chia to pumpkin to sunflower — is lavished in fontina fondue and strewed with herbs and flowers for the Seeds Risotto. Smoked, sliced pork rib is hidden beneath deliciously pungent sheets of cabbage kimchi dusted in black onion powder. Crisp-skinned and pudding-tender, arctic char is all the more opulent for its accompaniments: shiitake butter, plus chestnut and parsnip purees. The showstopper, though, is foie gras. Whipped to a mousse, crowned with a globe of ginger foam and girded by hazelnuts and grapefruit made crumbly with liquid nitrogen, it's a study in outrageous contrasts. Cherrywood-smoked vanilla ice cream with fig compote and black walnut mousse is a treat. But you can skip dessert after that foie. Closed Sunday. Reservations recommended.
Longoven
2939 West Clay Street. Tel. (804) 308-3497
Lehja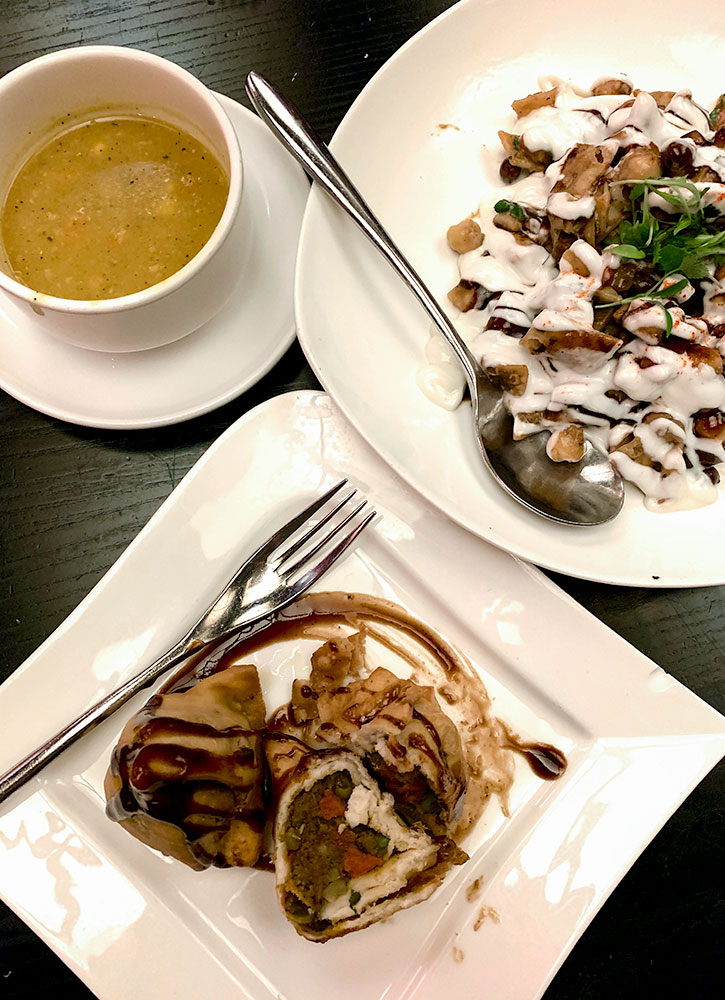 A 2019 James Beard Awards semifinalist, chef Sandeep "Sunny" Baweja has made a destination of this suburban-mall restaurant. The service and space aren't fancy, but the regional Indian cooking is great. Chaat is a category of street snack, and the kitchen does a different one every day — perhaps chickpeas loaded with tamarind sauce, yogurt and heat. When French fare came to India, in the 1600s, Indians zhuzhed it. Nodding to that history, duck à la Pondicherry gets a panoply of spices — curry leaf, mustard seed, peppercorns, chiles. Portobello mushrooms add meatiness to the toothsome confit; scoop it up with pillowy naan. Nilgiri korma evokes India's southern coast, where coconut milk, mountain herbs and crab and scallops are foraged for this fragrant stew. The wine list is award winning, but try a mocktail. Versions of the cumin-, saffron-, tamarind-laced refreshers you find in Northern Indian cities, they're new to American palates but irresistible. Reservations recommended.
Lehja
Short Pump Town Center, 11800 West Broad Street, Suite 910. Tel. (804) 364-1111