At this new hot spot with an open kitchen and an Africa-meets-Scandinavia design, the menu is set: nine dishes in three savory courses. The only choice is dessert. But trust in chefs Henry Vigar and Andre Hill. In their elevated take on Cape Malay cuisine, even the bread course enthralls: wild garlic flatbread and seaweed butter; spinach-stuffed puffs called dhaltjies (chilli bites) on curried eggplant; papadum with a teriyaki-glazed pâté made with a local fish called snoek. The chefs use a high-low approach to great effect. Karoo lamb "kebab" is actually a Scotch egg, the meat wrapped around a hard-cooked quail egg with a luscious hay-smoked-tomato relish. Cured sea bass in a spiced emulsion with an elegant diced vegetable salad is a crudo-style Malay fish curry. And you've never cut into more tender beef than the medallions here. They're served atop an onion purée draped in a crumble of biltong, or South African jerky.
The wine list offers classics and mavericks. Go for the velvet-and-spice Trizanne Signature Reserve Syrah, saving your last sips to enjoy with the most delightful restaurant dessert in Cape Town: buttermilk-semifreddo-stuffed gingerbread, a smart spin on the ice cream sandwich, with white chocolate "sand" to dip in. Closed Tuesday lunch, Sunday and Monday. Reservations recommended.
Upper Bloem
Shop 1, Winston Place, 65 Main Road, Greenpoint. Tel. (27) 21-433-1442
The Shortmarket Club
Luke Dale-Roberts' warehouse-like spot up a flight of stairs in City Centre offers stylish touches: a cocktail trolley, stained glass, framed butterflies. From your elevated banquette, watch waiters pour flaming whiskey sauce over prime rib prepped tableside. That's video-worthy, but all the food is picturesque, and tasty to boot. A lone langoustine emerges from a pool of what the menu calls salsa macha, a riff on the nut-laced chile sauce from Veracruz, though the dish feels more Provençal with its olives, oven-roasted tomatoes, basil and charred eggplant purée. Pan-crisp yellowtail, its skin well lacquered, rests on an aromatic bed of leeks, fennel and mussels across from a frilly crab and artichoke ravioli, streaks of oyster Champagne velouté between. A vegetarian entree of tandoori cauliflower tastes nearly as meaty as that prime rib does. Let the waiter talk you into a side of the decadent duck-fat potatoes that normally come with the beef.
At dessert, refresh your palate with roasted peach glistening with honey nestled in pine nut ice cream and a delicious lemon ricotta. Strewed with tiny thyme flowers, it's as pretty as can be. Closed Sunday. Reservations recommended.
The Shortmarket Club
88 Shortmarket Street. Tel. (27) 21-447-2874
The Pot Luck Club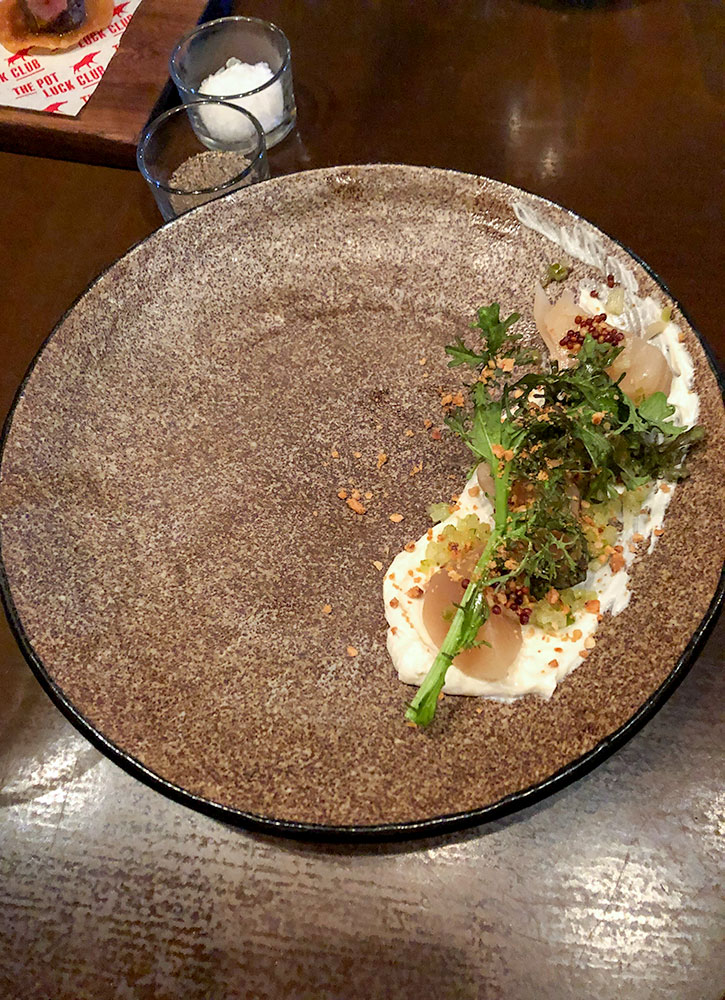 This one by prolific chef Luke Dale-Roberts is popular, in part for its location: the glassed-in top of a former grain silo at the Old Biscuit Mill, a factory turned stylish mall. Go for lunch to feast on views of the city ringed in mountains. The meal, best lubricated by clever martinis — ginger and ginseng, Thai green curry — is a parade of small plates, and the bar-food-style dishes work better than the fancified ones. The standout is grilled eggplant in a sweet, funky dashi, tempura-fried scallops on the side.
Crispy calamari comes with an addictive XO curry sauce. Smoky and tender, the peri-peri chicken, sprinkled with slivered almonds and creamy feta, is also aces. So are the chickpea Parmesan fries with their garlicky aioli and housemade ketchup. But skip the spring vegetable salad. In a garish pool of beet gastrique, it resembles a pile of fresh-pulled weeds, and not in a good way. Instead, put faith in dessert. Given toasted hazelnuts, salted caramel and smoked-cinammon ice cream, an apple tart has never been better dressed. Closed first two weeks of June. Reservations recommended.
The Pot Luck Club
Silo Top Floor, the Old Biscuit Mill, 373-375 Albert Road, Woodstock. Tel. (27) 21-447-0804
Salsify at the Roundhouse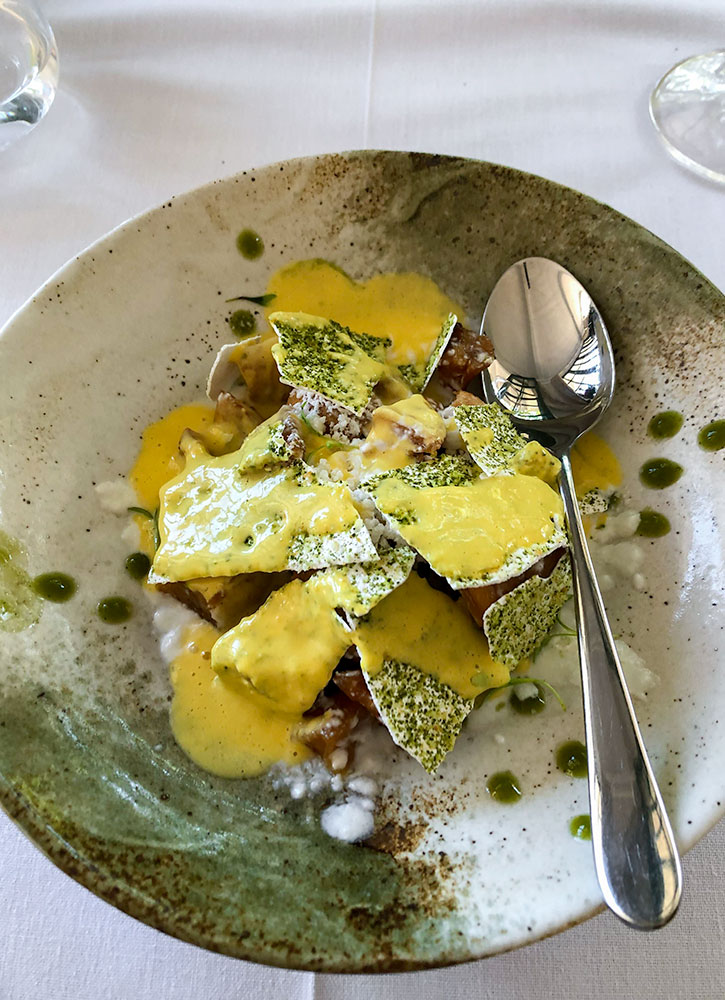 Overlooking crystal-blue Camps Bay in Table Mountain National Park, the historic Roundhouse, a former guardhouse built for the Dutch East India Company in 1786, has long been a destination restaurant. Now, adding to his ever-expanding empire, Luke Dale-Roberts has taken it over.
Go for a luxurious wine-fueled lunch with the vista spread out before you. An Orpheus & the Raven's plush yet bright Chenin Blanc, made with fruit from old bush vines, is the partner for pan-seared scallops on a platter of textures: tangled crispy onions, pops of pomegranate and pine nuts, creamy cauliflower purée and saffron yogurt. A waiter grates on lime zest, which contrasts and boosts the scallops' richness. Earthy and lithe, Catherine Marshall "Clay Soils" Pinot Noir tastes like cranberries smashed on the ground after a braai (a South African barbecue). It goes with the toothsome roast quail with black garlic and lentils, but it's versatile enough for fish. Kingklip, a meaty local catch, gets an all-seasons treatment with asparagus and compressed cucumber as well as cabbage, broccoli and sous-vide potatoes with the purest spud flavor. Smoked mussels and a grating of bottarga amplify the umami in the dish. The chef likes to layer on elements like that. For dessert, it's two things: both the mango lassi and the extraordinary goat's milk ice cream that add cool, sweet ripples to roasted pineapple and coconut caramel cake. Closed Sunday and Monday. Reservations recommended.
Salsify at the Roundhouse
The Roundhouse, Roundhouse Road, Camps Bay. Tel. (27) 21-010-6444
Thali