Ponta dos Ganchos
Florianópolis, the capital of the state of Santa Catarina, is situated nearly two hours by plane (750 miles) south of Rio de Janeiro. An easy 45-minute transfer from the airport brings you to the municipality of Governador Celso Ramos, a collection of small fishing and mussel-farming settlements. The resort of Ponta dos Ganchos is secluded on a private wooded peninsula and comprises 25 bungalows and villas of varying sizes and degrees of opulence.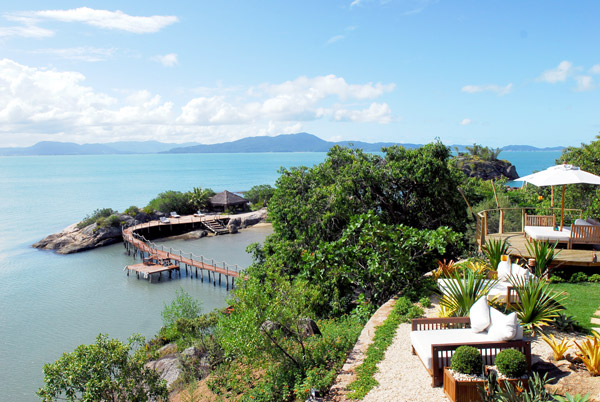 Southern Brazil is subtropical, with a hot, wet summer during which the temperature averages 
77 degrees. Winters are much cooler than those in Rio, however, with June and July seeing averages close to 60 degrees. Few American travelers are likely to want to cozy up to a log fire in southern Brazil, so foreign visitors tend to arrive in November and to depart by April.
We had reserved a split-level bungalow, which offered a comfortable bedroom with a balcony overlooking a quiet bay, plus a downstairs living room with a wine fridge and a second balcony (with hammock). In most respects, it provided an ideal place in which to relax. Indeed, the only significant drawback was the smallish bath, which lacked a tub. Subsequently, I discovered that Ponta dos Ganchos offers a number of considerably more luxurious villas, some with plunge pools, Jacuzzis, even private gymnasiums. The most lavish of all is Villa #25, where, my guide informed me, Paul McCartney had once enjoyed an extended stay.
Transportation around the resort is by golf cart, many of the roads being extremely steep. So having summoned a driver, we headed down to the restaurant overlooking a small crescent of golden sand and an expanse of tranquil water. There, we enjoyed arroz de polvo (octopus with rice), followed by a fine selection of grilled seafood. Throughout our stay at Ponta dos Ganchos, the cuisine was excellent, though I found the multicourse tasting menu at breakfast to be rather pretentious. Personally, I prefer culinary creativity to begin at lunch. Dinners are also served on a small island linked to the resort by a causeway. This sounded appealing, but it soon became apparent that the experience was intended primarily for the young and romantically inclined. Amenities at the resort include an indoor pool and a gymnasium, plus spa pavilions overlooking the sea.
Overall, however, it is primarily a peaceful place in which to do nothing much except read and gaze at the ocean.
AT A GLANCE
LIKE: Comfortable and spacious accommodations; privacy and seclusion; charming staff; delicious seafood.
DISLIKE: The single small beach; the lack of a view in the fitness center.
GOOD TO KNOW: It is worth spending the extra money on one of the lavish villas.
Ponta dos Gancho 94 Super Luxury Bungalow, $985; Villa Bungalow, $1,700. Street Eupideo Alves do Nascimento 104, Governador Celso Ramos. Tel. (55) 48-3262-5000.