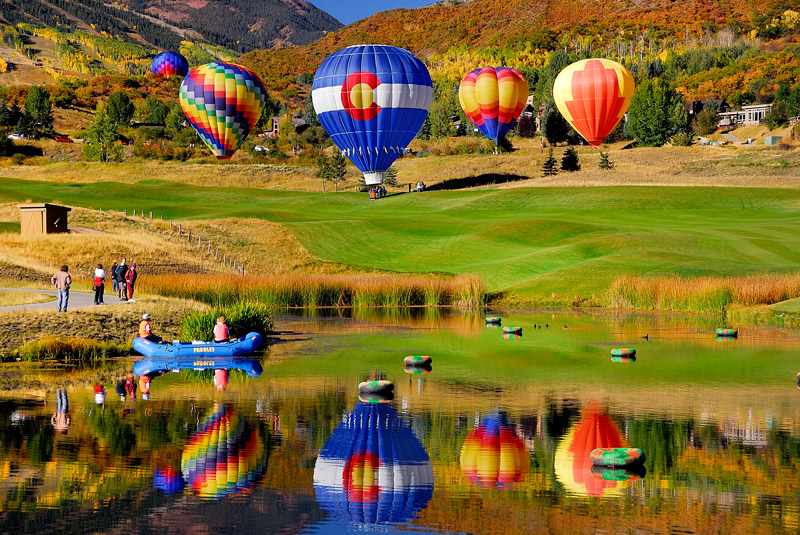 The Aspen area has a remarkably rich calendar of events, including everything from fine arts performances to a hot air balloon festival. It pays to consult the websites aspenchamber.org and aspensnowmass.com before your trip.
This time, we visited the town during the annual Aspen Filmfest, held at the historic Wheeler Opera House and Egyptian-themed Isis Theater. (We attended a showing of the lyrical "Tracks," based on the 1980 bestseller by Robyn Davidson about her solitary trek across the Australian Outback.) Many events are very popular, making it important to plan well in advance if you wish to attend. Those listed below are annual.
Calendar of Aspen Events
December 20-31, 2017: The 12 Days of Aspen sees the downtown glitter with holiday decorations, and families gather to enjoy hot chocolate, ice skating, concerts and other festive activities. On New Year's Eve, fireworks light up the sky over Aspen Mountain.
January 11-14, 2018: During the four days of Wintersköl, Aspen "toasts" winter with a variety of charming traditions, including a downtown winter market, a torchlight procession down Aspen Mountain and fireworks.
January 14-21, 2018: During Aspen's Gay Ski Week — now in its 38th year — participants ski on a designated mountain each day accompanied by "ski concierges." Events range from formal benefit dinners to late-night dance parties.
January 25-28, 2018: Top athletes converge on Buttermilk for the Winter X Games. The "X" stands for "X-treme," and events include skiing and snowboarding in the halfpipe, as well as more alarming competitions such as freestyle snowmobiling and even snowmobile long jump! Attendance is free.
April 3-8, 2018: A companion to the Aspen Filmfest, Aspen Shortsfest highlights works that last 40 minutes or less.
June 15-17, 2018: The Aspen FOOD & WINE Classic brings together a constellation of culinary superstars for one of the world's premier gourmet festivals. Representatives from some 300 wineries also attend, ensuring that participants never go thirsty.
June 28-August 19, 2018: The Aspen Music Festival dates back to 1949, and each year it puts on an array of classical concerts in venues ranging from the airy 2,050-seat Benedict Music Tent to the 450-seat 19th-century Wheeler Opera House. Past festival themes have included "Enchantment" and "Dreams of Travel."
September 7-9, 2018: One of the most spectacular events of its kind, the Snowmass Balloon Festival features dozens of hot air balloons backdropped by the mountains. Expect events such as a 30-balloon distance race down the Roaring Fork Valley.