On cold, wet days this past winter, I often found my mind drifting back to the hypnotically beautiful view we enjoyed last fall from our freestone cottage on the 4,900-acre Domaine de Murtoli in southern Corsica. In the foreground, the thick maquis, which is what the Corsicans call the bright green carpet of fragrant bushes and wild herbs that covers much of their island; beyond, the Ortolo River winding its way through a valley of neatly tilled fields; and in the distance, a five-mile-long strand of white sand lapped by the blue waters of the Mediterranean.
Fifty minutes by air from Nice or Marseille, Corsica is one of the most scenic islands in the Mediterranean and a logical complement to a vacation in Provence or the Côte d'Azur. Jagged peaks that rise to more than 7,500 feet dominate most of the island's terrain. Ajaccio, its capital — and the birthplace of Napoleon Bonaparte — is an attractive small city; Bonifacio on the southern coast boasts a spectacular clifftop setting and a dramatic citadel; and Calvi in the northwest has the charming atmosphere of the 1960s Riviera, with seafood restaurants overlooking an attractive marina. Sartine, close to the Domaine de Murtoli, is an austere medieval hilltop town surrounded by vineyards that writer Prosper Mérimée famously dubbed "la plus Corse des villes Corses."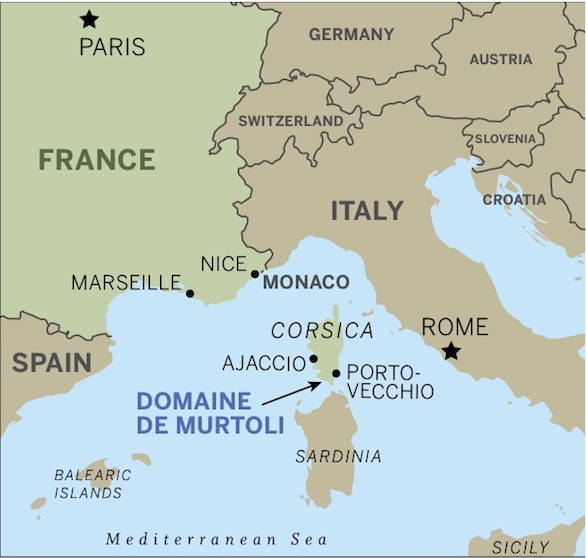 When we decided to spend a long weekend in Corsica as an extension of a journey through southern France, we had numerous plans for day trips from the Domaine de Murtoli. But as things worked out, we didn't leave the property once in three days: It was simply too peaceful and delightful to drag ourselves away. We weren't completely idle, however. Aside from regular dips in our private stone-bordered swimming pool, we went out for a cruise on the Domaine's skippered boat, undertook a fascinating walk through the maquis with a botanist, and enjoyed treatments in the seaside spa.
This magnificent property comprises 14 beautifully renovated stone cottages — sleeping from two to 12 — scattered across one of the largest private estates in the Mediterranean. Every cottage comes with a fully equipped kitchen and a wine cellar that features a selection of excellent Corsican wines. Alternatively, you may dine at the Domaine's two delightful restaurants. La Grotte is carved from the inside of a huge boulder — where we enjoyed succulent veal cooked over an open fire—and La Plage is a seaside restaurant-bar serving superb seafood, including locally caught lobster. Breakfast is delivered in wicker baskets, and for those disinclined either to cook or to eat out, room service is available.
The Domaine's delightful owners, Paul and Valerie Canarelli, are usually present at meals. During a chat with Monsieur Canarelli one evening, he explained that when he inherited the estate from his grandfather 11 years ago, he decided to create a special place that would offer a unique experience of Corsica. Coming from a hotel family — his father, Toussaint, owns the Grand Hôtel de Cala Rossa in Porto-Vecchio — he knows exactly what the most demanding travelers require, and this understanding has informed his concept of "rustic luxury."
Our cottage for two came with terra-cotta tile floors partially covered by locally woven rugs, and an imaginative mix of Corsican antiques and traditional furniture from the Belgian firm Flamant. Its sitting room/kitchen and bedroom were both attractive and comfortable, if a little snug, and we especially liked our open-air summer kitchen. Rooms in the larger villas are much more spacious.
Overall, the Domaine de Murtoli offers one of the most remarkable Mediterranean settings I've ever experienced and is an exceptionally well-run and charming hotel.
DOMAINE DE MURTOLI 97 Cottages rent by the week in July and August and are available by the night in spring and fall. "A Persia," two people, $1,065 a night or $8,945 a week; "Arba Barona," four people, $1,365 a night or $10,650 a week. Sartine, Corsica. Tel. (33) 4-95-71-69-24.
Images © Melissa Colson.
Map © Andrew Harper.