Art Gallery Safari in the City of Angels
.article-cta-top
Los Angeles isn't celebrated as an art world mecca on the level of New York or Paris, but maybe it should be. Ed Ruscha, Sterling Ruby, John Baldessari, Charles Ray and Paul McCarthy live in or around the city, and David Hockney has made it his home on and off for decades. Those are just the big names. Hundreds upon hundreds of promising artists come to greater Los Angeles to attend its art schools, and many never leave.
Elite galleries, once few and far between, have reached a critical mass in the city. Some are native to L.A., and some are outposts of galleries headquartered in New York or Europe. Many came to serve L.A.-based artists on their roster. The promise of cheaper real estate added icing to the cake. Next time you visit the birthplace of the film industry, plan a gallery safari through venues that stretch out in a manner that galleries elsewhere simply can't match.
Hauser & Wirth
Textile art in the breezeway of Hauser & Wirth 2016 - Courtesy Hauser & Wirth/Joshua Targownik
The phrase "Go big or go home" comes to mind when contemplating the 100,000-square-foot complex that is Hauser & Wirth Los Angeles, an outpost of the 25-year-old blue-chip gallery headquartered in Zurich. Opened in January 2016 in a former flour mill, Hauser & Wirth Los Angeles is more like a museum than an art gallery. This is deliberate. Gallery founders Iwan and Manuela Wirth view art as part of a larger, grander lifestyle, not as things caged in rooms painted white. Their vision for Los Angeles contains a bookstore, a 20,000-square-foot internal courtyard, studios for artist residencies and a 5,000-square-foot restaurant that seats 140. Named for Manuela, the organic restaurant serves ethically grown seasonal fare for breakfast, lunch and dinner (think breakfasts made with eggs laid by the dozen rare-breed chickens that live near the gallery's kitchen garden). Hauser & Wirth Los Angeles also offers workshops, lectures, screenings and tours, and welcomes school groups ranging in age and experience from kindergarten to college faculty.
Its display rooms are up to the task of showing nine of Los Angeles artist Paul McCarthy's huge, heavy, fairy-tale themed black walnut sculptures, a half-dozen sculptures by the Polish artist Monika Sosnowska and a 23-piece career-spanning solo show by Paris-based Japanese artist Takesada Matsutani at the same time. (The trio of exhibits opened on July 1, 2017, and will close on September 17, 2017.) Hauser & Wirth Los Angeles is young, but more great things are sure to come.
Regen Projects
The exterior of Regen Projects - Christopher Norman, Courtesy Regen Projects, Los Angeles
Regen Projects launched in December 1989 in West Hollywood and remains one of the leading native L.A. galleries. Co-founded by Shaun Caley Regen and her husband, Stuart Regen, who succumbed to non-Hodgkin's lymphoma in 1998, it has serious art-world milestones to its credit. Regen Projects fostered the career of photographer Catherine Opie, gave the multimedia artist Matthew Barney his first show in 1991 and hosted the first Los Angeles exhibition of works by conceptual artist Glenn Ligon. Over the years, Regen Projects has moved to successively larger spaces. Today it occupies a 20,000-square-foot white stucco facility on Santa Monica Boulevard in a somewhat scruffy area of town; until last year, its neighbors included a 24-hour doughnut shop favored by sex workers. Regen Projects does not offer sugary delights, but it satisfies with a steady stream of exhibits by solid names such as Theaster Gates, Wolfgang Tillmans, Doug Aitken, Raymond Pettibon, Walead Beshty, Marilyn Minter and Anish Kapoor.
Blum & Poe
Kishio Suga installation view, 2017 - Joshua White/JWPictures.com/Courtesy of the artist and Blum & Poe, Los Angeles/New York/Tokyo
Blum & Poe is one of the few blue-chip galleries to launch in Los Angeles and keep its headquarters there while expanding to other cities around the world. Founded in 1994 by Jeff Poe and Tim Blum (who, incidentally, is not related to Irving Blum, the dealer who directed the famed Ferus Gallery in Los Angeles in the 1950s and '60s), they literally started small, with a 500-square-foot Santa Monica space. Now Blum & Poe occupies a 22,000-square-foot, two-story venue on La Cienega Boulevard, and the gallery has branches in New York and Tokyo. The gallery brought the work of Yoshitomo Nara, Takashi Murakami and other Japanese artists to America (Blum is fluent in the language). Blum & Poe also generated a ludicrous amount of interest in August 2016 when it briefly exhibited the battery-operated sculpture shown in Kanye West's video for his song Famous. West does not appear on the gallery's roster, but standouts Nara, Murakami, Sam Durant, Julian Schnabel, Carroll Dunham, Chuck Close, Karel Appel and Mark Grotjahn do.
L.A. Louver
A small part of the Ben Jackel installation at the L.A. Louver - Jeff McLane
L.A. Louver is the longest-lived of the city's native blue-chip galleries, having opened its doors in the Venice neighborhood of Los Angeles in 1975. It, too, has moved on to bigger and better venues, but on a different timeline. In 1995, it settled in an 8,000-square-foot, three-story space in Venice. L.A. Louver has a distinguished history of supporting local artists, launching the Rogue Wave program in 2001 to showcase emerging and mid-career artists who live and work in L.A. David Hockney, who keeps a studio in the Hollywood Hills, might be the most famous artist on the gallery's roster; like its founder, Peter Goulds, Hockney uprooted himself from Britain decades ago and settled in Los Angeles, embracing its sunlight and its landscape dotted with swimming pools. (Hockney, now 80, returned to his native country for several years and came back in 2013, but Goulds has stayed put.) L.A. Louver's other art world all-stars include the sculptors Mark di Suvero, Dale Chihuly and Deborah Butterfield; the Argentine Guillermo Kuitca; Danish painter-sculptor Per Kirkeby; and the late painter Alice Neel.
Sprüth Magers
Power: Work by African American Women from the Nineteenth Century to Now, installation view - Flickr/Hrag Vartanian
Monika Sprüth and Philomene Magers found a heck of a spot for the Los Angeles branch of their gallery, which they opened in February 2016. It's on Wilshire Boulevard, across the street from the Los Angeles County Museum of Art. The two German dealers, who began their partnership in Cologne in 1998, inaugurated the L.A. space with a solo show of storyboard paintings by John Baldessari and soon after hosted a group exhibition of works by Cindy Sherman, Jenny Holzer, Barbara Kruger, Louise Lawler and Rosemarie Trockel — women artists who had been with the two dealers for as many as three decades. Opening an outpost in Los Angeles made eminent sense for the gallery. Its roster features many artists who live there, including Baldessari, Kruger, Ed Ruscha and Sterling Ruby. The gallery is just as committed to promoting African-American women artists. This past spring, it gave over the Los Angeles space to Power: Work by African American Women from the Nineteenth Century to Now, which included pieces by Alma Woodsey Thomas, Elizabeth Catlett, Faith Ringgold, Carrie Mae Weems, Kara Walker and Mickalene Thomas.
Matthew Marks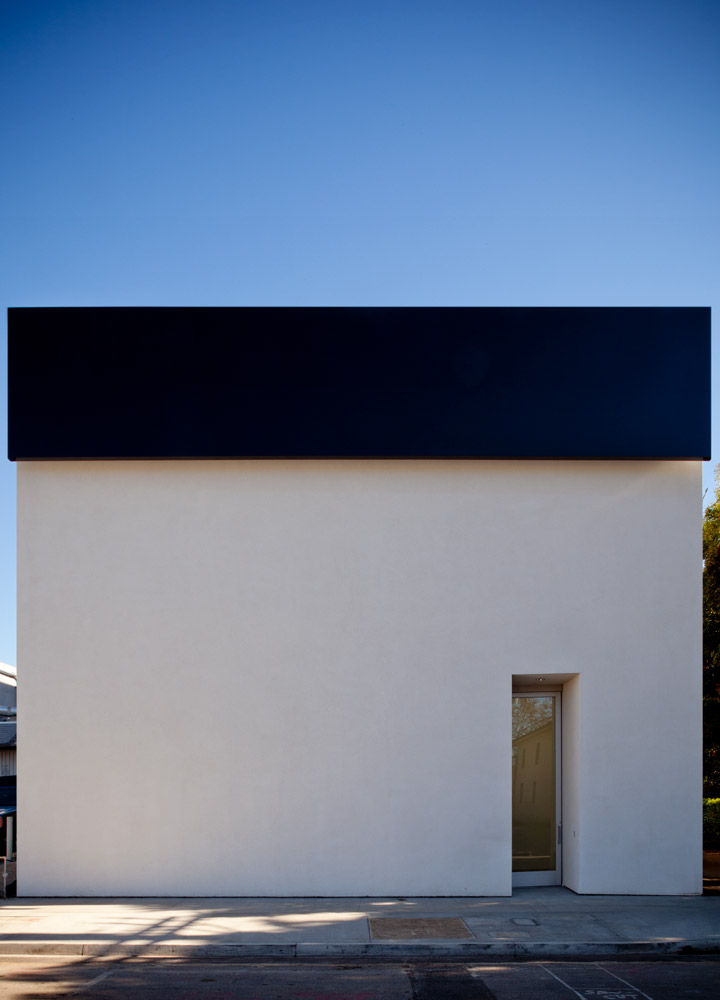 For the debut of his Los Angeles gallery in 2012, Matthew Marks turned to one of the brightest stars on his roster, Ellsworth Kelly. The legendary abstractionist didn't just inaugurate the 3,700-square-foot West Hollywood space, he enhanced its exterior with a 40-foot-long black rectangle. While Marks is a New Yorker through and through, Los Angeles clearly met with his approval. Before 2012 ended, he opened a second 5,000-square-foot gallery on Santa Monica Boulevard and devoted both galleries to Jasper Johns' first exhibition of new work in Los Angeles. Since then, one or both spaces have hosted shows by Los Angeles-based artists Charles Ray and Paul Sietsema, as well as Brice Marden, Nan Goldin and the late Peter Cain.