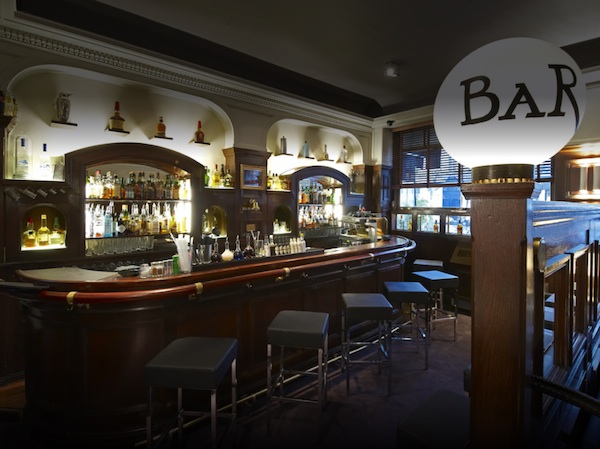 © Bar Le Forum
Paris has many wonderful hotel bars — among my favorites are The Bar Hemingway at the Ritz and the bars at the hotels Regina, Lutetia and Raphael (the one I avoid like the plague is the noisomely "trendy" bar at the Plaza Athénée).
However, I have a soft spot for the Bar Le Forum, or just Le Forum as the regulars call it. Handily located near the Madeleine and ideal for a drink before or after dinner, this handsome cocktail bar features oak paneling, crown moldings, good lighting, comfortable seating and a charming and very efficient staff.
It was founded in 1918 and has been run by the same family since 1931. They mix a mean drink here, and I also enjoy this place because of its diverse and friendly Parisian clientele (in hotel bars, you often end up talking only to other foreigners).
Stopping by for a expertly mixed Manhattan the other night on the way to dinner, we found the polite crowd to be a mix of well-dressed executives, impeccably chic female fashion industry types and journalists and bankers. All seemed to cut the mustard according to the bar's "House Rules," among them the prodding declaration: "We have a sense of elegance — and you as well?"
Le Forum proudly does not serve beer on tap and offers only two wines — a Chardonnay and a Crozes-Hermitage, plus an excellent selection of Champagnes. Otherwise, this bar is a haven of excellence for anyone who likes a good cocktail, a fine whisky or an old-fashioned aperitif such as Lillet, Suze or Pineau des Charentes Marnier.
Mrs. Harper has a fondness for the occasional Forum Cocktail, a mix of gin, Noilly Prat Dry and Grand Marnier that was created here in 1929, and I've enjoyed sampling my way through the excellent list of single malts through the years. However, we have yet to try the "Bloody Shame," the house version of a virgin Bloody Mary. Perhaps next time.
4 boulevard Malesherbes, 8th arrondissement. Tel. (33) 1-42-65-37-86. Open Monday to Thursday from noon to 1 a.m., Friday from noon to 2 a.m. and Saturday from 7 p.m. to 2 a.m. Closed Sunday.