A Perfect Day In... Comporta, Portugal
.article-cta-top
Described as Portugal's "chicest beach retreat," the Comporta region lies about an hour and a half south of Lisbon, between the Sado Estuary and the Atlantic Ocean. Here, acres upon acres of rice paddies give way to endless cork forests and pristine dune-lined coasts. Popular with Europeans looking for a low-key but sophisticated escape, the beaches are unspoiled, and the vibe is stylish but laid-back (think caftans and flip-flops in lieu of heels). For the perfect day in Comporta, you'll need a car to explore between its myriad villages, which include Carvalhal, Pêgo, Carrasqueira and Comporta, among others.
MORNING
The Owner's Suite at Sublime Comporta - Nelson Garrido
The only high-end hotel in the area is Sublime Comporta (EN261-1 Muda, Grândola). Set on 42 acres dotted with olive trees, accommodations range from guest rooms in the main house to suites and villas located in simple, A-frame structures. Interiors are all-white with natural wood accents, and most villas feature private plunge pools and decks.
Sem Porta restaurant at Sublime Comporta - Sublime Comporta
Delight in the extensive breakfast buffet at Sem Porta, one of the hotel's three restaurants, where the spread includes everything from Portuguese pastries like past de nata (egg custard tarts) and grilled fish to fresh fruit topped with edible flowers.
MIDMORNING
Leave your hotel and drive about 30 minutes north to the Tróia Peninsula, where Roman ruins are visible from the beach. This area was once home to the largest fish-salting production site in the Roman world and now includes remnants of 2,000-year-old holding tanks, thermal baths, a mausoleum and a necropolis. The ruins are small enough to walk around on your own, thanks to informative signs, but guided tours are also available.
Next, head south to Carvalhal Beach. Portugal hosts several international surf competitions, but the waves at Carvalhal are ideal for beginners. To cool off while getting a workout, pull on a wetsuit and hit the waves with Surf in Comporta, which offers both private and group lessons.
Afterward, go for a walk along the beach, keeping an eye out for the bottlenose dolphins. Don't miss the pink-and-white-striped library, which lends out newspapers, magazines and books, right on the sand. Pop into the little café connected to O Dinis restaurant for a shot of double espresso; nearby picnic tables encourage slowing down to sip it properly. Afterward, brush off the sand and drive to Carvalhal village, which has a handful of homeware boutiques, including Barracuda (19 Avenue de 18 Dezembro), for midcentury modern furnishings as well as smaller items such as ceramics, and Harmonia (13 Avenue de 8 Dezembro), for antiques, crafts and soft linen throws that will fit in a suitcase.
AFTERNOON
Comporta Café - Comporta Café
It's time to start planning for lunch. The Portuguese tend to eat later in the day, but if you want the best table, it's worth showing up early, around 1 p.m. Drive about 15 minutes south to Comporta Beach, but keep in mind that parking can be tricky on the weekends. Settle into an outdoor table at the stylish Comporta Café, located right on the white sand. Start with a beach salad (shrimp, tomatoes and mango), olives and a bottle of local Vinho Verde, a young Portuguese wine with a touch of fizz. Order a steaming pot of cuttlefish stew for two, served in its own ink over rice, along with clams and mussels. After a leisurely lunch, it's easy to find a deserted stretch of sand once you're away from the café. If you're not tempted by the crystal-clear Atlantic, try horseback riding along its shore with Carvalos Na Areia. Head back to your hotel to shower and enjoy a glass of rosé on your deck before getting ready for dinner.
Glasses of Vinho Verde at Comporta Café - Comporta Café
Casa da Cultura in Comporta - Casa da Cultura
Drive (or take a taxi) about 10 minutes north to the village of Comporta to spend some time browsing through boutiques selling everything from ceramic plates to handmade shoes and sundresses. Pick up a caftan or a lightweight Turkish towel in a rainbow of pastels at Duna Comporta (11 Rua do Secador). The sprawling Casa da Cultura (8 Rua do Secador) warehouse is home to a little bar and hosts pop-up shops through the summer. Rice by Martha Mentero (Estrada Nacional 253 Km 1) is a cavernous space stocked with linen beach bags and housewares.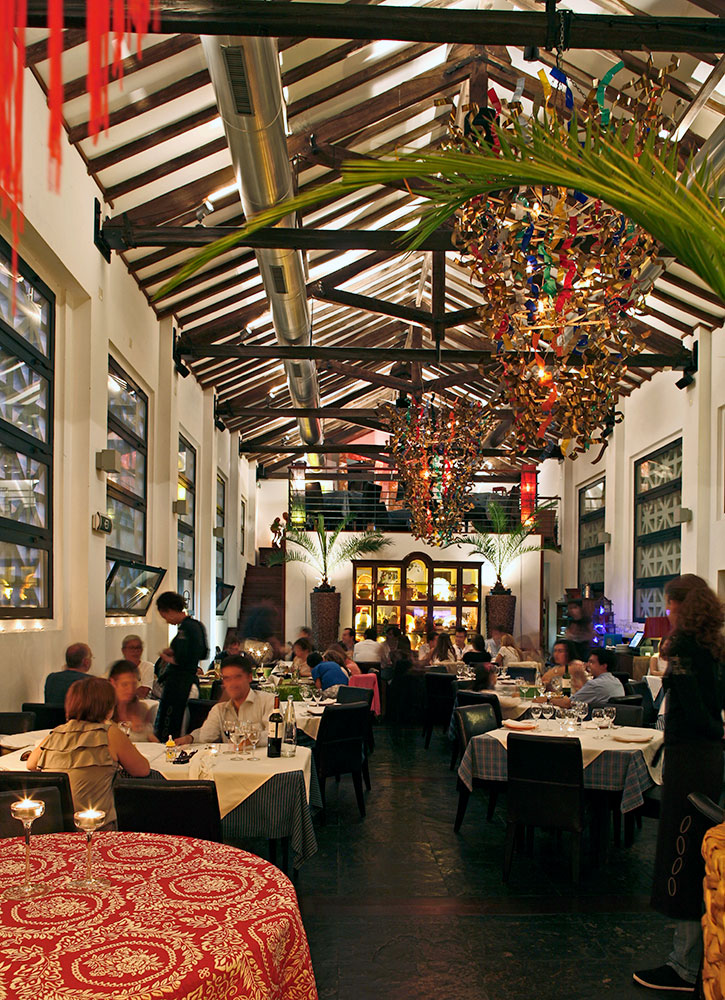 Once you finish shopping, head to Cavalarica (9 Rua do Secador) for dinner. The restaurant is housed in a former horse stable and still has its original brick floors, with large booths tucked into the former stalls. The menu features locally sourced global cuisine, with plenty of shareable plates. Try the grilled octopus served with kohlrabi, and the half-chicken roasted with cabbage. Once you've wrapped up your meal, stroll through the village, stopping for a nightcap at Museu Do Arroz (N261 Km 0), a former rice warehouse converted into a restaurant/bar/boutique overlooking the fields before taking a taxi back to your hotel.