9 Great Restaurants in New Orleans
.article-cta-top
New Orleans has long been a city with strong culinary traditions. What might surprise visitors is the degree to which the breadth and vibrancy of dining options have expanded in recent years. Alongside the expected French-Creole classics are an array of newer restaurants that showcase Israeli, American Southern and Caribbean cooking, to name just a few. In short, there has never been a more rewarding time to dine out in the Crescent City.
Arnaud's
Baked oysters, prepared five ways, from Arnaud's in New Orleans - Sara Essex Bradley
Arnaud's values tradition over innovation. You won't find farm-to-table anything at this French Quarter Creole grande dame. What you will find are quintessential dishes like potato-encrusted Gulf fish accented with Herbsaint butter, shrimp smothered in the restaurant's inimitable rémoulade sauce, and the justifiably famous soufflé potatoes. The antiquarian charm of its warren of dining rooms and the only-in-New Orleans experience of a café brûlot (a flaming postprandial concoction of coffee, orange and brandy) prepared tableside make dining at Arnaud's a meal to remember. To sample the ambiance without the commitment of a full meal, the adjacent French 75 bar features top-notch cocktails along with a small-plates menu that hits some of the same notes.
Arnaud's
813 Bienville Street. Tel. (504) 523-5433
Bywater American Bistro
Curried rabbit from Bywater American Bistro - Denny Culbert
James Beard Award-winning chef Nina Compton's second outpost collects far-flung culinary influences — from her native St. Lucia and France to the American South — to assemble a menu that is difficult to pin down and always surprising. She puts a premium on bold ingredients like hog's head boudin, which is paired with bitter frisée, and pickled shrimp, which come served with buttermilk dressing and trout roe. Located in the Bywater, the edgy neighborhood just on the far side of the French Quarter, Bab's (as it has become known) serves its fare in an industrial-chic environment whose space is broken up with a collection of booths, banquette seating and tall tables. The cocktail menu is as artfully composed as the dinner menu — and many guests come for the drinks alone. Consider this an alternative to Compton's more touristed restaurant, Compère Lapin, in the Warehouse District.
Bywater American Bistro
2900 Chartres Street. Tel. (504) 605-3827
Carrollton Market
Jason Goodenough's contemporary Southern bistro is tucked in the crook of the Riverbend neighborhood far from the hustle of downtown. It has become a local favorite with a menu of precise, inspired dishes that issue from its small open kitchen. A signature appetizer is the Oysters Goodenough, flash-fried bivalves served on the half shell with smoky Benton's bacon and béarnaise sauce. A dish of roasted duck breast is accompanied by garlic-and-sage bread pudding, then drizzled with a pecan-and-caramel gastrique. The dining room is a study in understated elegance, and service is attentive without being obtrusive. This restaurant is off the typical tourist map, which is just how the locals like it.
Carrollton Market
8132 Hampson Street. Tel. (504) 252-9928
Commander's Palace
The skillet-seared trout from Commander's Palace - Michael Palumbo
Quite possibly the most iconic restaurant in the city, the kitchen at this sprawling blue-and-white mansion in the Garden District has turned out some of the culinary world's biggest names, including a guy named Emeril. These days, executive chef Tory McPhail runs the show at the contemporary Creole trailblazer, turning out firebrand dishes like roasted Gulf fish with rainbow chard, spiced pecans, Prosecco-poached jumbo lump crab and a sauce made from sweet corn and Woodford Reserve bourbon. While any seating will please, the weekend jazz brunch is the best time to go. Request a table in the light-filled Garden Room upstairs overlooking the patio, and be sure to order the bread pudding soufflé with whiskey sauce for dessert.
Commander's Palace
1403 Washington Avenue. Tel. (504) 899-8221
Cochon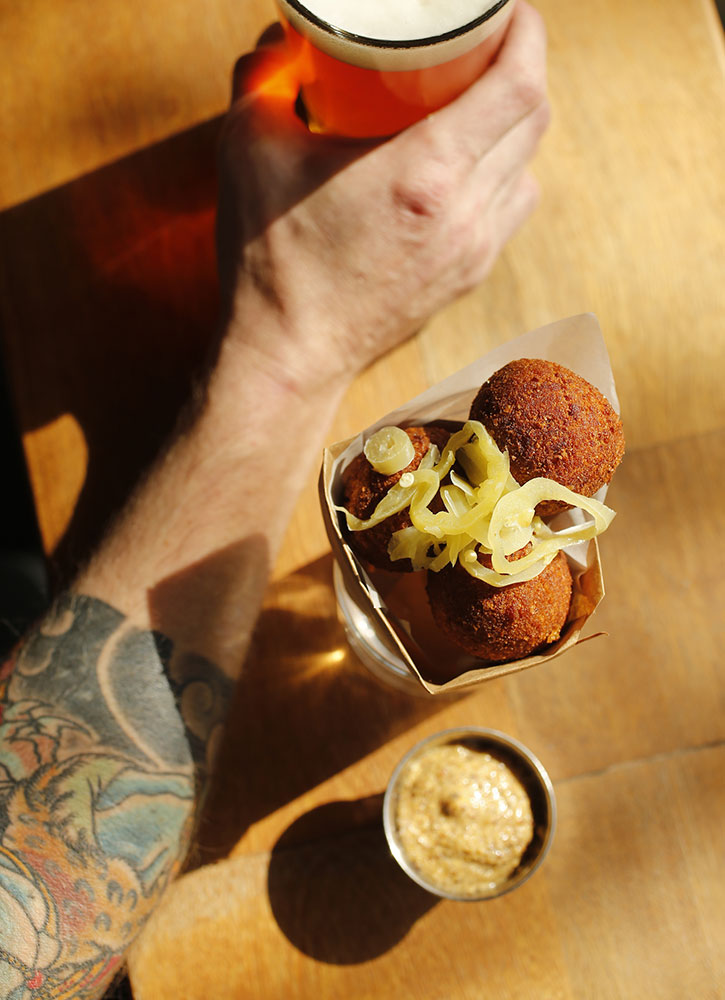 Half Cajun, half Southern and all New Orleans, Cochon is the restaurant that sets the tone for chef Donald Link's empire. Arguably nearest to his heart, Cochon draws directly on his roots and experiences growing up in Acadiana. Unsurprisingly, pork is a focus here, with recommended dishes including smoked ribs with pickled watermelon and fried boudin balls with pickled peppers. But seafood is a close second; an appetizer of wood-fired oysters in chile butter will leave you craving more. The main room features handmade rustic furnishings balanced against polished concrete and raw brick, and a second room in the back offers semiprivate dining, making it a good choice for larger groups. The bar jukes in a moonshine-y direction for those so inclined, and the restaurant's casual Cochon Butcher offshoot (just around the corner) offers a more affordable menu as well as a butcher counter with prepared foods.
Cochon
930 Tchoupitoulas Street. Tel. (504) 588-2123
Patois
The interior of Patois - Jonny Rosenbloom
Patois is pocketed deep in a residential neighborhood in Uptown and was a pioneer in ushering in a lighter approach to fine dining in New Orleans. The vibrant, market-driven menu draws heavily on French influence but with an idiosyncratic approach that likes to introduce unexpected notes to established classics — think Louisiana satsuma brightening a traditional dish of Gulf fish almondine. The menu is at its best when it cuts loose with fun choices like Cast Iron Sizzling Octopus with a citrus-and-chile vinaigrette, root vegetables and mint. The restaurant is housed in an old corner bar and split across two levels, with a quieter dining room up a short flight of stairs and a main room featuring a long bar with elegant décor and plate-glass windows. If available, request a seat in the latter to appreciate the sociable vibe.
Patois
6078 Laurel Street. Tel. (504) 895-9441
Pêche
Spicy ground shrimp and noodles at Pêche - Chris Granger
You can get great seafood at a lot of places in New Orleans, but there is no seafood restaurant quite like Pêche, the Link Group's seafood analog to the pork-centric Cochon. The heart of Pêche is its wood-fired grill, a custom-made beast that executive chef Ryan Prewitt plays like an instrument. Start with a raw bar dish like crab claws with pickled chiles before moving on to innovative small plates such as spicy ground shrimp and noodles. For the table, the whole grilled fish to share is highly recommended. Prewitt was named Best Chef in the South by James Beard in 2014, the same year that Pêche took home the award for Best New Restaurant in America. Prewitt is not just an awards darling either — he plays a big role in sustainability efforts by working with local fishermen and farmers.
Pêche
800 Magazine Street. Tel. (504) 522-1744
Saba
Few New Orleans restaurants have made as much of a statement as chef Alon Shaya's love letter to his culinary heritage. At Saba his Israeli roots entwine with those of his adoptive home of Louisiana to present a menu unlike any other in the city. Built around a collection of small dishes and platters, choices here include a warm blue crab hummus with seasonal accompaniments, shakshuka with poached egg, roasted eggplant and zhoug, and an array of small sharable choices that take full advantage of local markets and artisan purveyors. Every meal is accompanied by steaming hot pita fresh from the woodburning oven. Meals here are best enjoyed family-style, and the cocktail menu uses many ingredients, like fresh herbs, fruit and infusions, in conjunction with the kitchen to bind everything even more closely together.
Saba
5757 Magazine Street. Tel. (504) 324-7770
Zasu
Asian pear and fried celery root from Zasu - Hunter Holder
Chef Sue Zemanick's bistro in Mid-City has an emphasis on seafood and locally sourced produce prepared with Mediterranean, Latin and French-colonial influence. Dishes change frequently on the market-driven menu, but ones that capture its approach include sautéed halibut with English peas, haricots verts and spring onions in a ginger-infused mushroom broth. Vegetarian options like king trumpet mushrooms with roasted cauliflower, vadouvan (French curry) butter and citrus impress by drawing out the personalities of the key ingredients and then framing them in unexpected ways. The James Beard Award-winning Zemanick has Slovak roots, so expect to see a few comfort dishes like pierogies on the menu as well. The restaurant is in a converted shotgun house, which creates an intimate and uniquely New Orleans ambiance.
Zasu
127 North Carrollton Avenue. Tel. (504) 267-3233