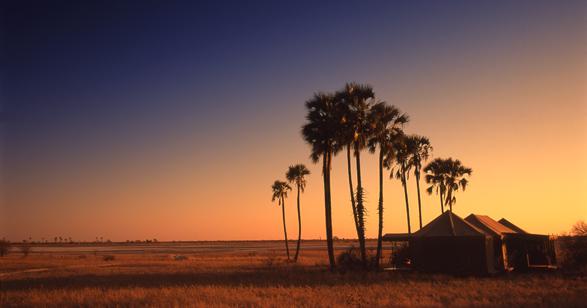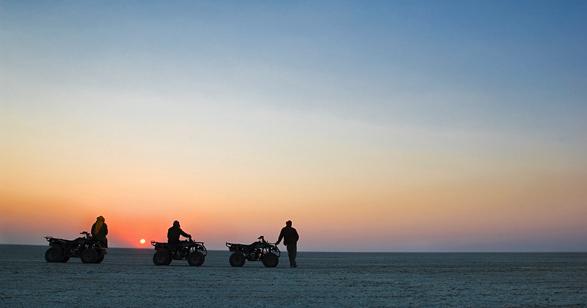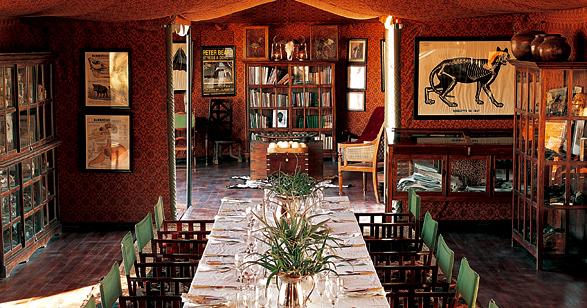 An hour by light aircraft southeast of the desert outpost of Maun, the vast Makgadikgadi salt pans cover an area larger than Switzerland. Jack's Camp is located on a low island at the edge of the pans. It is a place of silence and emptiness, overseen by the immense and cloudless Kalahari sky.
Jack's was founded by the adventurer and filmmaker Ralph Bousfield in memory of his father, a larger-than-life pioneer. The enormous main living and dining tent reflects the men's shared passion for Africa's most elemental places. A stuffed lion in a glass case stands guard over a treasure trove of animal skulls, fossils, eggs, spears, arrows, hundreds of books and maps, 19th-century etchings, and framed posters for exhibitions by the artist and photographer Peter Beard. Down the center of the tent, a dining table seats 20 in comfort, and looks as though it might originally have been intended for army officers on some far-flung Victorian campaign. The 10 guest tents share the same nostalgic décor, with four-poster beds, writing desks, antique furniture, brass-bound chests and bookshelves crammed to capacity. However, they are also extremely comfortable, with large electric fans, en suite baths, effective indoor and outdoor showers, and spacious verandas.
A splendid swimming pool is shaded from the desert sun by a flamboyant cotton canopy. Close by, a waterhole has been dug, which, along with elephant, zebra and wildebeest, occasionally attracts a wandering pride of lion. Jack's Camp is an extremely well-organized place that also offers delicious cuisine. For those of a romantic and adventurous spirit, it cannot be recommended too highly.
Tented Accommodation, from $2,550 for two (all meals and scheduled activities included).