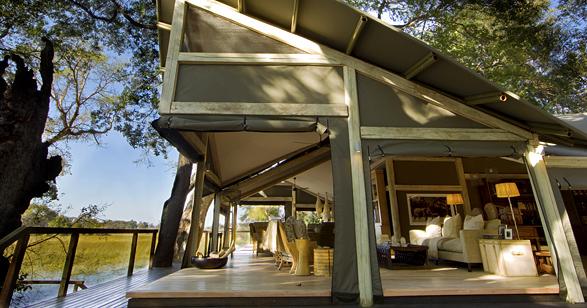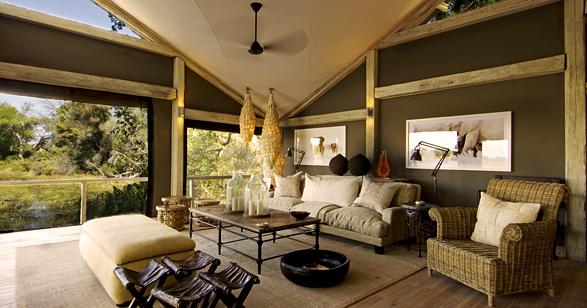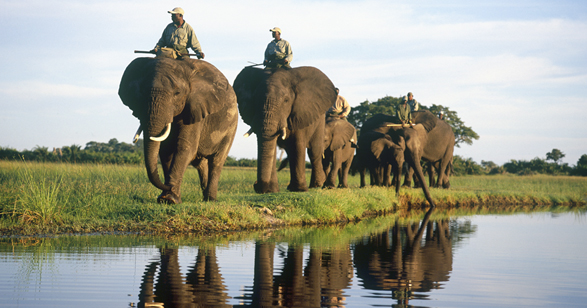 Over the past 20 years, Abu Camp has acquired a reputation as the preeminent place to ride on African elephants. Now partly owned by Paul Allen, co-founder of Microsoft, Abu reopened in April 2011, having been completely rebuilt and refurbished.
Set on a 500,000-acre private concession in Botswana's Okavango Delta, it has just six accommodations. Overlooking a tranquil lagoon and shaded by hardwood trees, the suites are idiosyncratic canvas-and-beam structures that are part tent, part cabin. They are not air-conditioned, but are effectively cooled by ceiling fans. Bleached wooden floors covered by sisal matting, wicker screens, four-poster king-size beds, wingback armchairs, large writing desks, framed black-and-white photography and traditional African sculptures all help to create an exceptionally elegant and relaxing environment. Huge baths provide walk-in showers, twin basins set in black marble, and electric lighting. Glass doors open onto decks with soaking tubs. Although the suites at Abu do not have plunge pools, they do offer attractive sundecks with loungers.
The lavish public areas are contemporary African in style and include a tranquil library and an adjoining communications center. Uniquely for the Okavango, the latter provides a reliable Internet connection, and hence phone calls via Skype. During our visit, the standard of the cuisine was consistently high. In fact, at the end of our stay, the only aspect of the camp that seemed deserving of criticism was the rather lackluster swimming pool.
As at most camps in the Okavango, game-viewing at Abu is by customized safari vehicle or, at the time of the annual flood, by makoro (local dugout canoe). The large game species, including lion and leopard, are relatively common, and the birdlife is prolific. The big difference at Abu is the opportunity to ride on, or walk with, the camp's trained herd of elephant. And for those who wish to take their Abu experience to its ultimate conclusion, the camp now offers a "Star Bed" overlooking their enclosure. Here, you can sleep high above the ground, disturbed, apparently, only by the snoring of the elephant below.
Tented Suite, from $3,875 for two (all meals, house beverages, scheduled activities, laundry and park fees included). Tel. (27) 11-807-1800.